Dungeons and Dragons Tiger 3.5 PBP RPG
Wed, 22nd November, 2017 - 6:41 pm GMT
| | |
| --- | --- |
| | Tiger |
| | |
| | 6d8+18 (45 hp) |
| | +2 |
| | 40 ft. (8 squares) |
| | 14 (-1 size, +2 Dex, +3 natural), touch 11, flat-footed 12 |
| | +4/+14 |
| | Claw +9 melee (1d8+6) |
| | 2 claws +9 melee (1d8+6) and bite +4 melee (2d6+3) |
| | 10 ft./5 ft. |
| | Improved grab, pounce, rake 1d8+3 |
| | |
| | Fort +8, Ref +7, Will +3 |
| | Str 23, Dex 15, Con 17, Int 2, Wis 12, Cha 6 |
| | Balance +6, Hide +3*, Listen +3, Move Silently +9, Spot +3, Swim +11 |
| | Alertness, Improved Natural Weapon (bite), and Improved Natural Weapon (claw). |
| | Warm forests |
| | Solitary |
| | 4 |
| | |
| | - |
These great cats stand more than 3 feet tall at the shoulder and are about 9 feet long. They weigh from 400 to 600 pounds.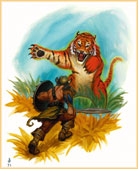 Latest RPG Post
Lawrance looks closely at these women, curious about their species. Speculating aloud he says "Could these be homunculi? Clones? Hello, little ones. Who are you?"
Specific Action: Arcana to identify.
NOTE: In the case of D&D, Wizards holds the copyright for its material. The versions most Players in our Community tend to use Dungeons & Dragons 2-3.5 although others may use higher versions.
Search via our Community for:
Dungeons and Dragons Tiger - D&D 3.5 PBP RPG Coded by: BGID® | ALL RIGHTS RESERVED Copyright © 2004-2017
Disclaimer | Privacy | Report Errors / Contact | Credits
Current Leaders

Hunter

Hunter
(15)

Chynacat

Melodie
(11)
Krusten

Krusten
(11)
Wizard

Merlin
(10)
Thomaslee

Jonathon
(9)
Goldendawn

Aaroni
(9)
Aspiring Leaders

Stacia / Charmaine (7)
Txtrpg / Zork (7)
Anronrosby / Kronar (6)
Usabookworm / Bonifacius (5)
Seraphina / Alana (5)
KNtoran / Drogda (4)
Ready To Rule?
Are you here yet or still hiding? Come out of your cave and become a Ruler... a Ruler of Kings.
RPG Highlights