Dungeons and Dragons Tiger 3.5 PBP RPG
Tue, 31st March, 2020 - 2:38 am GMT
| | |
| --- | --- |
| | Tiger |
| | |
| | 6d8+18 (45 hp) |
| | +2 |
| | 40 ft. (8 squares) |
| | 14 (-1 size, +2 Dex, +3 natural), touch 11, flat-footed 12 |
| | +4/+14 |
| | Claw +9 melee (1d8+6) |
| | 2 claws +9 melee (1d8+6) and bite +4 melee (2d6+3) |
| | 10 ft./5 ft. |
| | Improved grab, pounce, rake 1d8+3 |
| | |
| | Fort +8, Ref +7, Will +3 |
| | Str 23, Dex 15, Con 17, Int 2, Wis 12, Cha 6 |
| | Balance +6, Hide +3*, Listen +3, Move Silently +9, Spot +3, Swim +11 |
| | Alertness, Improved Natural Weapon (bite), and Improved Natural Weapon (claw). |
| | Warm forests |
| | Solitary |
| | 4 |
| | |
| | - |
These great cats stand more than 3 feet tall at the shoulder and are about 9 feet long. They weigh from 400 to 600 pounds.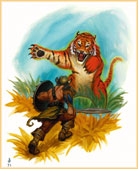 Latest RPG Post
Bellak continues his advance, with his fellow Orcs surrounding him. He crushed the hobbits standing between him and his brother, now he sees a unit of wood elves ahead. He bellows his command to his tribe mates, "Crush, kill filthy elves. Kill by Gruumsh!"
NOTE: In the case of D&D, Wizards holds the copyright for its material. The versions most Players in our Community tend to use Dungeons & Dragons 2-3.5 although others may use higher versions.
Dungeons and Dragons Tiger - D&D 3.5 PBP RPG Coded by: BGID® | ALL RIGHTS RESERVED Copyright © 2004-2020
Disclaimer | Privacy | Report Errors / Contact | Credits
Future Terra II
Automated system to Role-play. No worries about Rules, Dice or updating your Character Sheet, they are taken care of for you. Just immerse in pure Role-playing.
Become A Backer!

See More
RPG Highlights