Dungeons and Dragons Hagunemnon (Protean) 3.5 PBP RPG
Mon, 17th December, 2018 - 1:16 am GMT
| | |
| --- | --- |
| | Hagunemnon |
| | |
| | 44d8+616 (814 hp) |
| | +17 (+13 Dex, +4 Improved Initiative) |
| | 50 ft. |
| | 50 (-1 size, +13 Dex, +28 natural), touch 22, flat-footed 37 |
| | +33/+58 |
| | Slam +54 (2d6+21/19-20) melee |
| | 5 slams +54 (2d6+21/19-20) melee |
| | 10 ft./10 ft. |
| | Psionics, destabilize form |
| | Alter shape, damage reduction 10/epic, darkvision 120 ft., immunities, regeneration 50, spell resistance 39 |
| | Fort +40, Ref +39, Will +32 |
| | Str 53, Dex 37, Con 39, Int 20, Wis 23, Cha 34 |
| | Bluff +59, Diplomacy +53, Disguise +59, Hide +35, Intimidate +47, Jump +29, Listen +55, Move Silently +35, Sense Motive +29, Spot +55 |
| | Alertness, Cleave, Combat Reflexes, Endurance, Great Cleave, Great Fortitude, Improved Initiative, Iron Will, Lightning Reflexes, Multiattack, Power Attack, Weapon Focus (slam) |
| Epic Feats: | Blinding Speed, Devastating Critical (slam), Overwhelming Critical (slam) |
| | Any |
| | Solitary |
| | 29 |
| | Standard |
| | Always chaotic neutral |
| | |
A hagunemnon's natural weapons are treated as epic for the purpose of overcoming damage reduction.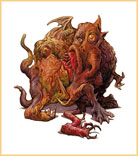 Latest RPG Post
Don't let the door hit you where evolution split you. I never negotiate with terrorists. If you aren't having fun and want to ruin the game for others with your drama then leave. I don't tolerate drama and trying to bully me into changing my decisions or hit rewind because your dice betrayed you.
NOTE: In the case of D&D, Wizards holds the copyright for its material. The versions most Players in our Community tend to use Dungeons & Dragons 2-3.5 although others may use higher versions.
Search via our Community for:
Dungeons and Dragons Hagunemnon (Protean) - D&D 3.5 PBP RPG Coded by: BGID® | ALL RIGHTS RESERVED Copyright © 2004-2018
Disclaimer | Privacy | Report Errors / Contact | Credits
RPG Info
Latest Game Topics
Highlights