Dungeons and Dragons Hagunemnon (Protean) 3.5 PBP RPG
Wed, 29th January, 2020 - 6:44 pm GMT
| | |
| --- | --- |
| | Hagunemnon |
| | |
| | 44d8+616 (814 hp) |
| | +17 (+13 Dex, +4 Improved Initiative) |
| | 50 ft. |
| | 50 (-1 size, +13 Dex, +28 natural), touch 22, flat-footed 37 |
| | +33/+58 |
| | Slam +54 (2d6+21/19-20) melee |
| | 5 slams +54 (2d6+21/19-20) melee |
| | 10 ft./10 ft. |
| | Psionics, destabilize form |
| | Alter shape, damage reduction 10/epic, darkvision 120 ft., immunities, regeneration 50, spell resistance 39 |
| | Fort +40, Ref +39, Will +32 |
| | Str 53, Dex 37, Con 39, Int 20, Wis 23, Cha 34 |
| | Bluff +59, Diplomacy +53, Disguise +59, Hide +35, Intimidate +47, Jump +29, Listen +55, Move Silently +35, Sense Motive +29, Spot +55 |
| | Alertness, Cleave, Combat Reflexes, Endurance, Great Cleave, Great Fortitude, Improved Initiative, Iron Will, Lightning Reflexes, Multiattack, Power Attack, Weapon Focus (slam) |
| Epic Feats: | Blinding Speed, Devastating Critical (slam), Overwhelming Critical (slam) |
| | Any |
| | Solitary |
| | 29 |
| | Standard |
| | Always chaotic neutral |
| | |
A hagunemnon's natural weapons are treated as epic for the purpose of overcoming damage reduction.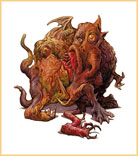 Latest RPG Post
Rivoril, continues his attack with composite bow on the advancing Trolls. Aiming for the closest to his position.
NOTE: In the case of D&D, Wizards holds the copyright for its material. The versions most Players in our Community tend to use Dungeons & Dragons 2-3.5 although others may use higher versions.
Dungeons and Dragons Hagunemnon (Protean) - D&D 3.5 PBP RPG Coded by: BGID® | ALL RIGHTS RESERVED Copyright © 2004-2020
Disclaimer | Privacy | Report Errors / Contact | Credits
Text Adventure
Current Leaders

Krusten

Krusten
(15)

Wizard

Merlin
(14)
Hunter

Thorin
(12)
Bowjangols

Bowjango
(10)
Stacia

Sapphire
(9)
Ammon

Nephi
(6)
Aspiring Leaders

Symphony / Melodee (6)
Fantasy / Lileth (4)
Edward / Brogar (4)
Derphantom / Yuri (4)
Croaker / Haruhiro (3)
Warlock / Runic (3)
Ready To Rule?
Are you here yet or still hiding? Come out of your cave and become a Ruler... a Ruler of Kings.
RPG Highlights