Dungeons and Dragons Hagunemnon (Protean) 3.5 PBP RPG
Fri, 23rd February, 2018 - 10:27 pm GMT
| | |
| --- | --- |
| | Hagunemnon |
| | |
| | 44d8+616 (814 hp) |
| | +17 (+13 Dex, +4 Improved Initiative) |
| | 50 ft. |
| | 50 (-1 size, +13 Dex, +28 natural), touch 22, flat-footed 37 |
| | +33/+58 |
| | Slam +54 (2d6+21/19-20) melee |
| | 5 slams +54 (2d6+21/19-20) melee |
| | 10 ft./10 ft. |
| | Psionics, destabilize form |
| | Alter shape, damage reduction 10/epic, darkvision 120 ft., immunities, regeneration 50, spell resistance 39 |
| | Fort +40, Ref +39, Will +32 |
| | Str 53, Dex 37, Con 39, Int 20, Wis 23, Cha 34 |
| | Bluff +59, Diplomacy +53, Disguise +59, Hide +35, Intimidate +47, Jump +29, Listen +55, Move Silently +35, Sense Motive +29, Spot +55 |
| | Alertness, Cleave, Combat Reflexes, Endurance, Great Cleave, Great Fortitude, Improved Initiative, Iron Will, Lightning Reflexes, Multiattack, Power Attack, Weapon Focus (slam) |
| Epic Feats: | Blinding Speed, Devastating Critical (slam), Overwhelming Critical (slam) |
| | Any |
| | Solitary |
| | 29 |
| | Standard |
| | Always chaotic neutral |
| | |
A hagunemnon's natural weapons are treated as epic for the purpose of overcoming damage reduction.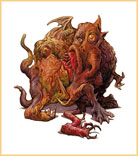 Latest RPG Post
Poljen listens as people discuss how they will get across, since they will be unable to anchor a rope to the stones. Then he has an idea. "If we have enough ropes, maybe we can jury-rig something. Lia, on your broom, you can fly under the bridge, yes? We tie one rope in a big loop around the bridge at this end, and another at the far end. Then run a third rope between them. It should help steady everyone, and as long as the end ropes are tight, if someone falls but holds on, the ends should not simply slide to the middle. They should bite enough for us to help bring someone back up. Or they could at least climb back to the bridge. I think it is worth a try." He brings his own coil of rope that is fifty feet long to donate to the cause. "I would hate for us to be running back this way and not have something like that."
NOTE: In the case of D&D, Wizards holds the copyright for its material. The versions most Players in our Community tend to use Dungeons & Dragons 2-3.5 although others may use higher versions.
Search via our Community for:
Dungeons and Dragons Hagunemnon (Protean) - D&D 3.5 PBP RPG Coded by: BGID® | ALL RIGHTS RESERVED Copyright © 2004-2018
Disclaimer | Privacy | Report Errors / Contact | Credits
RPG Info
Latest Game Topics
Highlights