Dungeons and Dragons Ha-Naga 3.5 PBP RPG
Tue, 16th October, 2018 - 10:55 am GMT
| | |
| --- | --- |
| | Ha-Naga |
| | |
| | 20d8+220 (310 hp) |
| | +14 (Dex) |
| | 60 ft., fly 120 ft. (perfect) |
| | 40 (-8 size, +14 Dex, +24 natural armor), touch 16, flat-footed 26 |
| | +15/+39 |
| | Coil whip +21 (4d6+8) melee |
| | Coil whip +21 (4d6+8) melee, sting +19 (2d8+4 plus poison) melee, bite +13 (4d8+4) melee |
| | 30 ft./20 ft. |
| | Charming gaze, poison, improved grab, constrict 4d6+12 |
| | Flight, spell resistance 30, damage reduction 5/epic |
| | Fort +17, Ref +22, Will +22 |
| | Str 27, Dex 38, Con 32, Int 35, Wis 31, Cha 36 |
| | Appraise +35, Concentration +34, Bluff +24, Diplomacy +38, Escape Artist +37, Hide +21, Jump +20, Knowledge (arcana, history, religion) +35, Listen +33, Move Silently +37, Search +35, Sense Motive +24, Spellcraft +37, Spot +33 |
| | Dodge, Flyby Attack, Lightning Reflexes, Mobility, Multiattack, Quicken Spell, Weapon Finesse |
| | Temperate and warm land or underground |
| | Solitary or nest (2-4) |
| | 22 |
| | Standard |
| | Usually chaotic evil |
| | 21-40 HD (Colossal) |
A ha-naga's natural weapons are treated as epic for the purpose of overcoming damage reduction.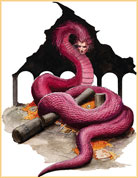 Latest RPG Post
Lawrance sweats a bit as the spells fly furiously back and forth across the battlefield but the results are heartening. Taking aim yet again, he launches a blade of glittering ice into the packed midst, hoping for the cold explosion that should result.
Specific Action: Ice Knife into the tightest group of bad guys. I hope the explosion around the impact point will hit a few. Elemental is to pummel any target or Whirlwind attack multiples, if able to.
Out of Character: - Dai : Only one 5th level spell slot left to cast Counterspell with, so if an enemy lets loose with a big spell, including mass healing or something high level, use it as needed, please.
NOTE: In the case of D&D, Wizards holds the copyright for its material. The versions most Players in our Community tend to use Dungeons & Dragons 2-3.5 although others may use higher versions.
Search via our Community for:
Dungeons and Dragons Ha-Naga - D&D 3.5 PBP RPG Coded by: BGID® | ALL RIGHTS RESERVED Copyright © 2004-2018
Disclaimer | Privacy | Report Errors / Contact | Credits
Future Terra II
Automated system to Role-play. No worries about Rules, Dice or updating your Character Sheet, they are taken care of for you. Just immerse in pure Role-playing.
Become A Backer!
See More
RPG Highlights
Updated every: 59 minutes