Dungeons and Dragons Winter Wolf 3.5 PBP RPG
Thu, 22nd February, 2018 - 5:08 am GMT
| | |
| --- | --- |
| | Winter Wolf |
| | |
| | 6d10+18 (51 hp) |
| | +5 |
| | 50 ft. (10 squares) |
| | 15 (-1 size, +1 Dex, +5 natural), touch 10, flat-footed 14 |
| | +6/+14 |
| | Bite +9 melee (1d8+6 plus 1d6 cold) |
| | Bite +9 melee (1d8+6 plus 1d6 cold) |
| | 10 ft./5 ft. |
| | Breath weapon, freezing bite, trip |
| | Darkvision 60 ft., immunity to cold, low-light vision, scent, vulnerability to fire |
| | Fort +8, Ref +6, Will +3 |
| | Str 18, Dex 13, Con 16, Int 9, Wis 13, Cha 10 |
| | Hide -1*, Listen +6, Move Silently +7, Spot +6, Survival +1* |
| | |
| | Cold forests |
| | Solitary, pair, or pack (3-5) |
| | 5 |
| | 1/10 coins; 50% goods; 50% items |
| | Usually neutral evil |
| | |
| | +3 (cohort) |
A winter wolf grows about 8 feet long and stands about 4-1/2 feet at the shoulder. It weighs about 450 pounds.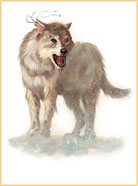 Winter wolves can speak Giant and Common.
Winter wolves typically hunt in packs. Their size, cunning, and formidable breath weapon allow them to hunt and kill creatures much larger than themselves. A pack usually circles an opponent, each wolf attacking in turn to exhaust it. If they're in a hurry, white wolves try to pin their foes.
Latest RPG Post
She thought about many things but could not make up her mind so she chose to just walk on the edge of the sea water and the dry sand thinking about…
NOTE: In the case of D&D, Wizards holds the copyright for its material. The versions most Players in our Community tend to use Dungeons & Dragons 2-3.5 although others may use higher versions.
Search via our Community for:
Dungeons and Dragons Winter Wolf - D&D 3.5 PBP RPG Coded by: BGID® | ALL RIGHTS RESERVED Copyright © 2004-2018
Disclaimer | Privacy | Report Errors / Contact | Credits
RPG Info
Latest Game Topics
Highlights