Dungeons and Dragons Troglodyte 3.5 PBP RPG
Thu, 23rd November, 2017 - 5:00 pm GMT
| | |
| --- | --- |
| | Troglodyte |
| | |
| | 2d8+4 (13 hp) |
| | -1 |
| | 30 ft. (6 squares) |
| | 15 (-1 Dex, +6 natural), touch 9, flat-footed 15 |
| | +1/+1 |
| | Club +1 melee (1d6) or claw +1 melee (1d4) or javelin +1 ranged (1d6) |
| | Club +1 melee (1d6) and claw -1 melee (1d4) and bite -1 melee (1d4); or 2 claws +1 melee (1d4) and bite -1 melee (1d4); or javelin +1 ranged (1d6) |
| | 5 ft./5 ft. |
| | Stench |
| | Darkvision 90 ft. |
| | Fort +5, Ref -1, Will +0 |
| | Str 10, Dex 9, Con 14, Int 8, Wis 10, Cha 10 |
| | |
| | Multiattack B, Weapon Focus (javelin) |
| | Underground |
| | Clutch (2-5), squad (6-11 plus 1-2 monitor lizards), or band (20-80 plus 20% noncombatants plus 3-13 monitor lizards) |
| | 1 |
| | 50% coins; 50% goods; 50% items |
| | Usually chaotic evil |
| | By character class |
| | +2 |
A troglodyte stands about 5 feet tall and weighs about 150 pounds.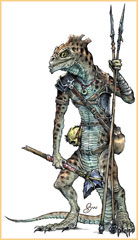 Troglodytes speak Draconic.
Latest RPG Post
"Let's split!" Avan and Fluffles move as one, charging the enemy further away from the cliff edge.

Out of Character: In my imagination we went up the left cliff face, so the one to the left is further from the edge. If not, please correct.

Fluffles gets 2 rake attacks on a pounce, rolled here with +2 charge bonus already added:.
NOTE: In the case of D&D, Wizards holds the copyright for its material. The versions most Players in our Community tend to use Dungeons & Dragons 2-3.5 although others may use higher versions.
Search via our Community for:
Dungeons and Dragons Troglodyte - D&D 3.5 PBP RPG Coded by: BGID® | ALL RIGHTS RESERVED Copyright © 2004-2017
Disclaimer | Privacy | Report Errors / Contact | Credits
Current Leaders

Hunter

Hunter
(15)

Chynacat

Melodie
(11)
Krusten

Krusten
(11)
Wizard

Merlin
(10)
Thomaslee

Jonathon
(9)
Goldendawn

Aaroni
(9)
Aspiring Leaders

Stacia / Charmaine (7)
Txtrpg / Zork (7)
Anronrosby / Kronar (6)
Usabookworm / Bonifacius (5)
Seraphina / Alana (5)
KNtoran / Drogda (4)
Ready To Rule?
Are you here yet or still hiding? Come out of your cave and become a Ruler... a Ruler of Kings.
RPG Highlights