Dungeons and Dragons Troglodyte 3.5 PBP RPG
Tue, 16th October, 2018 - 10:31 am GMT
| | |
| --- | --- |
| | Troglodyte |
| | |
| | 2d8+4 (13 hp) |
| | -1 |
| | 30 ft. (6 squares) |
| | 15 (-1 Dex, +6 natural), touch 9, flat-footed 15 |
| | +1/+1 |
| | Club +1 melee (1d6) or claw +1 melee (1d4) or javelin +1 ranged (1d6) |
| | Club +1 melee (1d6) and claw -1 melee (1d4) and bite -1 melee (1d4); or 2 claws +1 melee (1d4) and bite -1 melee (1d4); or javelin +1 ranged (1d6) |
| | 5 ft./5 ft. |
| | Stench |
| | Darkvision 90 ft. |
| | Fort +5, Ref -1, Will +0 |
| | Str 10, Dex 9, Con 14, Int 8, Wis 10, Cha 10 |
| | |
| | Multiattack B, Weapon Focus (javelin) |
| | Underground |
| | Clutch (2-5), squad (6-11 plus 1-2 monitor lizards), or band (20-80 plus 20% noncombatants plus 3-13 monitor lizards) |
| | 1 |
| | 50% coins; 50% goods; 50% items |
| | Usually chaotic evil |
| | By character class |
| | +2 |
A troglodyte stands about 5 feet tall and weighs about 150 pounds.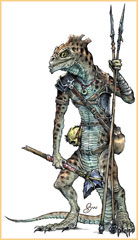 Troglodytes speak Draconic.
Latest RPG Post
Tazskan, notes that the cultists are retreating towards the center, of a huge courtyard. He rushes towards them.

While, in hot pursuit he unleashes two more eldritch beams, while clutching his pact keeper.
Aiming, at the nearest cultist to him.

Out of Character: Still, quite far from the cultists, in the center. As Dai mentioned, about 140 feet away. Which, for him is to far, to target those in the center, even with eldritch beams. Therefore will, continue to move quickly towards center. To open up more options.
NOTE: In the case of D&D, Wizards holds the copyright for its material. The versions most Players in our Community tend to use Dungeons & Dragons 2-3.5 although others may use higher versions.
Search via our Community for:
Dungeons and Dragons Troglodyte - D&D 3.5 PBP RPG Coded by: BGID® | ALL RIGHTS RESERVED Copyright © 2004-2018
Disclaimer | Privacy | Report Errors / Contact | Credits
RPG Info
Latest Game Topics
Highlights
Updated every: 59 minutes