Dungeons and Dragons Triton 3.5 PBP RPG
Wed, 22nd January, 2020 - 2:46 pm GMT
| | |
| --- | --- |
| | Triton |
| | |
| | 3d8+3 (16 hp) |
| | +0 |
| | 5 ft. (1 square), swim 40 ft. |
| | 16 (+6 natural), touch 10, flat-footed 16 |
| | +3/+4 |
| | Trident +4 melee (1d8+1) or heavy crossbow +3 ranged (1d10/19-20) |
| | Trident +4 melee (1d8+1) or heavy crossbow +3 ranged (1d10/19-20) |
| | 5 ft./5 ft. |
| | |
| | Darkvision 60 ft. |
| | Fort +4, Ref +3, Will +4 |
| | Str 12, Dex 10, Con 12, Int 13, Wis 13, Cha 11 |
| | Craft (any one) +7, Diplomacy +2, Hide +6, Listen +7, Move Silently +6, Ride +6, Search +7, Sense Motive +7, Spot +7, Survival +7 (+9 following tracks), Swim +9 |
| | |
| | Temperate aquatic |
| | Company (2-5), squad (6-11), or band (20-80) |
| | 2 |
| | Standard |
| | Usually neutral good |
| | 4-9 HD (Medium) |
| | +2 |
A triton has silvery skin that fades into silver-blue scales on the lower half of its body. A triton's hair is deep blue or blue-green.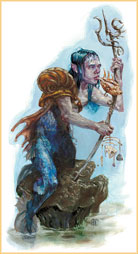 A triton is about the same size and weight as a human. Tritons speak Common and Aquan.
The reclusive tritons prefer to avoid combat, but they fiercely defend their homes. They attack with either melee or ranged weapons as the circumstances warrant. When encountered outside their lair, they are 90% likely to be mounted on friendly sea creatures such as porpoises.
Latest RPG Post
I heard a lot of comparisons between this movie and the previous movie released; Captain Marvel. Personally I would prefer Shazam than the Marvel movie but it's not the best in my opinion. There were some good comedy scenes in the movie but as JB said the character tries too hard to be like Spiderman; it just feels forced.
NOTE: In the case of D&D, Wizards holds the copyright for its material. The versions most Players in our Community tend to use Dungeons & Dragons 2-3.5 although others may use higher versions.
Dungeons and Dragons Triton - D&D 3.5 PBP RPG Coded by: BGID® | ALL RIGHTS RESERVED Copyright © 2004-2020
Disclaimer | Privacy | Report Errors / Contact | Credits
Future Terra II
Automated system to Role-play. No worries about Rules, Dice or updating your Character Sheet, they are taken care of for you. Just immerse in pure Role-playing.
Become A Backer!

See More
RPG Highlights