Dungeons and Dragons Minotaur 3.5 PBP RPG
Sat, 23rd February, 2019 - 10:57 pm GMT
| | |
| --- | --- |
| | Minotaur |
| | |
| | 6d8+12 (39 hp) |
| | +0 |
| | 30 ft. (6 squares) |
| | 14 (-1 size, +5 natural), touch 9, flat-footed 14 |
| | +6/+14 |
| | Greataxe +9 melee (3d6+6/x3) or gore +9 melee (1d8+4) |
| | Greataxe +9/+4 melee (3d6+6/x3) and gore +4 melee (1d8+2) |
| | 10 ft./10 ft. |
| | Powerful charge 4d6+6 |
| | Darkvision 60 ft., natural cunning, scent |
| | Fort +6, Ref +5, Will +5 |
| | Str 19, Dex 10, Con 15, Int 7, Wis 10, Cha 8 |
| | Intimidate +2, Listen +7, Search +2, Spot +7 |
| | |
| | Underground |
| | Solitary, pair, or gang (3-4) |
| | 4 |
| | Standard |
| | |
| | By character class |
| | +2 |
A minotaur stands more than 7 feet tall and weighs about 700 pounds.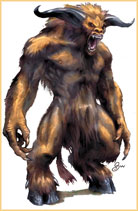 Latest RPG Post
"Be gone you hideous creature… " as she says this the imp burns into smoke right in front of her eyes until he can no longer be seen. Just then she hears from the house a call for the child they are calling for dinner. You wonder what to do at this point and begin to…
NOTE: In the case of D&D, Wizards holds the copyright for its material. The versions most Players in our Community tend to use Dungeons & Dragons 2-3.5 although others may use higher versions.
Search via our Community for:
Dungeons and Dragons Minotaur - D&D 3.5 PBP RPG Coded by: BGID® | ALL RIGHTS RESERVED Copyright © 2004-2019
Disclaimer | Privacy | Report Errors / Contact | Credits
Text Adventure
Current Leaders

Krusten

Krusten
(14)

Wizard

Merlin
(12)
Hunter

Thorin
(12)
Stacia

Sapphire
(8)
JonCracraft

Ajax
(7)
Anronrosby

Cedrick
(6)
Aspiring Leaders

Beowolf / Norskman (4)
Adventure / Garreth (4)
Fantasy / Serilda (4)
Grimcrow / Alzhalim (3)
Warlock / Runic (3)
Workman / Shamus (3)
Ready To Rule?
Are you here yet or still hiding? Come out of your cave and become a Ruler... a Ruler of Kings.
RPG Highlights