Dungeons and Dragons Mohrg 3.5 PBP RPG
Tue, 21st November, 2017 - 2:06 pm GMT
| | |
| --- | --- |
| | Mohrg |
| | |
| | 14d12 (91 hp) |
| | +9 |
| | 30 ft. (6 squares) |
| | 23 (+4 Dex, +9 natural), touch 14, flat-footed 14 |
| | +7/+12 |
| | Slam +12 melee (1d6+7) or tongue +12 melee touch (paralysis) |
| | Slam +12 melee (1d6+7) and tongue +12 melee touch (paralysis) |
| | 5 ft./5 ft. |
| | Improved grab, paralyzing touch, create spawn |
| | Darkvision 60 ft., undead traits |
| | Fort +4, Ref +10, Will +9 |
| | Str 21, Dex 19, Con -, Int 11, Wis 10, Cha 10 |
| | Climb +13, Hide +21, Listen +11, Move Silently +21, Spot +15, Swim +9 |
| | Alertness, Dodge, Improved Initiative, Lightning Reflexes, Mobility |
| | Any |
| | Solitary, gang (2-4), or mob (2-4 plus 5-10 zombies) |
| | 8 |
| | None |
| | Always chaotic evil |
| | |
| | - |
Mohrgs are the animated corpses of mass murderers or similar villains who died without atoning for their crimes. Most mohrgs are 5 to 6 feet tall and weigh about 120 pounds.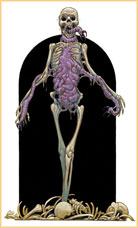 Like zombies, mohrgs attack by slamming enemies with their fists. They often catch opponents flat-footed, for they move much faster than zombies.
Improved Grab (Ex): To use this ability, a mohrg must hit a creature of its size or smaller with its slam attack. It can then attempt to start a grapple as a free action without provoking an attack of opportunity.
Paralyzing Touch (Su): A mohrg lashes out with its tongue in combat. An opponent the tongue touches must succeed on a DC 17 Fortitude save or become paralyzed for 1d4 minutes. The save DC is Charisma-based. Create Spawn (Su): Creatures killed by a mohrg rise after 1d4 days as zombies under the morhg's control. They do not possess any of the abilities they had in life.
Latest RPG Post
You weren't in position to fire on the first round, and had already used your action trying to heal Velon in any case. You can do so now if you wish.

As to the familiar, he's under your control, and nothing's stopping him from coming back, so, your choice.
NOTE: In the case of D&D, Wizards holds the copyright for its material. The versions most Players in our Community tend to use Dungeons & Dragons 2-3.5 although others may use higher versions.
Search via our Community for:
Dungeons and Dragons Mohrg - D&D 3.5 PBP RPG Coded by: BGID® | ALL RIGHTS RESERVED Copyright © 2004-2017
Disclaimer | Privacy | Report Errors / Contact | Credits
Current Leaders

Hunter

Hunter
(15)

Chynacat

Melodie
(11)
Krusten

Krusten
(11)
Wizard

Merlin
(10)
Thomaslee

Jonathon
(9)
Goldendawn

Aaroni
(9)
Aspiring Leaders

Stacia / Charmaine (7)
Txtrpg / Zork (7)
Anronrosby / Kronar (6)
Usabookworm / Bonifacius (5)
Seraphina / Alana (5)
KNtoran / Drogda (4)
Ready To Rule?
Are you here yet or still hiding? Come out of your cave and become a Ruler... a Ruler of Kings.
RPG Highlights