Dungeons and Dragons Lillend 3.5 PBP RPG
Mon, 25th June, 2018 - 12:19 am GMT
| | |
| --- | --- |
| | Lillend |
| | |
| | 7d8+14 (45 hp) |
| | +3 |
| | 20 ft. (4 squares), fly 70 ft. (average) |
| | 17 (-1 size, +3 Dex, +5 natural), touch 12, flat-footed 14 |
| | +7/+16 |
| | Short sword +11 melee (1d8+5/19-20) |
| | Short sword +11/+6 melee (1d8+5/19-20) and tail slap +6 melee (2d6+2) |
| | 10 ft./10 ft. |
| | Constrict 2d6+5, improved grab, spells, spell-like abilities |
| | Darkvision 60 ft., immunity to poison, fire resistance 10 |
| | Fort +7, Ref +10, Will +8 |
| | Str 20, Dex 17, Con 15, Int 14, Wis 16, Cha 18 |
| | Appraise +12, Concentration +12, Diplomacy +16, Knowledge (arcana) +12, Listen +13, Perform (any one) +14, Sense Motive +13, Spellcraft +14, Spot +13, Survival +17 |
| | |
| | A chaos-aligned plane |
| | Solitary or covey (2-4) |
| | 7 |
| | Standard |
| | Always chaotic good |
| | |
| | +6 |
A typical lillend's coils are 20 feet long. The creature weighs about 3,800 pounds. A few lillends have male torsos.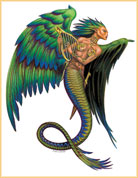 Lillends speak Celestial, Infernal, Abyssal, and Common.
Lillends are generally peaceful unless they intend vengeance against someone they believe guilty of harming, or even threatening, a favored art form, artwork, or artist. Then they become implacable foes. They use their spells and spell-like abilities to confuse and weaken opponents before entering combat. A covey of lillends usually discusses strategy before a battle.
A lillend's natural weapons, as well as any weapons it wields, are treated as chaotic-aligned and good-aligned for the purpose of overcoming damage reduction.
Latest RPG Post
Actually, I'm going to say no. Not because a counterspell cannot be countered, but because you would presumably have to stop working on your own spell to cast the counter, which renders the whole thing a moot point.

Now, Perry or another caster could in theory counter his counterspell on your behalf.
NOTE: In the case of D&D, Wizards holds the copyright for its material. The versions most Players in our Community tend to use Dungeons & Dragons 2-3.5 although others may use higher versions.
Search via our Community for:
Dungeons and Dragons Lillend - D&D 3.5 PBP RPG Coded by: BGID® | ALL RIGHTS RESERVED Copyright © 2004-2018
Disclaimer | Privacy | Report Errors / Contact | Credits
RPG Info
Latest Game Topics
Highlights
Updated every: 59 minutes