Dungeons and Dragons Lillend 3.5 PBP RPG
Thu, 23rd November, 2017 - 4:59 pm GMT
| | |
| --- | --- |
| | Lillend |
| | |
| | 7d8+14 (45 hp) |
| | +3 |
| | 20 ft. (4 squares), fly 70 ft. (average) |
| | 17 (-1 size, +3 Dex, +5 natural), touch 12, flat-footed 14 |
| | +7/+16 |
| | Short sword +11 melee (1d8+5/19-20) |
| | Short sword +11/+6 melee (1d8+5/19-20) and tail slap +6 melee (2d6+2) |
| | 10 ft./10 ft. |
| | Constrict 2d6+5, improved grab, spells, spell-like abilities |
| | Darkvision 60 ft., immunity to poison, fire resistance 10 |
| | Fort +7, Ref +10, Will +8 |
| | Str 20, Dex 17, Con 15, Int 14, Wis 16, Cha 18 |
| | Appraise +12, Concentration +12, Diplomacy +16, Knowledge (arcana) +12, Listen +13, Perform (any one) +14, Sense Motive +13, Spellcraft +14, Spot +13, Survival +17 |
| | |
| | A chaos-aligned plane |
| | Solitary or covey (2-4) |
| | 7 |
| | Standard |
| | Always chaotic good |
| | |
| | +6 |
A typical lillend's coils are 20 feet long. The creature weighs about 3,800 pounds. A few lillends have male torsos.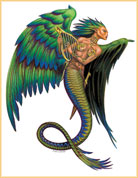 Lillends speak Celestial, Infernal, Abyssal, and Common.
Lillends are generally peaceful unless they intend vengeance against someone they believe guilty of harming, or even threatening, a favored art form, artwork, or artist. Then they become implacable foes. They use their spells and spell-like abilities to confuse and weaken opponents before entering combat. A covey of lillends usually discusses strategy before a battle.
A lillend's natural weapons, as well as any weapons it wields, are treated as chaotic-aligned and good-aligned for the purpose of overcoming damage reduction.
Latest RPG Post
The grey hulk was more intelligent and made better decisions but for some reason was never as popular as his green counterpart. People rather things smashed.
NOTE: In the case of D&D, Wizards holds the copyright for its material. The versions most Players in our Community tend to use Dungeons & Dragons 2-3.5 although others may use higher versions.
Search via our Community for:
Dungeons and Dragons Lillend - D&D 3.5 PBP RPG Coded by: BGID® | ALL RIGHTS RESERVED Copyright © 2004-2017
Disclaimer | Privacy | Report Errors / Contact | Credits
RPG Info
Latest Game Topics
Highlights
Updated every: 59 minutes