A lich is an undead spellcaster, usually a wizard or sorcerer but sometimes a cleric or other spellcaster, who has used its magical powers to unnaturally extend its life.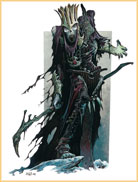 A lich is a gaunt and skeletal humanoid with withered flesh stretched tight across horribly visible bones. Its eyes have long ago been lost to decay, but bright pinpoints of crimson light burn on in the empty sockets.
Liches speak Common plus any other languages they knew in life.
Latest RPG Post
A half orc better known as "Battle Axe" because his preference was always a large two handed battle axe come on the field. He looks left and right looking for a target. He sees the orcs that raped his mother that resulted in his birth and while he carries their blood he is not interested in them or what they stand for. He shouts a war cry and then makes a swift run up to the first orc he sees.