A lich is an undead spellcaster, usually a wizard or sorcerer but sometimes a cleric or other spellcaster, who has used its magical powers to unnaturally extend its life.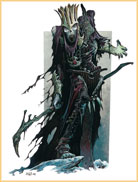 A lich is a gaunt and skeletal humanoid with withered flesh stretched tight across horribly visible bones. Its eyes have long ago been lost to decay, but bright pinpoints of crimson light burn on in the empty sockets.
Liches speak Common plus any other languages they knew in life.
Latest RPG Post
Keitha was glad to see the creatures defeated, though afterwards realized that she hadn't stopped to try and identify them. Looking to the others, she asks, "Was anyone able to catch what those creatures were?" For some reason, she didn't remember any details of what they were. This though actually worried the druid quite a bit.

Yet, they as still failed. Prisoners had been taken, counting one of their own.with Briadia needing to be found. Looking to those still there, Keitha will brush aside strands of red hair from her face before saying, "Let them go to Athens if they wish, though we need to figure out a way of finding those lost. At least Briadia, since she is needed for our journey." The druid knew they couldn't give up, even if the creatures seemed to just disappear.

Out of Character: My apologizes for the confusion before in my actions, and in not properly paying attention to all details. If I wouldn't have check this thread before going to bed I might have answered the question asked.