A lich is an undead spellcaster, usually a wizard or sorcerer but sometimes a cleric or other spellcaster, who has used its magical powers to unnaturally extend its life.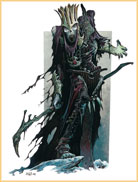 A lich is a gaunt and skeletal humanoid with withered flesh stretched tight across horribly visible bones. Its eyes have long ago been lost to decay, but bright pinpoints of crimson light burn on in the empty sockets.
Liches speak Common plus any other languages they knew in life.
Latest RPG Post
Lora groans as the barbarian withstands the savage blows. She knows that it isn't smart to stay close to him. The cleric feints and then darts about 20 feet away. She turns and calls upon Mask's fire again.
Her double stands still in the room and ignores Lawrance's question.

Out of Character: : Gknight, Lora went out into the hall to help in disposing of the barbarian last turn. I suppose that he is addressing her double in the room now. She used cunning action to disengage. Lora cast sacred flame. D.C. Is 15.