A lich is an undead spellcaster, usually a wizard or sorcerer but sometimes a cleric or other spellcaster, who has used its magical powers to unnaturally extend its life.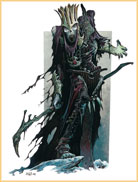 A lich is a gaunt and skeletal humanoid with withered flesh stretched tight across horribly visible bones. Its eyes have long ago been lost to decay, but bright pinpoints of crimson light burn on in the empty sockets.
Liches speak Common plus any other languages they knew in life.
Latest RPG Post
Reflections on your father

What do I know about my father? As a child, he was gone more often than not protecting the realm. I heard many stories about him, including his strength, courage, and bravery. I could tell my mother adored him, but was she in love? I don't know. The few years before my mother died, my father came around more often, and I got to know him as a leader and soldier. Again, did he love my mother? I'm not sure if it was considered the fairy tale type of love, but they respected each other very much.