A lich is an undead spellcaster, usually a wizard or sorcerer but sometimes a cleric or other spellcaster, who has used its magical powers to unnaturally extend its life.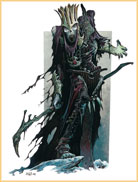 A lich is a gaunt and skeletal humanoid with withered flesh stretched tight across horribly visible bones. Its eyes have long ago been lost to decay, but bright pinpoints of crimson light burn on in the empty sockets.
Liches speak Common plus any other languages they knew in life.
Latest RPG Post
After being pulled aside by Velon along with Mari, Perry says, "I'm sorry, Mari. I chose you because I believed in you. Because you're my dear apprentice and, more importantly, someone who I really trust to have my back." He smiles softly and continues, "Still, I should have asked you. But you really were cool as a T-rex you know. You had a blonde stripe down your back."

--

Once all the looting and whatnot is over, Perry approaches the female gnome alongside Poljen and Velon. He interrupts whatever conversation is taking place and says, "Hey, sorry for the interrupt here, but I think I have an idea. We still have a big army out there to deal with. Poljen, Velon, what do you say we flop Cyanwrath's body down in front of them? I might be able to convince them to surrender or at the very least demoralize the majority of them enough to make them flee. Whadaya think?"