Dungeons and Dragons Lamia 3.5 PBP RPG
Wed, 8th July, 2020 - 8:13 am GMT
| | |
| --- | --- |
| | Lamia |
| | |
| | 9d10+9 (58 hp) |
| | +2 |
| | 60 ft. (12 squares) |
| | 18 (-1 size, +2 Dex, +7 natural), touch 11, flat-footed 16 |
| | +9/+17 |
| | Touch +12 melee (1d4 Wisdom drain) or dagger +12 melee (1d6+4/19-20) or claw +12 melee (1d4+4) |
| | Touch +12 melee (1d4 Wisdom drain); or dagger +12/+7 melee (1d6+4/19-20) and 2 claws +7 melee (1d4+2) |
| | 10 ft./5 ft. |
| | Spell-like abilities, Wisdom drain |
| | Darkvision 60 ft., low-light vision |
| | Fort +7, Ref +8, Will +7 |
| | Str 18, Dex 15, Con 12, Int 13, Wis 15, Cha 12 |
| | Bluff +14, Concentration +10, Diplomacy +3, Disguise +1 (+3 acting), Hide +11, Intimidate +3, Spot +11 |
| | |
| | Temperate deserts |
| | Solitary, pair, or gang (3-4) |
| | 6 |
| | Standard |
| | Usually chaotic evil |
| | |
| | +4 |
A typical lamia is about 8 feet long and weighs about 700 pounds.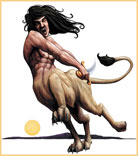 Though a lamia is powerful and dangerous in close combat, it has no stomach for a fair fight. It uses its illusion abilities to lure heroes into perilous situations, and then uses its Spring Attack feat to bound out of the shadows and drain Wisdom from its opponents. When it has sapped the will of its victim, it uses its enchantment abilities to beguile and ensnare the unfortunate soul. A lamia forced into physical combat attacks with a dagger in one of its human hands and a pair of lion-like claws.
Latest RPG Post
Poljen looks very confused at the gnomish woman. "I thought you two were joined at the hip, or something like that."
NOTE: In the case of D&D, Wizards holds the copyright for its material. The versions most Players in our Community tend to use Dungeons & Dragons 2-3.5 although others may use higher versions.
Dungeons and Dragons Lamia - D&D 3.5 PBP RPG Coded by: BGID® | ALL RIGHTS RESERVED Copyright © 2004-2020
Disclaimer | Privacy | Report Errors / Contact | Credits
Future Terra II
Automated system to Role-play. No worries about Rules, Dice or updating your Character Sheet, they are taken care of for you. Just immerse in pure Role-playing.
Become A Backer!

See More
RPG Highlights