Dungeons and Dragons Lamia 3.5 PBP RPG
Thu, 23rd November, 2017 - 5:01 pm GMT
| | |
| --- | --- |
| | Lamia |
| | |
| | 9d10+9 (58 hp) |
| | +2 |
| | 60 ft. (12 squares) |
| | 18 (-1 size, +2 Dex, +7 natural), touch 11, flat-footed 16 |
| | +9/+17 |
| | Touch +12 melee (1d4 Wisdom drain) or dagger +12 melee (1d6+4/19-20) or claw +12 melee (1d4+4) |
| | Touch +12 melee (1d4 Wisdom drain); or dagger +12/+7 melee (1d6+4/19-20) and 2 claws +7 melee (1d4+2) |
| | 10 ft./5 ft. |
| | Spell-like abilities, Wisdom drain |
| | Darkvision 60 ft., low-light vision |
| | Fort +7, Ref +8, Will +7 |
| | Str 18, Dex 15, Con 12, Int 13, Wis 15, Cha 12 |
| | Bluff +14, Concentration +10, Diplomacy +3, Disguise +1 (+3 acting), Hide +11, Intimidate +3, Spot +11 |
| | |
| | Temperate deserts |
| | Solitary, pair, or gang (3-4) |
| | 6 |
| | Standard |
| | Usually chaotic evil |
| | |
| | +4 |
A typical lamia is about 8 feet long and weighs about 700 pounds.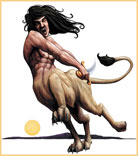 Though a lamia is powerful and dangerous in close combat, it has no stomach for a fair fight. It uses its illusion abilities to lure heroes into perilous situations, and then uses its Spring Attack feat to bound out of the shadows and drain Wisdom from its opponents. When it has sapped the will of its victim, it uses its enchantment abilities to beguile and ensnare the unfortunate soul. A lamia forced into physical combat attacks with a dagger in one of its human hands and a pair of lion-like claws.
Latest RPG Post
Celebrate finding the intruder, who knows you might even get a pay raise from the bosses, what do you think?
NOTE: In the case of D&D, Wizards holds the copyright for its material. The versions most Players in our Community tend to use Dungeons & Dragons 2-3.5 although others may use higher versions.
Search via our Community for:
Dungeons and Dragons Lamia - D&D 3.5 PBP RPG Coded by: BGID® | ALL RIGHTS RESERVED Copyright © 2004-2017
Disclaimer | Privacy | Report Errors / Contact | Credits
Current Leaders

Hunter

Hunter
(15)

Chynacat

Melodie
(11)
Krusten

Krusten
(11)
Wizard

Merlin
(10)
Thomaslee

Jonathon
(9)
Goldendawn

Aaroni
(9)
Aspiring Leaders

Stacia / Charmaine (7)
Txtrpg / Zork (7)
Anronrosby / Kronar (6)
Usabookworm / Bonifacius (5)
Seraphina / Alana (5)
KNtoran / Drogda (4)
Ready To Rule?
Are you here yet or still hiding? Come out of your cave and become a Ruler... a Ruler of Kings.
RPG Highlights