Dungeons and Dragons Shadow 3.5 PBP RPG
Wed, 22nd November, 2017 - 6:44 pm GMT
| | | |
| --- | --- | --- |
| | Shadow | Greater Shadow |
| | | |
| | 3d12 (19 hp) | 9d12 (58 hp) |
| | +2 | +2 |
| | Fly 40 ft. (good) (8 squares) | Fly 40 ft. (good) (8 squares) |
| | 13 (+2 Dex, +1 deflection), touch 13, flat-footed 11 | 14 (+2 Dex, +2 deflection), touch 14, flat-footed 12 |
| | +1/- | +4/- |
| | Incorporeal touch +3 melee (1d6 Str) | Incorporeal touch +6 melee (1d8 Str) |
| | Incorporeal touch +3 melee (1d6 Str) | Incorporeal touch +6 melee (1d8 Str) |
| | 5 ft./5 ft. | 5 ft./5 ft. |
| | Create spawn, strength damage | Create spawn, strength damage |
| | Darkvision 60 ft., incorporeal traits, +2 turn resistance, undead traits | Darkvision 60 ft., incorporeal traits, +2 turn resistance, undead traits |
| | Fort +1, Ref +3, Will +4 | Fort +3, Ref +5, Will +7 |
| | Str -, Dex 14, Con -, Int 6, Wis 12, Cha 13 | Str -, Dex 15, Con -, Int 6, Wis 12, Cha 14 |
| | | |
| | | |
| | Any | Any |
| | Solitary, gang (2-5), or swarm (6-11) | Solitary |
| | 3 | 8 |
| | None | None |
| | Always chaotic evil | Always chaotic evil |
| | 4-9 HD (Medium) | - |
| | - | - |
A shadow can be difficult to see in dark or gloomy areas but stands out starkly in brightly illuminated places.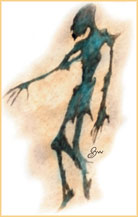 A shadow is 5 to 6 feet tall and is weightless. Shadows cannot speak intelligibly.
Latest RPG Post
Whoever that man was, it seems likely he had been in charge of this place. Loraires and Cratol have stepped into what was once the chambers of a King. The first room is an antechamber, furnished suitably for private meetings. It still has three chairs too large for any of you to use. There is little of interest here though aside from valuable artwork and the like.

The bedroom beyond is massive, and lavishly decorated. The bed itself is far larger than normal, but someone hacked off the legs so it would sit on the ground. The most recent inhabitant of this place seems to have added his own touches to it, various animal trophies, hides, and other symbols of strength.

On the wall is a large portrait of a Cloud Giant family, dressed in noble attire. A man, woman, and a young boy. The portrait is utterly ruined however, with multiple slices in it. A throwing axe is still embedded in it.

There is a blanket, at first glance it was apparently casually thrown off the bed, but to attentive eyes, faint movement can be seen beneath it.
NOTE: In the case of D&D, Wizards holds the copyright for its material. The versions most Players in our Community tend to use Dungeons & Dragons 2-3.5 although others may use higher versions.
Search via our Community for:
Dungeons and Dragons Shadow - D&D 3.5 PBP RPG Coded by: BGID® | ALL RIGHTS RESERVED Copyright © 2004-2017
Disclaimer | Privacy | Report Errors / Contact | Credits
RPG Info
Latest Game Topics
Highlights
Updated every: 59 minutes