Dungeons and Dragons Shadow 3.5 PBP RPG
Wed, 20th June, 2018 - 7:47 am GMT
| | | |
| --- | --- | --- |
| | Shadow | Greater Shadow |
| | | |
| | 3d12 (19 hp) | 9d12 (58 hp) |
| | +2 | +2 |
| | Fly 40 ft. (good) (8 squares) | Fly 40 ft. (good) (8 squares) |
| | 13 (+2 Dex, +1 deflection), touch 13, flat-footed 11 | 14 (+2 Dex, +2 deflection), touch 14, flat-footed 12 |
| | +1/- | +4/- |
| | Incorporeal touch +3 melee (1d6 Str) | Incorporeal touch +6 melee (1d8 Str) |
| | Incorporeal touch +3 melee (1d6 Str) | Incorporeal touch +6 melee (1d8 Str) |
| | 5 ft./5 ft. | 5 ft./5 ft. |
| | Create spawn, strength damage | Create spawn, strength damage |
| | Darkvision 60 ft., incorporeal traits, +2 turn resistance, undead traits | Darkvision 60 ft., incorporeal traits, +2 turn resistance, undead traits |
| | Fort +1, Ref +3, Will +4 | Fort +3, Ref +5, Will +7 |
| | Str -, Dex 14, Con -, Int 6, Wis 12, Cha 13 | Str -, Dex 15, Con -, Int 6, Wis 12, Cha 14 |
| | | |
| | | |
| | Any | Any |
| | Solitary, gang (2-5), or swarm (6-11) | Solitary |
| | 3 | 8 |
| | None | None |
| | Always chaotic evil | Always chaotic evil |
| | 4-9 HD (Medium) | - |
| | - | - |
A shadow can be difficult to see in dark or gloomy areas but stands out starkly in brightly illuminated places.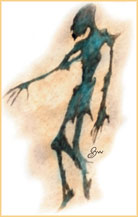 A shadow is 5 to 6 feet tall and is weightless. Shadows cannot speak intelligibly.
Latest RPG Post
Mari plows into the crowd while Zarra hangs back, killing a kobold with two quick strikes. Ahead, beyond the kobolds, she can see the troll's turning a corner, heading for the ruckus. The golem moves after the rogue, but it will take a while to catch up to her.

Poljen attacks the prince again, who turns to face him while his lover continues on. The prince calls out, "Aria was just attacked! They have help outside!" The elf ducks under one blow, but is injured by the followup. In response, he raises a hand towards the ceiling, and all of a sudden an avalanche of heavy mud is falling down, pummeling the warrior from above.

The dragon takes a long look at the kobolds filling the tunnel, then her form shimmers, and where a beautiful woman had been running, now there was a tiger. The huge cat stands nearly as high as Poljen at the shoulder, and two large fangs jut down from the roof of its mouth. The cat sniffs the air, moving her head about. The eyes flash as she turns to look straight at Zarra.

Meanwhile, the rest of the group keeps moving down the passage, they can hear the sound of fighting ahead.

Out of Character: Poljen, Dexterity save for half of 20 bludgeoning damage, which would again be halved by your DR

DC 10 Nature to identify the cat as a Dire Tiger.
NOTE: In the case of D&D, Wizards holds the copyright for its material. The versions most Players in our Community tend to use Dungeons & Dragons 2-3.5 although others may use higher versions.
Search via our Community for:
Dungeons and Dragons Shadow - D&D 3.5 PBP RPG Coded by: BGID® | ALL RIGHTS RESERVED Copyright © 2004-2018
Disclaimer | Privacy | Report Errors / Contact | Credits
RPG Info
Latest Game Topics
Highlights
Updated every: 59 minutes