Dungeons and Dragons Shadow 3.5 PBP RPG
Sat, 17th February, 2018 - 9:29 pm GMT
| | | |
| --- | --- | --- |
| | Shadow | Greater Shadow |
| | | |
| | 3d12 (19 hp) | 9d12 (58 hp) |
| | +2 | +2 |
| | Fly 40 ft. (good) (8 squares) | Fly 40 ft. (good) (8 squares) |
| | 13 (+2 Dex, +1 deflection), touch 13, flat-footed 11 | 14 (+2 Dex, +2 deflection), touch 14, flat-footed 12 |
| | +1/- | +4/- |
| | Incorporeal touch +3 melee (1d6 Str) | Incorporeal touch +6 melee (1d8 Str) |
| | Incorporeal touch +3 melee (1d6 Str) | Incorporeal touch +6 melee (1d8 Str) |
| | 5 ft./5 ft. | 5 ft./5 ft. |
| | Create spawn, strength damage | Create spawn, strength damage |
| | Darkvision 60 ft., incorporeal traits, +2 turn resistance, undead traits | Darkvision 60 ft., incorporeal traits, +2 turn resistance, undead traits |
| | Fort +1, Ref +3, Will +4 | Fort +3, Ref +5, Will +7 |
| | Str -, Dex 14, Con -, Int 6, Wis 12, Cha 13 | Str -, Dex 15, Con -, Int 6, Wis 12, Cha 14 |
| | | |
| | | |
| | Any | Any |
| | Solitary, gang (2-5), or swarm (6-11) | Solitary |
| | 3 | 8 |
| | None | None |
| | Always chaotic evil | Always chaotic evil |
| | 4-9 HD (Medium) | - |
| | - | - |
A shadow can be difficult to see in dark or gloomy areas but stands out starkly in brightly illuminated places.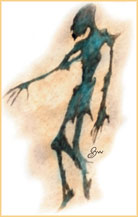 A shadow is 5 to 6 feet tall and is weightless. Shadows cannot speak intelligibly.
Latest RPG Post
Perry turns back to the devils after hearing the group's relative consensus. "All right we can do the deal, but before we make it you devils have to agree to leave and go back to the Nine Hells once the idiot person who summoned you to this plane is dead. Also, I'd like the agreement in writing please."

"So here it is: I'll kill this idiot for you, but only if he's still alive when I attempt to do so. I can't kill what's already dead after all, but that should still suffice for this agreement. Anyway, if you agree, here's what I want to know:

1. Who is this idiot and what were his exact orders to you?
2. How do you benefit from listening to him? Why leave the Nine Hells to come here? What is your true mission?
3. Have you seen a dwarf pass through here lately? He may have been traveling with a group. If so, where is he, what happened to him and his group when you saw them, and what does he seek?
4. Have you seen any other people pass through here in the last 2 or 3 weeks? If so, who were they and what were they after?
5. What do you know of this place and its inhabitants? What and where are other traps that we can avoid? What kind of monsters lurk in this place? What information do you know about these monsters?".
NOTE: In the case of D&D, Wizards holds the copyright for its material. The versions most Players in our Community tend to use Dungeons & Dragons 2-3.5 although others may use higher versions.
Search via our Community for:
Dungeons and Dragons Shadow - D&D 3.5 PBP RPG Coded by: BGID® | ALL RIGHTS RESERVED Copyright © 2004-2018
Disclaimer | Privacy | Report Errors / Contact | Credits
RPG Info
Latest Game Topics
Highlights