Dungeons and Dragons Sea Cat 3.5 PBP RPG
Sat, 28th March, 2020 - 8:01 pm GMT
| | |
| --- | --- |
| | Sea Cat |
| | |
| | 6d10+18 (51 hp) |
| | +1 |
| | 10 ft. (2 squares), swim 40 ft. |
| | 18 (-1 size, +1 Dex, +8 natural), touch 10, flat-footed 17 |
| | +6/+14 |
| | Claw +9 melee (1d6+4) |
| | 2 claws +9 melee (1d6+4) and bite +4 melee (1d8+2) |
| | 10 ft./5 ft. |
| | Rend 2d6+6 |
| | Darkvision 60 ft., hold breath, low-light vision, scent |
| | Fort +8, Ref +6, Will +5 |
| | Str 19, Dex 12, Con 17, Int 2, Wis 13, Cha 10 |
| | |
| | |
| | Temperate aquatic |
| | Solitary, pair, or pride (5-12) |
| | 4 |
| | None |
| | Always neutral |
| | |
| | - |
A typical sea cat is 12 feet long and weighs 800 pounds.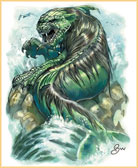 Sea cats attack on sight, either for food or to defend their territory, and use both claws and teeth to grab and rend their prey. They display tremendous courage, always fighting to the death, even against creatures many times their size. Pairs and prides of sea cats attack in concert, trying to wear the opponent down until one beast can dispatch it.
Latest RPG Post
"Yes, I live down the road in one of the beach houses my parents occupy during the summer. I've never seen you before, did you just move in or from elsewhere?"
NOTE: In the case of D&D, Wizards holds the copyright for its material. The versions most Players in our Community tend to use Dungeons & Dragons 2-3.5 although others may use higher versions.
Dungeons and Dragons Sea Cat - D&D 3.5 PBP RPG Coded by: BGID® | ALL RIGHTS RESERVED Copyright © 2004-2020
Disclaimer | Privacy | Report Errors / Contact | Credits
Future Terra II
Automated system to Role-play. No worries about Rules, Dice or updating your Character Sheet, they are taken care of for you. Just immerse in pure Role-playing.
Become A Backer!

See More
RPG Highlights