Dungeons and Dragons Sea Cat 3.5 PBP RPG
Thu, 23rd November, 2017 - 4:55 pm GMT
| | |
| --- | --- |
| | Sea Cat |
| | |
| | 6d10+18 (51 hp) |
| | +1 |
| | 10 ft. (2 squares), swim 40 ft. |
| | 18 (-1 size, +1 Dex, +8 natural), touch 10, flat-footed 17 |
| | +6/+14 |
| | Claw +9 melee (1d6+4) |
| | 2 claws +9 melee (1d6+4) and bite +4 melee (1d8+2) |
| | 10 ft./5 ft. |
| | Rend 2d6+6 |
| | Darkvision 60 ft., hold breath, low-light vision, scent |
| | Fort +8, Ref +6, Will +5 |
| | Str 19, Dex 12, Con 17, Int 2, Wis 13, Cha 10 |
| | |
| | |
| | Temperate aquatic |
| | Solitary, pair, or pride (5-12) |
| | 4 |
| | None |
| | Always neutral |
| | |
| | - |
A typical sea cat is 12 feet long and weighs 800 pounds.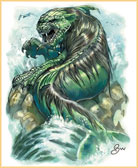 Sea cats attack on sight, either for food or to defend their territory, and use both claws and teeth to grab and rend their prey. They display tremendous courage, always fighting to the death, even against creatures many times their size. Pairs and prides of sea cats attack in concert, trying to wear the opponent down until one beast can dispatch it.
Latest RPG Post
I take it Cratol did not find anything in the way of treasure or foes in the rooms or the exploration of the upper floor?
NOTE: In the case of D&D, Wizards holds the copyright for its material. The versions most Players in our Community tend to use Dungeons & Dragons 2-3.5 although others may use higher versions.
Search via our Community for:
Dungeons and Dragons Sea Cat - D&D 3.5 PBP RPG Coded by: BGID® | ALL RIGHTS RESERVED Copyright © 2004-2017
Disclaimer | Privacy | Report Errors / Contact | Credits
Current Leaders

Hunter

Hunter
(15)

Chynacat

Melodie
(11)
Krusten

Krusten
(11)
Wizard

Merlin
(10)
Thomaslee

Jonathon
(9)
Goldendawn

Aaroni
(9)
Aspiring Leaders

Stacia / Charmaine (7)
Txtrpg / Zork (7)
Anronrosby / Kronar (6)
Usabookworm / Bonifacius (5)
Seraphina / Alana (5)
KNtoran / Drogda (4)
Ready To Rule?
Are you here yet or still hiding? Come out of your cave and become a Ruler... a Ruler of Kings.
RPG Highlights