Dungeons and Dragons Gnoll 3.5 PBP RPG
Sun, 21st April, 2019 - 8:40 pm GMT
| | |
| --- | --- |
| | Gnoll |
| | |
| | 2d8+2 (11 hp) |
| | +0 |
| | 30 ft. (6 squares) |
| | 15 (+1 natural, +2 leather armor, +2 heavy steel shield), touch 10, flat-footed 15 |
| | +1/+3 |
| | Battleaxe +3 melee (1d8+2/x3) or shortbow +1 ranged (1d6/x3) |
| | Battleaxe +3 melee (1d8+2/x3) or shortbow +1 ranged (1d6/x3) |
| | 5 ft./5 ft. |
| | - |
| | Darkvision 60 ft. |
| | Fort +4, Ref +0, Will +0 |
| | Str 15, Dex 10, Con 13, Int 8, Wis 11, Cha 8 |
| | |
| | |
| | Warm plains |
| | Solitary, pair, hunting party (2-5 and 1-2 hyenas), band (10-100 plus 50% noncombatants plus 1 3rd-level sergeant per 20 adults and 1 leader of 4th-6th level and 5-8 hyenas), or tribe (20-200 plus 1 3rd-level sergeant per 20 adults, 1 or 2 lieutenants of 4th or 5th level, 1 leader of 6th-8th level, and 7-12 hyenas; underground lairs also have 1-3 trolls) |
| | 1 |
| | Standard |
| | Usually chaotic evil |
| | By character class |
| | +1 |
Gnolls are hyena-headed, evil humanoids that wander in loose tribes. Most gnolls have dirty yellow or reddish-brown fur. A gnoll is a nocturnal carnivore, preferring intelligent creatures for food because they scream more. A gnoll is about 7-1/2 feet tall and weighs 300 pounds. Gnolls speak Gnoll.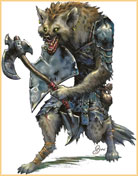 Latest RPG Post
Can you please explain, why "Coding" is necessary, and what it does?
How is its cost determined?
NOTE: In the case of D&D, Wizards holds the copyright for its material. The versions most Players in our Community tend to use Dungeons & Dragons 2-3.5 although others may use higher versions.
Search via our Community for:
Dungeons and Dragons Gnoll - D&D 3.5 PBP RPG Coded by: BGID® | ALL RIGHTS RESERVED Copyright © 2004-2019
Disclaimer | Privacy | Report Errors / Contact | Credits
Future Terra II
Automated system to Role-play. No worries about Rules, Dice or updating your Character Sheet, they are taken care of for you. Just immerse in pure Role-playing.
Become A Backer!

See More
RPG Highlights
Updated every: 59 minutes