Dungeons and Dragons Gnoll 3.5 PBP RPG
Tue, 21st November, 2017 - 2:01 pm GMT
| | |
| --- | --- |
| | Gnoll |
| | |
| | 2d8+2 (11 hp) |
| | +0 |
| | 30 ft. (6 squares) |
| | 15 (+1 natural, +2 leather armor, +2 heavy steel shield), touch 10, flat-footed 15 |
| | +1/+3 |
| | Battleaxe +3 melee (1d8+2/x3) or shortbow +1 ranged (1d6/x3) |
| | Battleaxe +3 melee (1d8+2/x3) or shortbow +1 ranged (1d6/x3) |
| | 5 ft./5 ft. |
| | - |
| | Darkvision 60 ft. |
| | Fort +4, Ref +0, Will +0 |
| | Str 15, Dex 10, Con 13, Int 8, Wis 11, Cha 8 |
| | |
| | |
| | Warm plains |
| | Solitary, pair, hunting party (2-5 and 1-2 hyenas), band (10-100 plus 50% noncombatants plus 1 3rd-level sergeant per 20 adults and 1 leader of 4th-6th level and 5-8 hyenas), or tribe (20-200 plus 1 3rd-level sergeant per 20 adults, 1 or 2 lieutenants of 4th or 5th level, 1 leader of 6th-8th level, and 7-12 hyenas; underground lairs also have 1-3 trolls) |
| | 1 |
| | Standard |
| | Usually chaotic evil |
| | By character class |
| | +1 |
Gnolls are hyena-headed, evil humanoids that wander in loose tribes. Most gnolls have dirty yellow or reddish-brown fur. A gnoll is a nocturnal carnivore, preferring intelligent creatures for food because they scream more. A gnoll is about 7-1/2 feet tall and weighs 300 pounds. Gnolls speak Gnoll.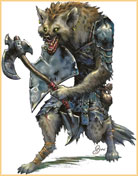 Latest RPG Post
Tazskan, looks about the room trying to see if his plate armor, and unique amulet is here? He figures, since it was Rezmir who captured him, then she might have his stuff?
Out of Character: since, I don't have a particular search skill, I will let Daish apply the modifier here.
NOTE: In the case of D&D, Wizards holds the copyright for its material. The versions most Players in our Community tend to use Dungeons & Dragons 2-3.5 although others may use higher versions.
Search via our Community for:
Dungeons and Dragons Gnoll - D&D 3.5 PBP RPG Coded by: BGID® | ALL RIGHTS RESERVED Copyright © 2004-2017
Disclaimer | Privacy | Report Errors / Contact | Credits
Current Leaders

Hunter

Hunter
(15)

Chynacat

Melodie
(11)
Krusten

Krusten
(11)
Wizard

Merlin
(10)
Thomaslee

Jonathon
(9)
Goldendawn

Aaroni
(9)
Aspiring Leaders

Stacia / Charmaine (7)
Txtrpg / Zork (7)
Anronrosby / Kronar (6)
Usabookworm / Bonifacius (5)
Seraphina / Alana (5)
KNtoran / Drogda (4)
Ready To Rule?
Are you here yet or still hiding? Come out of your cave and become a Ruler... a Ruler of Kings.
RPG Highlights