Dungeons and Dragons Gnoll 3.5 PBP RPG
Sun, 31st May, 2020 - 1:45 pm GMT
| | |
| --- | --- |
| | Gnoll |
| | |
| | 2d8+2 (11 hp) |
| | +0 |
| | 30 ft. (6 squares) |
| | 15 (+1 natural, +2 leather armor, +2 heavy steel shield), touch 10, flat-footed 15 |
| | +1/+3 |
| | Battleaxe +3 melee (1d8+2/x3) or shortbow +1 ranged (1d6/x3) |
| | Battleaxe +3 melee (1d8+2/x3) or shortbow +1 ranged (1d6/x3) |
| | 5 ft./5 ft. |
| | - |
| | Darkvision 60 ft. |
| | Fort +4, Ref +0, Will +0 |
| | Str 15, Dex 10, Con 13, Int 8, Wis 11, Cha 8 |
| | |
| | |
| | Warm plains |
| | Solitary, pair, hunting party (2-5 and 1-2 hyenas), band (10-100 plus 50% noncombatants plus 1 3rd-level sergeant per 20 adults and 1 leader of 4th-6th level and 5-8 hyenas), or tribe (20-200 plus 1 3rd-level sergeant per 20 adults, 1 or 2 lieutenants of 4th or 5th level, 1 leader of 6th-8th level, and 7-12 hyenas; underground lairs also have 1-3 trolls) |
| | 1 |
| | Standard |
| | Usually chaotic evil |
| | By character class |
| | +1 |
Gnolls are hyena-headed, evil humanoids that wander in loose tribes. Most gnolls have dirty yellow or reddish-brown fur. A gnoll is a nocturnal carnivore, preferring intelligent creatures for food because they scream more. A gnoll is about 7-1/2 feet tall and weighs 300 pounds. Gnolls speak Gnoll.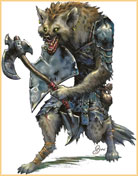 Latest RPG Post
.. Meadow, filled with flowers. In the middle is a beautiful moss covered area that looks comfortable to lay down on, so you do. Exhaustion from the day's events seem to settle on you heavily and before you know it you are asleep and dreaming of…
NOTE: In the case of D&D, Wizards holds the copyright for its material. The versions most Players in our Community tend to use Dungeons & Dragons 2-3.5 although others may use higher versions.
Dungeons and Dragons Gnoll - D&D 3.5 PBP RPG Coded by: BGID® | ALL RIGHTS RESERVED Copyright © 2004-2020
Disclaimer | Privacy | Report Errors / Contact | Credits
Future Terra II
Automated system to Role-play. No worries about Rules, Dice or updating your Character Sheet, they are taken care of for you. Just immerse in pure Role-playing.
Become A Backer!

See More
RPG Highlights
Updated every: 59 minutes