Dungeons and Dragons Girallon 3.5 PBP RPG
Wed, 20th June, 2018 - 7:44 am GMT
| | |
| --- | --- |
| | Girallon |
| | |
| | 7d10+20 (58 hp) |
| | +3 |
| | 40 ft. (8 squares), climb 40 ft. |
| | 16 (-1 size, +3 Dex, +4 natural), touch 12, flat-footed 15 |
| | +7/+17 |
| | Claw +12 melee (1d4+6) |
| | 4 claws +12 melee (1d4+6) and bite +7 melee (1d8+3) |
| | 10 ft./10 ft. |
| | Rend 2d4+9 |
| | Darkvision 60 ft., low-light vision, scent |
| | Fort +7, Ref +8, Will +5 |
| | Str 22, Dex 17, Con 14, Int 2, Wis 12, Cha 7 |
| | Climb +14, Move Silently +8, Spot +6 |
| | |
| | Warm forests |
| | Solitary or company (5-8) |
| | 6 |
| | None |
| | Always neutral |
| | |
| | - |
Girallons are savage, magical cousins of the gorilla. When moving on the ground, a girallon walks on its legs and lower arms. An adult girallon is about 8 feet tall, broad-chested, and covered in thick, pure white fur. It weighs about 800 pounds.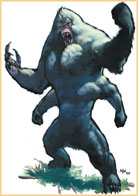 A solitary girallon usually conceals itself in the branches of a tree or under a pile of leaves and brush, with only its nose showing. When it spots or scents prey, it charges to the attack. A girallon picks up prey that is small enough to carry and withdraws, often vanishing into the trees before the victim's companions can do anything to retaliate. Against larger foes, a girallon seeks to tear a single opponent to bits as quickly as it can.
Rend (Ex): A girallon that hits with two or more claw attacks latches onto the opponent's body and tears the flesh. This attack automatically deals an extra 2d4+12 points of damage.
Latest RPG Post
As you slowly move more into an arc you are still in wooded territory. The terrain is hilly but not real steep until you head a bit farther north. You will find clearings here and there as you come across streams and glades but for the most part your trip is quiet and you can see at times that it is getting late in the afternoon. You figure you are roughly about two hours north and west of the stronghold.
NOTE: In the case of D&D, Wizards holds the copyright for its material. The versions most Players in our Community tend to use Dungeons & Dragons 2-3.5 although others may use higher versions.
Search via our Community for:
Dungeons and Dragons Girallon - D&D 3.5 PBP RPG Coded by: BGID® | ALL RIGHTS RESERVED Copyright © 2004-2018
Disclaimer | Privacy | Report Errors / Contact | Credits
RPG Info
Latest Game Topics
Highlights
Updated every: 59 minutes