| | |
| --- | --- |
| | Ettin |
| | |
| | 10d8+20 (65 hp) |
| | +3 |
| | 30 ft. in hide armor (6 squares); base speed 40 ft. |
| | 18 (-1 size, -1 Dex, +7 natural, +3 hide), touch 8, flat-footed 18 |
| | +7/+17 |
| | Morningstar +12 melee (2d6+6) or javelin +5 ranged (1d8+6) |
| | 2 morningstars +12/+7 melee (2d6+6) or 2 javelins +5 ranged (1d8+6) |
| | 10 ft./10 ft. |
| | - |
| | Low-light vision, superior two-weapon fighting |
| | Fort +9, Ref +2, Will +5 |
| | Str 23, Dex 8, Con 15, Int 6, Wis 10, Cha 11 |
| | |
| | |
| | Cold hills |
| | Solitary, gang (2-4), troupe (1-2 plus 1-2 brown bears), band (3-5 plus 1-2 brown bears), or colony (3-5 plus 1-2 brown bears and 7-12 orcs or 9-16 goblins) |
| | 6 |
| | Standard |
| | Usually chaotic evil |
| | By character class |
| | +5 |
Ettins, or two-headed giants, are vicious and unpredictable hunters that stalk the night.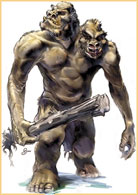 An ettin never bathes if it can help it, which usually leaves it so grimy and dirty its skin resembles thick, gray hide. Adult ettins are about 13 feet tall and weigh 5,200 pounds. They live about 75 years.
Ettins have no language of their own but speak a pidgin of Orc, Goblin, and Giant. Creatures that can speak any of these languages must succeed on a DC 15 Intelligence check to communicate with an ettin. Check once for each bit of information: If the other creature speaks two of these languages, the DC is 10, and for someone who speaks all three, the DC is 5.
Though ettins aren't very intelligent, they are cunning fighters.
They prefer to ambush their victims rather than charge into a straight fight, but once the battle has started, an ettin usually fights furiously until all enemies are dead.
Superior Two-Weapon Fighting (Ex): An ettin fights with a morningstar or javelin in each hand. Because each of its two heads controls an arm, the ettin does not take a penalty on attack or damage rolls for attacking with two weapons.
Skills: An ettin's two heads give it a +2 racial bonus on Listen, Spot, and Search checks.
Latest RPG Post
After being shackled up, Eya looks around at the others in the cell with her. She looks to Kiven first and says, "Aloro, your brother seems like a real ass. I wouldn't mind adding him to my rapidly growing list of shitstains to kill. I'll help, but only if I get the ears after."

Eya then inspects her shackles and tests their strength a little. She scoffs, "They expect these to hold her?" She looks to Jesla, "You there, warrior of Gorum, God of Battle and Lord in Iron. Jesla, right? That's what they called you earlier. Listen Jesla, I can tell just by looking at these chains that they are far too weak to hold you. BUT, if you attempt to break free right now, you would alert the guards immediately from the noise." Eya nods in the direction of the guards down the hallway, then continues, "If you're serious about bathing in their blood, which, by the way, is a favorite pastime of mine, then bide your time for now and wait for the right moment. Side note, blood bathing is actually good for the skin. It keeps the aging down. It's a shame we can't flay them alive too though; we don't have the luxury of time." Eya sighs, seemingly disappointed.

"You all might be wondering why they went through the trouble of branding us if they're just planning to execute the majority of us tomorrow. Well, the branding iron the used had magical runes inscribed on it. You saw them too, right Aloro? Anyway, the scar created by that magical branding iron is permanent and no amount of healing can make it go away. Essentially, they didn't just brand our physical bodies, but our souls as well. You could cut off your arm, regrow it with magic, and the brand would be right back there again. Why do they do this you might ask? Perhaps it's to humiliate us, to brand us forever as the Other, the Forsaken. That's their terminology, not mine. But perhaps that's only part of the reason."

"So, why am I telling you all this? Because I think we can all break out of this place if we play our cards right and work together. I'm Eya by the way."

Out of Character: Probably obvious but Eya keeps her voice low enough so that the guards can't hear but loud enough for the others in the cell to hear.