| | |
| --- | --- |
| | Ettin |
| | |
| | 10d8+20 (65 hp) |
| | +3 |
| | 30 ft. in hide armor (6 squares); base speed 40 ft. |
| | 18 (-1 size, -1 Dex, +7 natural, +3 hide), touch 8, flat-footed 18 |
| | +7/+17 |
| | Morningstar +12 melee (2d6+6) or javelin +5 ranged (1d8+6) |
| | 2 morningstars +12/+7 melee (2d6+6) or 2 javelins +5 ranged (1d8+6) |
| | 10 ft./10 ft. |
| | - |
| | Low-light vision, superior two-weapon fighting |
| | Fort +9, Ref +2, Will +5 |
| | Str 23, Dex 8, Con 15, Int 6, Wis 10, Cha 11 |
| | |
| | |
| | Cold hills |
| | Solitary, gang (2-4), troupe (1-2 plus 1-2 brown bears), band (3-5 plus 1-2 brown bears), or colony (3-5 plus 1-2 brown bears and 7-12 orcs or 9-16 goblins) |
| | 6 |
| | Standard |
| | Usually chaotic evil |
| | By character class |
| | +5 |
Ettins, or two-headed giants, are vicious and unpredictable hunters that stalk the night.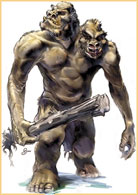 An ettin never bathes if it can help it, which usually leaves it so grimy and dirty its skin resembles thick, gray hide. Adult ettins are about 13 feet tall and weigh 5,200 pounds. They live about 75 years.
Ettins have no language of their own but speak a pidgin of Orc, Goblin, and Giant. Creatures that can speak any of these languages must succeed on a DC 15 Intelligence check to communicate with an ettin. Check once for each bit of information: If the other creature speaks two of these languages, the DC is 10, and for someone who speaks all three, the DC is 5.
Though ettins aren't very intelligent, they are cunning fighters.
They prefer to ambush their victims rather than charge into a straight fight, but once the battle has started, an ettin usually fights furiously until all enemies are dead.
Superior Two-Weapon Fighting (Ex): An ettin fights with a morningstar or javelin in each hand. Because each of its two heads controls an arm, the ettin does not take a penalty on attack or damage rolls for attacking with two weapons.
Skills: An ettin's two heads give it a +2 racial bonus on Listen, Spot, and Search checks.
Latest RPG Post
"Oh absolutely, right away your Highness," Perry addresses the disembodied voice of the dragon. "I'm just searching through the ole bag here to pull out the mask that we already showed your really friendly kobold employee back there. You should really get that little guy a raise; he seemed to really be doing a great job. He provided excellent customer service and made me feel valued throughout the whole transaction. I'd definitely choose him again to have a second threatening message delivered."

Perry begins mumbling as he digs through the bag, "Anyway, let's see here… nope that's the mask from last year's ballroom dance… and that's the one from improv class. Hold on, hold on, here it is I think. Oh yikes, hope you had some scratch insurance on this thing. I'm sure it will buff out. Maybe I can prestidigitate the smudge out?"

Meanwhile, Perry winks to Lawrance to begin dispelling the golem's ward hoping that his brilliant acting has inspired the wizard.

Perry will mentally communicate to the others during this whole show, "Guys, I'm trying to stall for time here. Can either of the beautiful rogues go check out the side room to see if they are in there? It's making me uneasy that we can't see them."

Out of Character: We are off the rails now ladies and gentleman, (Laugh). Lawrance, take your d8 for the check. I'll do a Deception check just to see if any of this is any good at all at stalling for time while we inspect this area and disable any traps we can.