Dungeons and Dragons Ettercap 3.5 PBP RPG
Fri, 19th October, 2018 - 9:33 pm GMT
| | |
| --- | --- |
| | Ettercap |
| | |
| | 5d8+5 (27 hp) |
| | +3 |
| | 30 ft. (6 squares), climb 30 ft. |
| | 14 (+3 Dex, +1 natural), touch 13, flat-footed 11 |
| | +3/+5 |
| | Bite +5 melee (1d8+2 plus poison) |
| | Bite +5 melee (1d8+2 plus poison) and 2 claws +3 melee (1d3+1) |
| | 5 ft./5 ft. |
| | Poison, web |
| | |
| | Fort +4, Ref +4, Will +6 |
| | Str 14, Dex 17, Con 13, Int 6, Wis 15, Cha 8 |
| | Climb +10, Craft (trapmaking) +4, Hide +9, Listen +4, Spot +8 |
| | |
| | Warm forests |
| | Solitary, pair, or troupe (1-2 plus 2-4 Medium monstrous spiders) |
| | 3 |
| | Standard |
| | Usually neutral evil |
| | |
| | +4 |
An ettercap is about 6 feet tall and weighs about 200 pounds.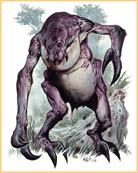 Ettercaps speak Common.
Latest RPG Post
Daishain, what is the DC on the heat metal save? I assume 16+.

Seath reminded me that I still have advantage on the first save since mantle was cast, so rolling again.
NOTE: In the case of D&D, Wizards holds the copyright for its material. The versions most Players in our Community tend to use Dungeons & Dragons 2-3.5 although others may use higher versions.
Search via our Community for:
Dungeons and Dragons Ettercap - D&D 3.5 PBP RPG Coded by: BGID® | ALL RIGHTS RESERVED Copyright © 2004-2018
Disclaimer | Privacy | Report Errors / Contact | Credits
Future Terra II
Automated system to Role-play. No worries about Rules, Dice or updating your Character Sheet, they are taken care of for you. Just immerse in pure Role-playing.
Become A Backer!
See More
RPG Highlights
Updated every: 59 minutes