Dungeons and Dragons Ettercap 3.5 PBP RPG
Fri, 3rd April, 2020 - 10:32 pm GMT
| | |
| --- | --- |
| | Ettercap |
| | |
| | 5d8+5 (27 hp) |
| | +3 |
| | 30 ft. (6 squares), climb 30 ft. |
| | 14 (+3 Dex, +1 natural), touch 13, flat-footed 11 |
| | +3/+5 |
| | Bite +5 melee (1d8+2 plus poison) |
| | Bite +5 melee (1d8+2 plus poison) and 2 claws +3 melee (1d3+1) |
| | 5 ft./5 ft. |
| | Poison, web |
| | |
| | Fort +4, Ref +4, Will +6 |
| | Str 14, Dex 17, Con 13, Int 6, Wis 15, Cha 8 |
| | Climb +10, Craft (trapmaking) +4, Hide +9, Listen +4, Spot +8 |
| | |
| | Warm forests |
| | Solitary, pair, or troupe (1-2 plus 2-4 Medium monstrous spiders) |
| | 3 |
| | Standard |
| | Usually neutral evil |
| | |
| | +4 |
An ettercap is about 6 feet tall and weighs about 200 pounds.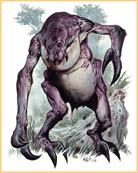 Ettercaps speak Common.
Latest RPG Post
Times when you were back at home with your grandma. You doubt yourself and if you should have even begun this journey. "Why leave the safety of where you grew up to now put yourself in danger?" she asks herself with a big sigh. She looks back to see if the imp is coming as she continues her thoughts, "You should have stayed home, maybe grandma needs help!" she debates with herself but she knows its just cowardice creeping in.
NOTE: In the case of D&D, Wizards holds the copyright for its material. The versions most Players in our Community tend to use Dungeons & Dragons 2-3.5 although others may use higher versions.
Dungeons and Dragons Ettercap - D&D 3.5 PBP RPG Coded by: BGID® | ALL RIGHTS RESERVED Copyright © 2004-2020
Disclaimer | Privacy | Report Errors / Contact | Credits
Text Adventure
Current Leaders

Krusten

Krusten
(15)

Wizard

Merlin
(14)
Hunter

Thorin
(12)
Stacia

Sapphire
(9)
Ammon

Nephi
(6)
Symphony

Melodee
(6)
Aspiring Leaders

Warlock / Runic (3)
Workman / Shamus (3)
Shadow / Eric (3)
LitRPG / Bladur (3)
Horseradish / Wilbur (3)
Kingdracula / Thomas (3)
Ready To Rule?
Are you here yet or still hiding? Come out of your cave and become a Ruler... a Ruler of Kings.
RPG Highlights