| | |
| --- | --- |
| | Leshay |
| | |
| | 50d6+650 (825 hp) |
| | +21 (+17 Dex, +4 Improved Initiative) |
| | 40 ft. |
| | 52 (+17 Dex, +20 insight, +5 natural armor), touch 47, flat-footed 35 |
| | +25/+30 |
| | +10 keen brilliant energy bastard sword +53 (1d10+15/17-20) melee |
| | 2 +10 keen brilliant energy bastard swords +53/+48/+43/+38 (1d10+15/17-20) melee |
| | 5 ft./5 ft. |
| | Gaze, spell-like abilities, leShay weapons |
| | Superior two-weapon fighting, damage reduction 15/epic and cold iron, elf traits, immune to poison and disease, low-light vision, spell resistance 42, fast healing 10 |
| | Fort +29, Ref +44, Will +35 |
| | Str 21, Dex 45, Con 37, Int 33, Wis 23, Cha 47 |
| | Bluff +71, Concentration +66, Diplomacy +77, Disguise +71, Escape Artist +70, Gather Information +24, Hide +70, Intimidate +24, Jump +5, Knowledge (local, nature) +59, Listen +59, Move Silently +70, Search +59, Speak Language (any five), Spot +59 |
| | Blind-Fight, Cleave, Dodge, Combat Expertise, Improved Critical (leShay weapon), Improved Initiative, Iron Will, Mobility, Power Attack, Quick Draw, Spring Attack, Weapon Finesse, Weapon Focus (leShay weapon), Whirlwind Attack |
| Epic Feats: | |
| | Any |
| | Solitary |
| | 28 |
| | Standard |
| | Any |
| | None |
A leshay's natural weapons are treated as epic for the purpose of overcoming damage reduction.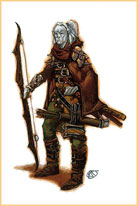 Latest RPG Post
After being shackled up, Eya looks around at the others in the cell with her. She looks to Kiven first and says, "Aloro, your brother seems like a real ass. I wouldn't mind adding him to my rapidly growing list of shitstains to kill. I'll help, but only if I get the ears after."

Eya then inspects her shackles and tests their strength a little. She scoffs, "They expect these to hold her?" She looks to Jesla, "You there, warrior of Gorum, God of Battle and Lord in Iron. Jesla, right? That's what they called you earlier. Listen Jesla, I can tell just by looking at these chains that they are far too weak to hold you. BUT, if you attempt to break free right now, you would alert the guards immediately from the noise." Eya nods in the direction of the guards down the hallway, then continues, "If you're serious about bathing in their blood, which, by the way, is a favorite pastime of mine, then bide your time for now and wait for the right moment. Side note, blood bathing is actually good for the skin. It keeps the aging down. It's a shame we can't flay them alive too though; we don't have the luxury of time." Eya sighs, seemingly disappointed.

"You all might be wondering why they went through the trouble of branding us if they're just planning to execute the majority of us tomorrow. Well, the branding iron the used had magical runes inscribed on it. You saw them too, right Aloro? Anyway, the scar created by that magical branding iron is permanent and no amount of healing can make it go away. Essentially, they didn't just brand our physical bodies, but our souls as well. You could cut off your arm, regrow it with magic, and the brand would be right back there again. Why do they do this you might ask? Perhaps it's to humiliate us, to brand us forever as the Other, the Forsaken. That's their terminology, not mine. But perhaps that's only part of the reason."

"So, why am I telling you all this? Because I think we can all break out of this place if we play our cards right and work together. I'm Eya by the way."

Out of Character: Probably obvious but Eya keeps her voice low enough so that the guards can't hear but loud enough for the others in the cell to hear.