Dungeons and Dragons Leshay 3.5 PBP RPG
Tue, 21st August, 2018 - 10:29 am GMT
| | |
| --- | --- |
| | Leshay |
| | |
| | 50d6+650 (825 hp) |
| | +21 (+17 Dex, +4 Improved Initiative) |
| | 40 ft. |
| | 52 (+17 Dex, +20 insight, +5 natural armor), touch 47, flat-footed 35 |
| | +25/+30 |
| | +10 keen brilliant energy bastard sword +53 (1d10+15/17-20) melee |
| | 2 +10 keen brilliant energy bastard swords +53/+48/+43/+38 (1d10+15/17-20) melee |
| | 5 ft./5 ft. |
| | Gaze, spell-like abilities, leShay weapons |
| | Superior two-weapon fighting, damage reduction 15/epic and cold iron, elf traits, immune to poison and disease, low-light vision, spell resistance 42, fast healing 10 |
| | Fort +29, Ref +44, Will +35 |
| | Str 21, Dex 45, Con 37, Int 33, Wis 23, Cha 47 |
| | Bluff +71, Concentration +66, Diplomacy +77, Disguise +71, Escape Artist +70, Gather Information +24, Hide +70, Intimidate +24, Jump +5, Knowledge (local, nature) +59, Listen +59, Move Silently +70, Search +59, Speak Language (any five), Spot +59 |
| | Blind-Fight, Cleave, Dodge, Combat Expertise, Improved Critical (leShay weapon), Improved Initiative, Iron Will, Mobility, Power Attack, Quick Draw, Spring Attack, Weapon Finesse, Weapon Focus (leShay weapon), Whirlwind Attack |
| Epic Feats: | |
| | Any |
| | Solitary |
| | 28 |
| | Standard |
| | Any |
| | None |
A leshay's natural weapons are treated as epic for the purpose of overcoming damage reduction.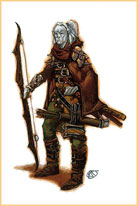 Latest RPG Post
Seeing that she was near the beach she decided to go for a walk on the sand… it was way better than just being on the sidewalk. She quickly goes and immediately feels a soothing effect when her feet touch the sand. She heads towards the water gazing out into the vastness of the ocean. Her first thought is…
NOTE: In the case of D&D, Wizards holds the copyright for its material. The versions most Players in our Community tend to use Dungeons & Dragons 2-3.5 although others may use higher versions.
Search via our Community for:
Dungeons and Dragons Leshay - D&D 3.5 PBP RPG Coded by: BGID® | ALL RIGHTS RESERVED Copyright © 2004-2018
Disclaimer | Privacy | Report Errors / Contact | Credits
Future Terra II
Automated system to Role-play. No worries about Rules, Dice or updating your Character Sheet, they are taken care of for you. Just immerse in pure Role-playing.
Become A Backer!
See More
RPG Highlights
Updated every: 59 minutes