Dungeons and Dragons Hunefer 3.5 PBP RPG
Sat, 4th July, 2020 - 6:57 pm GMT
| | |
| --- | --- |
| | Hunefer |
| | |
| | 50d12+3 (603 hp) |
| | +16 (+12 Dex, +4 Improved Initiative) |
| | 100 ft. |
| | 52 (+12 Dex, +20 natural, +10 insight), touch 32, flat-footed 40 |
| | +25/+43 |
| | Slam +44 (3d6+18/19-20 (+1d6 on critical hit) plus hunefer rot) |
| | 2 slams +44 (3d6+18/19-20 (+1d6 on critical hit) plus hunefer rot) |
| | 5 ft./5 ft. |
| | Despair, hunefer rot, spell-like abilities |
| | Blindsight 300 ft., damage reduction 10/-, fast healing 30, spell resistance 37, undead traits, fire vulnerability |
| | Fort +18, Ref +30, Will +41 |
| | Str 47, Dex 35, Con -, Int 18, Wis 38, Cha 36 |
| | Concentration +66, Jump +46, Knowledge (religion, the planes) +57, Listen +67, Search +57, Sense Motive +67, Spellcraft +57, Spot +67 |
| | Cleave, Combat Reflexes, Dodge, Combat Expertise, Great Cleave, Great Fortitude, Improved Critical (slam), Improved Disarm, Improved Initiative, Lightning Reflexes, Mobility, Power Attack, Toughness, Weapon Focus (slam) |
| Epic Feats: | Devastating Critical (slam), Overwhelming Critical (slam), Spell Stowaway (greater teleport) |
| | Any |
| | Solitary, pair, or court (5-9) |
| | 25 |
| | Standard |
| | Always lawful evil |
| | 51-56 HD (Medium-size); 57-60 HD (Large); 61-66 HD (Huge); 67-70 HD (Gargantuan); 71+ HD (Colossal) |
Hunefers speak all spoken languages, though it takes one 1d4 rounds to switch between languages.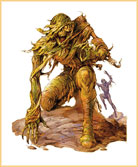 Latest RPG Post
Finding a quite spot on an isolated part of the beach she sits down and pushes her feet into the sand. The fresh sea breeze blows into her hair calming any frustrations she had. She spends the time looking at the seagulls out at sea for about 30 minutes uninterrupted until she notices a figure walking towards her.
NOTE: In the case of D&D, Wizards holds the copyright for its material. The versions most Players in our Community tend to use Dungeons & Dragons 2-3.5 although others may use higher versions.
Dungeons and Dragons Hunefer - D&D 3.5 PBP RPG Coded by: BGID® | ALL RIGHTS RESERVED Copyright © 2004-2020
Disclaimer | Privacy | Report Errors / Contact | Credits
RPG Info
Latest Game Topics
Highlights
Updated every: 59 minutes