Dungeons and Dragons Skum 3.5 PBP RPG
Fri, 22nd February, 2019 - 10:15 pm GMT
| | |
| --- | --- |
| | Skum |
| | |
| | 2d8+2 (11 hp) |
| | +1 |
| | 20 ft. (4 squares), swim 40 ft. |
| | 13 (+1 Dex, +2 natural), touch 11, flat-footed 12 |
| | +1/+5 |
| | Bite +5 melee (2d6+4) |
| | Bite +5 melee (2d6+4) and 2 claws +0 melee (1d4+2) |
| | 5 ft./5 ft. |
| | Rake 1d6+2 |
| | Darkvision 60 ft., amphibious |
| | Fort +1, Ref +1, Will +3 |
| | Str 19, Dex 13, Con 13, Int 10, Wis 10, Cha 6 |
| | Hide +6*, Listen +7*, Move Silently +6, Spot +7*, Swim +12 |
| | |
| | Underground |
| | Brood (2-5) or pack (6-15) |
| | 2 |
| | None |
| | Usually lawful evil |
| | |
| | +3 |
A skum is about the same height and weight as a human. Skum speak Aquan.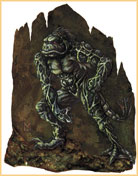 Rake (Ex): Attack bonus +0 melee, damage 1d6+2. A skum also gains two rake attacks when it attacks while swimming.
Skills: *Skum have a +4 racial bonus on Hide, Listen, and Spot checks underwater.
A skum has a +8 racial bonus on any Swim check to perform some special action or avoid a hazard. It can always choose to take 10 on a Swim check, even if distracted or endangered. It can use the run action while swimming, provided it swims in a straight line.
Latest RPG Post
Checking to see what's going on? It looks like nobody's posted on this forum in over 4 days.
NOTE: In the case of D&D, Wizards holds the copyright for its material. The versions most Players in our Community tend to use Dungeons & Dragons 2-3.5 although others may use higher versions.
Search via our Community for:
Dungeons and Dragons Skum - D&D 3.5 PBP RPG Coded by: BGID® | ALL RIGHTS RESERVED Copyright © 2004-2019
Disclaimer | Privacy | Report Errors / Contact | Credits
Future Terra II
Automated system to Role-play. No worries about Rules, Dice or updating your Character Sheet, they are taken care of for you. Just immerse in pure Role-playing.
Become A Backer!

See More
RPG Highlights
Updated every: 59 minutes