Dungeons and Dragons Skum 3.5 PBP RPG
Fri, 23rd February, 2018 - 10:29 pm GMT
| | |
| --- | --- |
| | Skum |
| | |
| | 2d8+2 (11 hp) |
| | +1 |
| | 20 ft. (4 squares), swim 40 ft. |
| | 13 (+1 Dex, +2 natural), touch 11, flat-footed 12 |
| | +1/+5 |
| | Bite +5 melee (2d6+4) |
| | Bite +5 melee (2d6+4) and 2 claws +0 melee (1d4+2) |
| | 5 ft./5 ft. |
| | Rake 1d6+2 |
| | Darkvision 60 ft., amphibious |
| | Fort +1, Ref +1, Will +3 |
| | Str 19, Dex 13, Con 13, Int 10, Wis 10, Cha 6 |
| | Hide +6*, Listen +7*, Move Silently +6, Spot +7*, Swim +12 |
| | |
| | Underground |
| | Brood (2-5) or pack (6-15) |
| | 2 |
| | None |
| | Usually lawful evil |
| | |
| | +3 |
A skum is about the same height and weight as a human. Skum speak Aquan.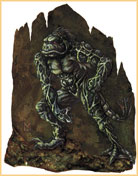 Rake (Ex): Attack bonus +0 melee, damage 1d6+2. A skum also gains two rake attacks when it attacks while swimming.
Skills: *Skum have a +4 racial bonus on Hide, Listen, and Spot checks underwater.
A skum has a +8 racial bonus on any Swim check to perform some special action or avoid a hazard. It can always choose to take 10 on a Swim check, even if distracted or endangered. It can use the run action while swimming, provided it swims in a straight line.
Latest RPG Post
Is to go to the stations recreation room and take five minutes to think and relax. She walks there passing by some of the crew and then into the door that leads to a place that is the least insane on the station. Accessible here are an assortment of games, entertainment and places to sit down and chat or eat. She decides to…
NOTE: In the case of D&D, Wizards holds the copyright for its material. The versions most Players in our Community tend to use Dungeons & Dragons 2-3.5 although others may use higher versions.
Search via our Community for:
Dungeons and Dragons Skum - D&D 3.5 PBP RPG Coded by: BGID® | ALL RIGHTS RESERVED Copyright © 2004-2018
Disclaimer | Privacy | Report Errors / Contact | Credits
RPG Info
Latest Game Topics
Highlights