Skeletons are the animated bones of the dead, mindless automatons that obey the orders of their evil masters.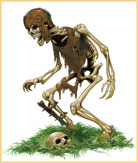 A skeleton is seldom garbed in anything more than the rotting remnants of any clothing or armor it was wearing when slain. A skeleton does only what it is ordered to do. It can draw no conclusions of its own and takes no initiative. Because of this limitation, its instructions must always be simple. A skeleton attacks until destroyed.
Latest RPG Post
I year of our Lord 520 AD, Krusten the Queen wisely sent General Maggie to fight against Goblins who thought themselves able to win against the strategy of General Maggie, but it was not so and they were all killed on the battlefield.