Skeletons are the animated bones of the dead, mindless automatons that obey the orders of their evil masters.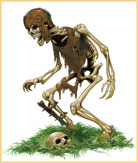 A skeleton is seldom garbed in anything more than the rotting remnants of any clothing or armor it was wearing when slain. A skeleton does only what it is ordered to do. It can draw no conclusions of its own and takes no initiative. Because of this limitation, its instructions must always be simple. A skeleton attacks until destroyed.
Latest RPG Post
A little melodrama has it's place in all games as long as one player isn't stealing time from others. On the same note, it's a pain in the butt when Dungeons & Dragons turns into Paper and Paychecks. When players want to spend more time worrying about their businesses instead of questing.

I started making players write down anything having to do with their businesses at home and turn it in to me to read after the session. Negative experience for any who mention their businesses during session.