Skeletons are the animated bones of the dead, mindless automatons that obey the orders of their evil masters.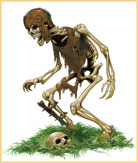 A skeleton is seldom garbed in anything more than the rotting remnants of any clothing or armor it was wearing when slain. A skeleton does only what it is ordered to do. It can draw no conclusions of its own and takes no initiative. Because of this limitation, its instructions must always be simple. A skeleton attacks until destroyed.
Latest RPG Post
Triggering the warming magic, I gather gear and clean camp, mounting my horse once everyone is ready. "If someone needs to, my spare mount can carry any excess and possibly a bareback rider. Help yourself, if you need him." I then group up and ride out, hoping we don't lose anyone today. Watching warily as we travel, I find myself suspecting everything of being a danger and I have to shake off the feeling.
Specific Action: Regular rolls.