Skeletons are the animated bones of the dead, mindless automatons that obey the orders of their evil masters.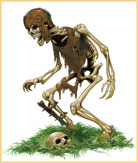 A skeleton is seldom garbed in anything more than the rotting remnants of any clothing or armor it was wearing when slain. A skeleton does only what it is ordered to do. It can draw no conclusions of its own and takes no initiative. Because of this limitation, its instructions must always be simple. A skeleton attacks until destroyed.
Latest RPG Post
I never had an interest in this super hero growing up so the concept was all knew to me. The movie was interesting and engaging so it was entertaining. There were a few goofs that did not make sense but it was not to point of taking away from the story. For me there was a lot of play on the past Matrix Trilogy and current political issues like women's empowerment, refugees, etc.