Skeletons are the animated bones of the dead, mindless automatons that obey the orders of their evil masters.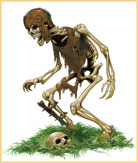 A skeleton is seldom garbed in anything more than the rotting remnants of any clothing or armor it was wearing when slain. A skeleton does only what it is ordered to do. It can draw no conclusions of its own and takes no initiative. Because of this limitation, its instructions must always be simple. A skeleton attacks until destroyed.
Latest RPG Post
Message to Advisor

I am in the snow region up north. My time is passing quickly and I have aged to the point that I need to visit with the wizard to see what he can do about it. As soon as I am done here I will return to the south.