Dungeons and Dragons Rakshasa 3.5 PBP RPG
Fri, 22nd February, 2019 - 11:09 pm GMT
| | |
| --- | --- |
| | Rakshasa |
| | |
| | 7d8+21 (52 hp) |
| | +2 |
| | 40 ft. (8 squares) |
| | 21 (+2 Dex, +9 natural), touch 12, flat-footed 19 |
| | +7/+8 |
| | Claw +8 melee (1d4+1) |
| | 2 claws +8 melee (1d4+1) and bite +3 melee (1d6) |
| | 5 ft./5 ft. |
| | Detect thoughts, spells |
| | Change shape, damage reduction 15/good and piercing, darkvision 60 ft., spell resistance 27 |
| | Fort +8, Ref +7, Will +6 |
| | Str 12, Dex 14, Con 16, Int 13, Wis 13, Cha 17 |
| | Bluff +17*, Concentration +13, Diplomacy +7, Disguise +17 (+19 acting)*, Intimidate +5, Listen +13, Move Silently +13, Perform (oratory) +13, Sense Motive +11, Spellcraft +11, Spot +11 |
| | |
| | Warm marshes |
| | Solitary |
| | 10 |
| | Standard coins; double goods; standard items |
| | Always lawful evil |
| | By character class |
| | +7 |
A closer look at a rakshasa reveals that the palms of its hands are where the backs of the hands would be on a human.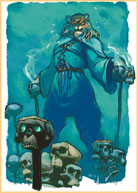 A rakshasa is about the same height and weight as a human.
Latest RPG Post
This is another role playing game, that could work as a play by post game.
I've seen the rules, and they are extensive enough. For creating, a character, new worlds, ships and aliens.
Because, movies, books etc have already been made, doesn't mean an end to creativity.

There, is still room to create new worlds, aliens, characters in this unique universe.
Easy enough to game master, already using the d20 die system.
Anyone interested?
NOTE: In the case of D&D, Wizards holds the copyright for its material. The versions most Players in our Community tend to use Dungeons & Dragons 2-3.5 although others may use higher versions.
Search via our Community for:
Dungeons and Dragons Rakshasa - D&D 3.5 PBP RPG Coded by: BGID® | ALL RIGHTS RESERVED Copyright © 2004-2019
Disclaimer | Privacy | Report Errors / Contact | Credits
Future Terra II
Automated system to Role-play. No worries about Rules, Dice or updating your Character Sheet, they are taken care of for you. Just immerse in pure Role-playing.
Become A Backer!

See More
RPG Highlights
Updated every: 59 minutes