Dungeons and Dragons Rakshasa 3.5 PBP RPG
Tue, 21st August, 2018 - 10:29 am GMT
| | |
| --- | --- |
| | Rakshasa |
| | |
| | 7d8+21 (52 hp) |
| | +2 |
| | 40 ft. (8 squares) |
| | 21 (+2 Dex, +9 natural), touch 12, flat-footed 19 |
| | +7/+8 |
| | Claw +8 melee (1d4+1) |
| | 2 claws +8 melee (1d4+1) and bite +3 melee (1d6) |
| | 5 ft./5 ft. |
| | Detect thoughts, spells |
| | Change shape, damage reduction 15/good and piercing, darkvision 60 ft., spell resistance 27 |
| | Fort +8, Ref +7, Will +6 |
| | Str 12, Dex 14, Con 16, Int 13, Wis 13, Cha 17 |
| | Bluff +17*, Concentration +13, Diplomacy +7, Disguise +17 (+19 acting)*, Intimidate +5, Listen +13, Move Silently +13, Perform (oratory) +13, Sense Motive +11, Spellcraft +11, Spot +11 |
| | |
| | Warm marshes |
| | Solitary |
| | 10 |
| | Standard coins; double goods; standard items |
| | Always lawful evil |
| | By character class |
| | +7 |
A closer look at a rakshasa reveals that the palms of its hands are where the backs of the hands would be on a human.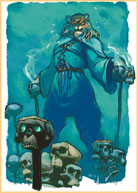 A rakshasa is about the same height and weight as a human.
Latest RPG Post
Personally or as a Dungeon Master?
Personally - excessive descriptions of gory violence or explicit sexual details. Not because I can't handle either, but because I feel it to be a waste of the playing time you have to go into details for either. Even too much detail for offline activities, if they don't add to the plot, are something I avoid.
As a Dungeon Master - outright, deliberate bullying or torture that is has no purpose in the game. Character to character interaction and conflict is normal, but for one player to make efforts to bully or take enjoyment away from other players that is not normal is seriously going to have the Wrath of Dungeon Master and possibly removal from the group. And, I guess as Dungeon Master I'd also kibosh any excessively gory or sexual details for the same reasons I won't as a player.
NOTE: In the case of D&D, Wizards holds the copyright for its material. The versions most Players in our Community tend to use Dungeons & Dragons 2-3.5 although others may use higher versions.
Search via our Community for:
Dungeons and Dragons Rakshasa - D&D 3.5 PBP RPG Coded by: BGID® | ALL RIGHTS RESERVED Copyright © 2004-2018
Disclaimer | Privacy | Report Errors / Contact | Credits
Future Terra II
Automated system to Role-play. No worries about Rules, Dice or updating your Character Sheet, they are taken care of for you. Just immerse in pure Role-playing.
Become A Backer!
See More
RPG Highlights
Updated every: 59 minutes