Dungeons and Dragons Rakshasa 3.5 PBP RPG
Sun, 21st April, 2019 - 8:41 pm GMT
| | |
| --- | --- |
| | Rakshasa |
| | |
| | 7d8+21 (52 hp) |
| | +2 |
| | 40 ft. (8 squares) |
| | 21 (+2 Dex, +9 natural), touch 12, flat-footed 19 |
| | +7/+8 |
| | Claw +8 melee (1d4+1) |
| | 2 claws +8 melee (1d4+1) and bite +3 melee (1d6) |
| | 5 ft./5 ft. |
| | Detect thoughts, spells |
| | Change shape, damage reduction 15/good and piercing, darkvision 60 ft., spell resistance 27 |
| | Fort +8, Ref +7, Will +6 |
| | Str 12, Dex 14, Con 16, Int 13, Wis 13, Cha 17 |
| | Bluff +17*, Concentration +13, Diplomacy +7, Disguise +17 (+19 acting)*, Intimidate +5, Listen +13, Move Silently +13, Perform (oratory) +13, Sense Motive +11, Spellcraft +11, Spot +11 |
| | |
| | Warm marshes |
| | Solitary |
| | 10 |
| | Standard coins; double goods; standard items |
| | Always lawful evil |
| | By character class |
| | +7 |
A closer look at a rakshasa reveals that the palms of its hands are where the backs of the hands would be on a human.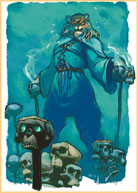 A rakshasa is about the same height and weight as a human.
Latest RPG Post
Anyone running any games in Branson looking for new players? I've been running for years and am itching to play.
NOTE: In the case of D&D, Wizards holds the copyright for its material. The versions most Players in our Community tend to use Dungeons & Dragons 2-3.5 although others may use higher versions.
Search via our Community for:
Dungeons and Dragons Rakshasa - D&D 3.5 PBP RPG Coded by: BGID® | ALL RIGHTS RESERVED Copyright © 2004-2019
Disclaimer | Privacy | Report Errors / Contact | Credits
Future Terra II
Automated system to Role-play. No worries about Rules, Dice or updating your Character Sheet, they are taken care of for you. Just immerse in pure Role-playing.
Become A Backer!

See More
RPG Highlights