Dungeons and Dragons Purple Worm 3.5 PBP RPG
Tue, 17th July, 2018 - 7:42 am GMT
| | |
| --- | --- |
| | Purple Worm |
| | |
| | 16d10+112 (200 hp) |
| | -2 |
| | 20 ft. (4 squares), burrow 20 ft., swim 10 ft. |
| | 19 (-4 size, -2 Dex, +15 natural), touch 4, flat-footed 19 |
| | +16/+40 |
| | Bite +25 melee (2d8+12) |
| | Bite +25 melee (2d8+12) and sting +20 melee (2d6+6 plus poison) |
| | 20 ft./15 ft. |
| | |
| | Tremorsense 60 ft. |
| | Fort +17, Ref +8, Will +4 |
| | Str 35, Dex 6, Con 25, Int 1, Wis 8, Cha 8 |
| | |
| | Awesome Blow, Cleave, Improved Bull Rush, Power Attack, Weapon Focus (bite), Weapon Focus (sting) |
| | Underground |
| | Solitary |
| | 12 |
| | No coins, 50% goods (stone only), no items |
| | Always neutral |
| | 16-32 HD (Gargantuan); 33-48 HD (Colossal) |
| | - |
The body of a mature purple worm is 5 feet in diameter and 80 feet long, weighing about 40,000 pounds. The creature has a poisonous stinger in its tail.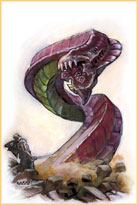 In battle, a purple worm forms into a coil 20 feet in diameter, biting and stinging anything within reach.
Latest RPG Post
Just to confirm unless noted Tazskan actually targeted the magic circle associated with pain. With a level 4, dispel magic spell.
NOTE: In the case of D&D, Wizards holds the copyright for its material. The versions most Players in our Community tend to use Dungeons & Dragons 2-3.5 although others may use higher versions.
Search via our Community for:
Dungeons and Dragons Purple Worm - D&D 3.5 PBP RPG Coded by: BGID® | ALL RIGHTS RESERVED Copyright © 2004-2018
Disclaimer | Privacy | Report Errors / Contact | Credits
RPG Info
Latest Game Topics
Highlights
Updated every: 59 minutes