Dungeons and Dragons Purple Worm 3.5 PBP RPG
Mon, 23rd September, 2019 - 1:07 am GMT
| | |
| --- | --- |
| | Purple Worm |
| | |
| | 16d10+112 (200 hp) |
| | -2 |
| | 20 ft. (4 squares), burrow 20 ft., swim 10 ft. |
| | 19 (-4 size, -2 Dex, +15 natural), touch 4, flat-footed 19 |
| | +16/+40 |
| | Bite +25 melee (2d8+12) |
| | Bite +25 melee (2d8+12) and sting +20 melee (2d6+6 plus poison) |
| | 20 ft./15 ft. |
| | |
| | Tremorsense 60 ft. |
| | Fort +17, Ref +8, Will +4 |
| | Str 35, Dex 6, Con 25, Int 1, Wis 8, Cha 8 |
| | |
| | Awesome Blow, Cleave, Improved Bull Rush, Power Attack, Weapon Focus (bite), Weapon Focus (sting) |
| | Underground |
| | Solitary |
| | 12 |
| | No coins, 50% goods (stone only), no items |
| | Always neutral |
| | 16-32 HD (Gargantuan); 33-48 HD (Colossal) |
| | - |
The body of a mature purple worm is 5 feet in diameter and 80 feet long, weighing about 40,000 pounds. The creature has a poisonous stinger in its tail.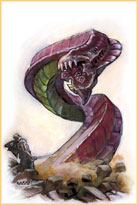 In battle, a purple worm forms into a coil 20 feet in diameter, biting and stinging anything within reach.
Latest RPG Post
Just as in in ROK II, for character building to be automated, for rolls and checks to be made there needs to be instructions from somewhere to make it happen - this is where coding is necessary. The process of FT2 is to concentrate on getting a player in a game with a character as quick as possible without having someone to tell them the rules about character creation or how to format their character sheet correctly. The idea is to concentrate on role-play regardless to when players join in or leave for that matter.
NOTE: In the case of D&D, Wizards holds the copyright for its material. The versions most Players in our Community tend to use Dungeons & Dragons 2-3.5 although others may use higher versions.
Search via our Community for:
Dungeons and Dragons Purple Worm - D&D 3.5 PBP RPG Coded by: BGID® | ALL RIGHTS RESERVED Copyright © 2004-2019
Disclaimer | Privacy | Report Errors / Contact | Credits
Future Terra II
Automated system to Role-play. No worries about Rules, Dice or updating your Character Sheet, they are taken care of for you. Just immerse in pure Role-playing.
Become A Backer!

See More
RPG Highlights
Updated every: 59 minutes