Dungeons and Dragons Owl, Giant 3.5 PBP RPG
Sun, 19th August, 2018 - 5:35 am GMT
| | |
| --- | --- |
| | Owl, Giant |
| | |
| | 4d10+4 (26 hp) |
| | +3 |
| | 10 ft. (2 squares), fly 70 ft. (average) |
| | 15 (-1 size, +3 Dex, +3 natural), touch 12, flat-footed 12 |
| | +4/+12 |
| | Claw +7 melee (1d6+4) |
| | 2 claws +7 melee (1d6+4) and bite +2 melee (1d8+2) |
| | 10 ft./5 ft. |
| | - |
| | Superior low-light vision |
| | Fort +5, Ref +7, Will +3 |
| | Str 18, Dex 17, Con 12, Int 10, Wis 14, Cha 10 |
| | Knowledge (nature) +2, Listen +17, Move Silently +8*, Spot +10 |
| | |
| | Temperate forests |
| | Solitary, pair, or company (3-5) |
| | 3 |
| | None |
| | Usually neutral good |
| | |
| | +2 (cohort) |
Giant owls are nocturnal birds of prey, feared for their ability to hunt and attack in near silence. They are intelligent, and though naturally suspicious, sometimes associate with good creatures. A typical giant owl stands about 9 feet tall, has a wingspan of up to 20 feet, and resembles its smaller cousins in nearly every way except size.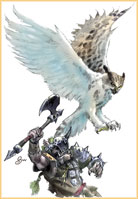 Giant owls speak Common and Sylvan.
Latest RPG Post
Meanwhile, Tazskan waiting outside, with the others is feeling slightly nervous by now.
"I certainly hope that Penelope, knows what she is doing,"? He says.
"I wonder what manner of tiny detail, she was referring to,"? He adds.
Tazskan, refrains from pacing, takes a couple of deep breaths to calm himself.
NOTE: In the case of D&D, Wizards holds the copyright for its material. The versions most Players in our Community tend to use Dungeons & Dragons 2-3.5 although others may use higher versions.
Search via our Community for:
Dungeons and Dragons Owl, Giant - D&D 3.5 PBP RPG Coded by: BGID® | ALL RIGHTS RESERVED Copyright © 2004-2018
Disclaimer | Privacy | Report Errors / Contact | Credits
Future Terra II
Automated system to Role-play. No worries about Rules, Dice or updating your Character Sheet, they are taken care of for you. Just immerse in pure Role-playing.
Become A Backer!
See More
RPG Highlights
Updated every: 59 minutes