Dungeons and Dragons Owlbear 3.5 PBP RPG
Wed, 8th July, 2020 - 7:41 am GMT
| | |
| --- | --- |
| | Owlbear |
| | |
| | 5d10+25 (52 hp) |
| | +1 |
| | 30 ft. (6 squares) |
| | 15 (-1 size, +1 Dex, +5 natural), touch 10, flat-footed 14 |
| | +5/+14 |
| | Claw +9 melee (1d6+5) |
| | 2 claws +9 melee (1d6+5) and bite +4 melee (1d8+2) |
| | 10 ft./5 ft. |
| | |
| | |
| | Fort +9, Ref +5, Will +2 |
| | Str 21, Dex 12, Con 21, Int 2, Wis 12, Cha 10 |
| | |
| | |
| | Temperate forests |
| | Solitary, pair, or pack (3-8) |
| | 4 |
| | None |
| | Always neutral |
| | |
| | - |
An owlbear's coat ranges in color from brown-black to yellowish brown; its beak is a dull ivory color. A full-grown male can stand as tall as 8 feet and weigh up to 1,500 pounds. Adventurers who have survived encounters with the creature often speak of the bestial madness they glimpsed in its red-rimmed eyes.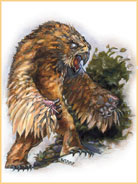 Owlbears attack prey-any creature bigger than a mouse-on sight, always fighting to the death. They slash with claws and beak, trying to grab their prey and rip it apart.
Improved Grab (Ex): To use this ability, an owlbear must hit with a claw attack. It can then attempt to start a grapple as a free action without provoking an attack of opportunity.
Latest RPG Post
When I get a book of sudoku puzzles, I end up going straight to the hard levels. I have a system to solving it, going for each number one at a time until there are no more options, the doing it again. I'm not above checking the back for a hint!
NOTE: In the case of D&D, Wizards holds the copyright for its material. The versions most Players in our Community tend to use Dungeons & Dragons 2-3.5 although others may use higher versions.
Dungeons and Dragons Owlbear - D&D 3.5 PBP RPG Coded by: BGID® | ALL RIGHTS RESERVED Copyright © 2004-2020
Disclaimer | Privacy | Report Errors / Contact | Credits
Future Terra II
Automated system to Role-play. No worries about Rules, Dice or updating your Character Sheet, they are taken care of for you. Just immerse in pure Role-playing.
Become A Backer!

See More
RPG Highlights
Updated every: 59 minutes