Dungeons and Dragons Owlbear 3.5 PBP RPG
Thu, 21st February, 2019 - 12:05 pm GMT
| | |
| --- | --- |
| | Owlbear |
| | |
| | 5d10+25 (52 hp) |
| | +1 |
| | 30 ft. (6 squares) |
| | 15 (-1 size, +1 Dex, +5 natural), touch 10, flat-footed 14 |
| | +5/+14 |
| | Claw +9 melee (1d6+5) |
| | 2 claws +9 melee (1d6+5) and bite +4 melee (1d8+2) |
| | 10 ft./5 ft. |
| | |
| | |
| | Fort +9, Ref +5, Will +2 |
| | Str 21, Dex 12, Con 21, Int 2, Wis 12, Cha 10 |
| | |
| | |
| | Temperate forests |
| | Solitary, pair, or pack (3-8) |
| | 4 |
| | None |
| | Always neutral |
| | |
| | - |
An owlbear's coat ranges in color from brown-black to yellowish brown; its beak is a dull ivory color. A full-grown male can stand as tall as 8 feet and weigh up to 1,500 pounds. Adventurers who have survived encounters with the creature often speak of the bestial madness they glimpsed in its red-rimmed eyes.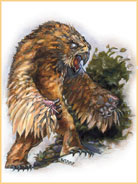 Owlbears attack prey-any creature bigger than a mouse-on sight, always fighting to the death. They slash with claws and beak, trying to grab their prey and rip it apart.
Improved Grab (Ex): To use this ability, an owlbear must hit with a claw attack. It can then attempt to start a grapple as a free action without provoking an attack of opportunity.
Latest RPG Post
Anyone running any games in Branson looking for new players? I've been running for years and am itching to play.
NOTE: In the case of D&D, Wizards holds the copyright for its material. The versions most Players in our Community tend to use Dungeons & Dragons 2-3.5 although others may use higher versions.
Search via our Community for:
Dungeons and Dragons Owlbear - D&D 3.5 PBP RPG Coded by: BGID® | ALL RIGHTS RESERVED Copyright © 2004-2019
Disclaimer | Privacy | Report Errors / Contact | Credits
Future Terra II
Automated system to Role-play. No worries about Rules, Dice or updating your Character Sheet, they are taken care of for you. Just immerse in pure Role-playing.
Become A Backer!

See More
RPG Highlights
Updated every: 59 minutes