| | |
| --- | --- |
| | Locathah |
| | |
| | 2d8 (9 hp) |
| | +1 |
| | 10 ft. (2 squares), swim 60 ft. |
| | 14 (+1 Dex, +3 natural), touch 11, flat-footed 13 |
| | +1/+1 |
| | Longspear +2 melee (1d8/3) or light crossbow +2 ranged (1d8/19-20) |
| | Longspear +2 melee (1d8/3) or light crossbow +2 ranged (1d8/19-20) |
| | 5 ft./5 ft. |
| | Fort +3, Ref +1, Will +1 |
| | - |
| | - |
| | Str 10, Dex 12, Con 10, Int_13, Wis 13, Cha 11 |
| | |
| | Weapon Focus (longspear) |
| | Warm aquatic |
| | Company (2-4), patrol (11-20 plus 2 3rd-level sergeants and 1 leader of 3rd-6th level), or tribe (30-100 plus 100% noncombatants plus 1 3rd-level sergeant per 10 adults, 5 5th-level lieutenants, and 3 7th-level captains) |
| | 1/2 |
| | Standard |
| | Usually neutral |
| | By character class |
| | +1 |
Although humanoid in shape, locathahs are clearly more fish than human. The average locathah stands 5 feet tall and weighs 175 pounds. Females and males look very much alike, although the former can be recognized by the two ochre stripes marking their egg sacs.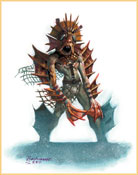 Locathahs speak Aquan.
Any battle with locathahs usually begins with the creatures loosing volleys of bolts from their crossbows; underwater, their crossbows have a range increment of 20 feet. If they have managed to set up an ambush or other trap, they continue to employ crossbows for as long as possible. Otherwise, they close to bring their longspears into play. Although primarily used for fishing, these spears make formidable weapons.
Locathahs lack teeth, claws, and other natural weapons, so they are not especially dangerous if unarmed. A weaponless locathah will generally turn and flee.
Latest RPG Post
Kiven tries to hide it but shows a hint of fear as he is about to be branded. The elf puts his head down and looks away from the others as the brand is pressed to searing flesh but eventually he lets out one short, loud cry, gasping for air. As the task is finished and they release his other arm the proud ex-noble wipes his face clean of any evidence that he did not handle this well. He stands tall and tries not to wince has they drag him from the room.

Once in their cell, Kiven reacts little to Eya's mention of his brother being a real ass, but shoots her a very quick and serious look when she offers to assist in killing Tyris. Within a fraction of a second he is back to his previous demeanor and mutters "I will take care of HIM."

Regarding the brand, Kiven acknowledges Eya's words. "Yes, Forsaken we are. It matters not, and I will relish it. Today I am free of the shackles; the shackles of my family, of expectations, of law, of weakness. There is just one pair yet to shed." At that he looks at his elaborate chains and gauntlets. "I did my part, fiend, and you still owe me what you promised. You can start by contributing to my escape."

To Jesla's doubts that the men here can contribute at all, the self proclaimed Prince only reacts with a small smirk. Respar at least receives a nod to his suggestion of being a bit more tactical and cautious in their escape.