Ghosts are the spectral remnants of intelligent beings who, for one reason or another, cannot rest easily in their graves.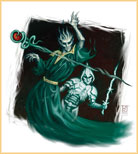 A ghost greatly resembles its corporeal form in life, but in some cases the spiritual form is somewhat altered.
'Ghost' is an acquired template that can be added to any aberration, animal, dragon, giant, humanoid, magical beast, monstrous humanoid, or plant. The creature (referred to hereafter as the base creature) must have a Charisma score of at least 6.
A ghost uses all the base creature's statistics and special abilities except as noted here.
Latest RPG Post
Times when you were back at home with your grandma. You doubt yourself and if you should have even begun this journey. "Why leave the safety of where you grew up to now put yourself in danger?" she asks herself with a big sigh. She looks back to see if the imp is coming as she continues her thoughts, "You should have stayed home, maybe grandma needs help!" she debates with herself but she knows its just cowardice creeping in.