Ghosts are the spectral remnants of intelligent beings who, for one reason or another, cannot rest easily in their graves.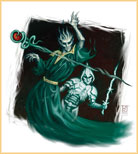 A ghost greatly resembles its corporeal form in life, but in some cases the spiritual form is somewhat altered.
'Ghost' is an acquired template that can be added to any aberration, animal, dragon, giant, humanoid, magical beast, monstrous humanoid, or plant. The creature (referred to hereafter as the base creature) must have a Charisma score of at least 6.
A ghost uses all the base creature's statistics and special abilities except as noted here.
Latest RPG Post
Out of Character: Just to clarify you are on top of the cliffs that surround the horseshoe camp of the Gnolls that you went to take care of. The watchers there were twelve of them were spaced along the top of this cliff or mesa. All of them are close to an edge as it is only about twenty feet wide at its narrowest and thirty feet at its widest. I will get a map of where you are and where they are. As you came up the back side.

The map is uploaded titled desert battle.