Ghosts are the spectral remnants of intelligent beings who, for one reason or another, cannot rest easily in their graves.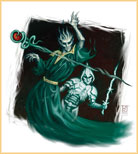 A ghost greatly resembles its corporeal form in life, but in some cases the spiritual form is somewhat altered.
'Ghost' is an acquired template that can be added to any aberration, animal, dragon, giant, humanoid, magical beast, monstrous humanoid, or plant. The creature (referred to hereafter as the base creature) must have a Charisma score of at least 6.
A ghost uses all the base creature's statistics and special abilities except as noted here.
Latest RPG Post
My Next Medieval Adventure

With my spending money low, I decided to take on tasks from other citizens of the Town. Many of them were asking for things that were not the type of 'job' I wanted to be associated with, but I found Fromptom and listened to his tail. He needed a chest that was once his family's that had been taken. I was hesitant at first, but he explained it was an injustice to his family if he did not get it. I agreed, but refused to say it was ... Taken without permission.