Ghosts are the spectral remnants of intelligent beings who, for one reason or another, cannot rest easily in their graves.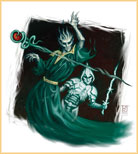 A ghost greatly resembles its corporeal form in life, but in some cases the spiritual form is somewhat altered.
'Ghost' is an acquired template that can be added to any aberration, animal, dragon, giant, humanoid, magical beast, monstrous humanoid, or plant. The creature (referred to hereafter as the base creature) must have a Charisma score of at least 6.
A ghost uses all the base creature's statistics and special abilities except as noted here.
Latest RPG Post
I never had an interest in this super hero growing up so the concept was all knew to me. The movie was interesting and engaging so it was entertaining. There were a few goofs that did not make sense but it was not to point of taking away from the story. For me there was a lot of play on the past Matrix Trilogy and current political issues like women's empowerment, refugees, etc.