Ghosts are the spectral remnants of intelligent beings who, for one reason or another, cannot rest easily in their graves.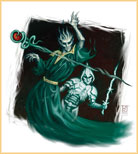 A ghost greatly resembles its corporeal form in life, but in some cases the spiritual form is somewhat altered.
'Ghost' is an acquired template that can be added to any aberration, animal, dragon, giant, humanoid, magical beast, monstrous humanoid, or plant. The creature (referred to hereafter as the base creature) must have a Charisma score of at least 6.
A ghost uses all the base creature's statistics and special abilities except as noted here.
Latest RPG Post
I am Arsenio.

My late father gave me the name before I was born.

He died a hero in the war, but he named me after the wise teacher of Rome, Arsenius the Great, who was the desert father of Christianity. He was known to say: "I have often been sorry for having spoken, but never for having held my tongue".

I have learned the basics of sorcery that hard-headed Christians disapproved of, but my mother taught me that although the Lord always favours and protects the ignorant and the lame but always uses the wise and able for His plans.

I do not talk much, but I gather knowledge anywhere and anytime I can. I have read rolls of scribes, studied with the wisest teachers my mother could afford.

She was a strong woman, my mother, God rest her soul, and left me too early, like my father, but now they are together in Heaven, watching over my path that they had chosen for me.

I always listened to my mother and my father - though I only had seen him twice in my life -, for they were wise and noble people, so I will be loyal to their teaching and do my best to make them proud up there.

I am only 16, but the destiny I was prepared for is to rule this land someday. While I was raised a Christian, my mother also taught me to respect others' beliefs as long as they cannot prey on the weak and unfortunate. I have studied with Druids and learned a lot from them; I knew some of the Elves and Dwarves. As my mother taught me, a great ruler of a nation is like the head of a body, where the body is the people. One would always make sure to keep the body healthy and safe, so should a King do the best to protect and care for his people.
"Serve before you rule!" my mother had said. "You have to know all sides of the dice to prevail."

I am young but a proud Paladin. I am known to some. With my sword and shield and my knowledge, I help where I can, when I can, but I also plan to find mates. Comrades, loyal soldiers whom with I can raise this land to peace and prosperity.