Dungeons and Dragons Choker 3.5 PBP RPG
Mon, 23rd September, 2019 - 12:28 am GMT
| | |
| --- | --- |
| | Choker |
| | |
| | 3d8+3 (16 hp) |
| | +6 |
| | 20 ft. (4 squares), climb 10 ft. |
| | 17 (+1 size, +2 Dex, +4 natural), touch 13, flat-footed 15 |
| | +2/+5 |
| | Tentacle +6 melee (1d3+3) |
| | 2 tentacles +6 melee (1d3+3) |
| | 5 ft./10 ft. |
| | Improved grab, constrict 1d3+3 |
| | Darkvision 60 ft., quickness |
| | Fort +2, Ref +5, Will +4 |
| | Str 16, Dex 14, Con 13, Int 4, Wis 13, Cha 7 |
| | Climb +13, Hide +10, Move Silently +6 |
| | |
| | Underground |
| | Solitary |
| | 2 |
| | 1/10 coins; 50% goods; 50% items |
| | Usually chaotic evil |
| | |
| | - |
These vicious little predators lurk underground, grabbing whatever prey happens by. Its hands and feet have spiny pads that help the choker grip almost any surface. The creature weighs about 35 pounds.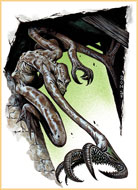 Chokers speak Undercommon.
A choker likes to perch near the ceiling, often at intersections, archways, wells, or staircases, and reach down to attack its prey. A choker attacks creatures of almost any size, but prefers lone prey of its size or larger. If one is very hungry, it may attack a group, but it waits to grab the last creature in line.
Latest RPG Post
It would be interesting to know how the series of 'movies' will continue after this one. Obviously endgame was a hit because of it's previous movie but after that..what is next for Marvel in order to gain a hit again?
NOTE: In the case of D&D, Wizards holds the copyright for its material. The versions most Players in our Community tend to use Dungeons & Dragons 2-3.5 although others may use higher versions.
Search via our Community for:
Dungeons and Dragons Choker - D&D 3.5 PBP RPG Coded by: BGID® | ALL RIGHTS RESERVED Copyright © 2004-2019
Disclaimer | Privacy | Report Errors / Contact | Credits
RPG Info
Latest Game Topics
Highlights
Updated every: 59 minutes