Dungeons and Dragons Choker 3.5 PBP RPG
Tue, 21st November, 2017 - 2:42 am GMT
| | |
| --- | --- |
| | Choker |
| | |
| | 3d8+3 (16 hp) |
| | +6 |
| | 20 ft. (4 squares), climb 10 ft. |
| | 17 (+1 size, +2 Dex, +4 natural), touch 13, flat-footed 15 |
| | +2/+5 |
| | Tentacle +6 melee (1d3+3) |
| | 2 tentacles +6 melee (1d3+3) |
| | 5 ft./10 ft. |
| | Improved grab, constrict 1d3+3 |
| | Darkvision 60 ft., quickness |
| | Fort +2, Ref +5, Will +4 |
| | Str 16, Dex 14, Con 13, Int 4, Wis 13, Cha 7 |
| | Climb +13, Hide +10, Move Silently +6 |
| | |
| | Underground |
| | Solitary |
| | 2 |
| | 1/10 coins; 50% goods; 50% items |
| | Usually chaotic evil |
| | |
| | - |
These vicious little predators lurk underground, grabbing whatever prey happens by. Its hands and feet have spiny pads that help the choker grip almost any surface. The creature weighs about 35 pounds.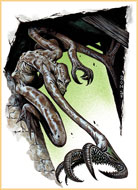 Chokers speak Undercommon.
A choker likes to perch near the ceiling, often at intersections, archways, wells, or staircases, and reach down to attack its prey. A choker attacks creatures of almost any size, but prefers lone prey of its size or larger. If one is very hungry, it may attack a group, but it waits to grab the last creature in line.
Latest RPG Post
Interested in playing a text based Star Trek Role-playing Game?

I'm curious if there is anyone interested in starting a text based Star Trek role playing game?
At the moment, I'm interested in any form of Star Trek, it can be set in the Original series, Deep space nine, New generation etc.
I've played Dungeons & Dragons 3.5 and Dungeons & Dragons 5e, and like the character creation, die rolls, and ease of playing them.
I'm sure, a similar system could be developed for a Role-playing Game set in the Star trek universe.[B]
NOTE: In the case of D&D, Wizards holds the copyright for its material. The versions most Players in our Community tend to use Dungeons & Dragons 2-3.5 although others may use higher versions.
Search via our Community for:
Dungeons and Dragons Choker - D&D 3.5 PBP RPG Coded by: BGID® | ALL RIGHTS RESERVED Copyright © 2004-2017
Disclaimer | Privacy | Report Errors / Contact | Credits
Current Leaders

Hunter

Hunter
(15)

Chynacat

Melodie
(11)
Krusten

Krusten
(11)
Wizard

Merlin
(10)
Thomaslee

Jonathon
(9)
Goldendawn

Aaroni
(9)
Aspiring Leaders

Stacia / Charmaine (7)
Txtrpg / Zork (7)
Anronrosby / Kronar (6)
Usabookworm / Bonifacius (5)
Seraphina / Alana (5)
KNtoran / Drogda (4)
Ready To Rule?
Are you here yet or still hiding? Come out of your cave and become a Ruler... a Ruler of Kings.
RPG Highlights