Dungeons and Dragons Bodak 3.5 PBP RPG
Tue, 23rd April, 2019 - 10:45 pm GMT
| | |
| --- | --- |
| | Bodak |
| | |
| | 9d12 (58 hp) |
| | +6 |
| | 20 ft. (4 squares) |
| | 20 (+2 Dex, +8 natural), touch 12, flat-footed 18 |
| | +4/+5 |
| | Slam +6 melee (1d8+1) |
| | Slam +6 melee (1d8+1) |
| | 5 ft./5 ft. |
| | Death gaze |
| | Damage reduction 10/cold iron, darkvision 60 ft., immunity to electricity, acid resistance 10, fire resistance 10, undead traits, vulnerability to sunlight |
| | Fort +3, Ref +5, Will +7 |
| | Str 13, Dex 15, Con -, Int 6, Wis 12, Cha 12 |
| | Listen +11, Move Silently +10, Spot +11 |
| | Alertness, Dodge, Improved Initiative, Weapon Focus (slam) |
| | A chaotic evil-aligned plane |
| | Solitary or gang (2-4) |
| | 8 |
| | None |
| | Always chaotic evil |
| | |
| | - |
Bodaks are the undead remnants of humanoids who have been destroyed by the touch of absolute evil.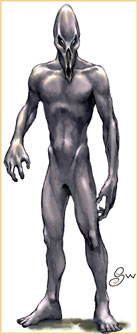 A bodak retains fleeting memories of its past life and can speak Common (or some other humanoid language).
Death Gaze (Su): Death, range 30 feet, Fortitude DC 15 negates. Humanoids who die from this attack are transformed into bodaks 24 hours later. The save DC is Charisma-based.
Vulnerability to Sunlight (Ex): Bodaks loathe sunlight, for its merest touch burns their impure flesh. Each round of exposure to the direct rays of the sun deals 1 point of damage to the creature.
Latest RPG Post
This is another role playing game, that could work as a play by post game.
I've seen the rules, and they are extensive enough. For creating, a character, new worlds, ships and aliens.
Because, movies, books etc have already been made, doesn't mean an end to creativity.

There, is still room to create new worlds, aliens, characters in this unique universe.
Easy enough to game master, already using the d20 die system.
Anyone interested?
NOTE: In the case of D&D, Wizards holds the copyright for its material. The versions most Players in our Community tend to use Dungeons & Dragons 2-3.5 although others may use higher versions.
Search via our Community for:
Dungeons and Dragons Bodak - D&D 3.5 PBP RPG Coded by: BGID® | ALL RIGHTS RESERVED Copyright © 2004-2019
Disclaimer | Privacy | Report Errors / Contact | Credits
RPG Info
Latest Game Topics
Highlights