Dungeons and Dragons Bodak 3.5 PBP RPG
Wed, 22nd November, 2017 - 6:43 pm GMT
| | |
| --- | --- |
| | Bodak |
| | |
| | 9d12 (58 hp) |
| | +6 |
| | 20 ft. (4 squares) |
| | 20 (+2 Dex, +8 natural), touch 12, flat-footed 18 |
| | +4/+5 |
| | Slam +6 melee (1d8+1) |
| | Slam +6 melee (1d8+1) |
| | 5 ft./5 ft. |
| | Death gaze |
| | Damage reduction 10/cold iron, darkvision 60 ft., immunity to electricity, acid resistance 10, fire resistance 10, undead traits, vulnerability to sunlight |
| | Fort +3, Ref +5, Will +7 |
| | Str 13, Dex 15, Con -, Int 6, Wis 12, Cha 12 |
| | Listen +11, Move Silently +10, Spot +11 |
| | Alertness, Dodge, Improved Initiative, Weapon Focus (slam) |
| | A chaotic evil-aligned plane |
| | Solitary or gang (2-4) |
| | 8 |
| | None |
| | Always chaotic evil |
| | |
| | - |
Bodaks are the undead remnants of humanoids who have been destroyed by the touch of absolute evil.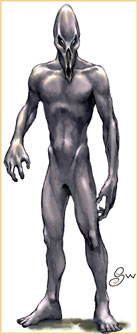 A bodak retains fleeting memories of its past life and can speak Common (or some other humanoid language).
Death Gaze (Su): Death, range 30 feet, Fortitude DC 15 negates. Humanoids who die from this attack are transformed into bodaks 24 hours later. The save DC is Charisma-based.
Vulnerability to Sunlight (Ex): Bodaks loathe sunlight, for its merest touch burns their impure flesh. Each round of exposure to the direct rays of the sun deals 1 point of damage to the creature.
Latest RPG Post
Pulls out that strange pebble she found long ago in her back yard. She remembered showing her granny the strange stone and was told that it is a purity check that wards off evil things. So with this in mind she…
NOTE: In the case of D&D, Wizards holds the copyright for its material. The versions most Players in our Community tend to use Dungeons & Dragons 2-3.5 although others may use higher versions.
Search via our Community for:
Dungeons and Dragons Bodak - D&D 3.5 PBP RPG Coded by: BGID® | ALL RIGHTS RESERVED Copyright © 2004-2017
Disclaimer | Privacy | Report Errors / Contact | Credits
RPG Info
Latest Game Topics
Highlights
Updated every: 59 minutes