Dungeons and Dragons Blink Dog 3.5 PBP RPG
Tue, 21st November, 2017 - 2:45 am GMT
| | |
| --- | --- |
| | Blink Dog |
| | |
| | 4d10 (22 hp) |
| | +3 |
| | 40 ft. (8 squares) |
| | 16 (+3 Dex, +3 natural), touch 13, flat-footed 13 |
| | +4/+4 |
| | Bite +4 melee (1d6) |
| | Bite +4 melee (1d6) |
| | 5 ft./5 ft. |
| | - |
| | Blink, darkvision 60 ft., dimension door, low-light vision, scent |
| | Fort +4, Ref +7, Will +4 |
| | Str 10, Dex 17, Con 10, Int 10, Wis 13, Cha 11 |
| | Hide +3, Listen +5, Sense Motive +3, Spot +5, Survival +4 |
| | |
| | Temperate plains |
| | Solitary, pair, or pack (7-16) |
| | 2 |
| | None |
| | Usually lawful good |
| | |
| | +2 (cohort) |
The blink dog is an intelligent canine that has a limited teleportation ability.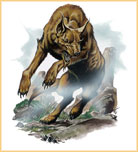 Blink dogs have their own language, a mixture of barks, yaps, whines, and growls that can transmit complex information.
Blink dogs hunt in packs, teleporting in a seemingly random fashion until they surround their prey, allowing some of them to take advantage of flanking.
Blink (Su): A blink dog can use blink as the spell (caster level 8th), and can evoke or end the effect as a free action.
Dimension Door (Su): A blink dog can teleport, as dimension door (caster level 8th), once per round as a free action. The ability affects only the blink dog, which never appears within a solid object and can act immediately after teleporting.
Latest RPG Post
There, must be some way biding us some time to rest and recupurate?
Can someone confirm, if this room has a door that can locked? Or something jammed up against it?

Daishain, can you confirm please if my pseudodragon returns to me?
Also, if I failed to get off an Eldrich blast in time, or failed to hit?
NOTE: In the case of D&D, Wizards holds the copyright for its material. The versions most Players in our Community tend to use Dungeons & Dragons 2-3.5 although others may use higher versions.
Search via our Community for:
Dungeons and Dragons Blink Dog - D&D 3.5 PBP RPG Coded by: BGID® | ALL RIGHTS RESERVED Copyright © 2004-2017
Disclaimer | Privacy | Report Errors / Contact | Credits
RPG Info
Latest Game Topics
Highlights
Updated every: 59 minutes