Dungeons and Dragons Belker 3.5 PBP RPG
Sun, 5th April, 2020 - 8:51 pm GMT
| | |
| --- | --- |
| | Belker |
| | |
| | 7d8+7 (38 hp) |
| | +5 |
| | 30 ft. (6 squares), fly 50 ft. (perfect) |
| | 22 (-1 size, +5 Dex, +8 natural), touch 14, flat-footed 17 |
| | +5/+11 |
| | Wing +9 melee (1d6+2) |
| | 2 wings +9 melee (1d6+2) and bite +4 melee (1d4+1) and 2 claws +4 melee (1d3+1) |
| | 10 ft./10 ft. |
| | Smoke claws |
| | Darkvision 60 ft., elemental traits, smoke form |
| | Fort +3, Ref +10, Will +2 |
| | Str 14, Dex 21, Con 13, Int 6, Wis 11, Cha 11 |
| | Listen +7, Move Silently +9, Spot +7 |
| | |
| | |
| | Solitary, pair, or clutch (3-4) |
| | 6 |
| | None |
| | Usually neutral evil |
| | |
| | - |
Belkers are creatures from the Plane of Air. They are composed primarily of smoke. Although undeniably evil, they are very reclusive and usually have no interest in the affairs of others. A belker's winged shape makes it look distinctly demonic. It is about 7 feet long and weighs about 8 pounds.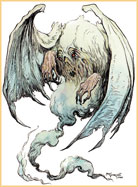 Belkers speak Auran.
In most cases, a belker fights with its nasty claws and painful bite.
Latest RPG Post
Kiven tries to hide it but shows a hint of fear as he is about to be branded. The elf puts his head down and looks away from the others as the brand is pressed to searing flesh but eventually he lets out one short, loud cry, gasping for air. As the task is finished and they release his other arm the proud ex-noble wipes his face clean of any evidence that he did not handle this well. He stands tall and tries not to wince has they drag him from the room.

Once in their cell, Kiven reacts little to Eya's mention of his brother being a real ass, but shoots her a very quick and serious look when she offers to assist in killing Tyris. Within a fraction of a second he is back to his previous demeanor and mutters "I will take care of HIM."

Regarding the brand, Kiven acknowledges Eya's words. "Yes, Forsaken we are. It matters not, and I will relish it. Today I am free of the shackles; the shackles of my family, of expectations, of law, of weakness. There is just one pair yet to shed." At that he looks at his elaborate chains and gauntlets. "I did my part, fiend, and you still owe me what you promised. You can start by contributing to my escape."

To Jesla's doubts that the men here can contribute at all, the self proclaimed Prince only reacts with a small smirk. Respar at least receives a nod to his suggestion of being a bit more tactical and cautious in their escape.
NOTE: In the case of D&D, Wizards holds the copyright for its material. The versions most Players in our Community tend to use Dungeons & Dragons 2-3.5 although others may use higher versions.
Dungeons and Dragons Belker - D&D 3.5 PBP RPG Coded by: BGID® | ALL RIGHTS RESERVED Copyright © 2004-2020
Disclaimer | Privacy | Report Errors / Contact | Credits
Future Terra II
Automated system to Role-play. No worries about Rules, Dice or updating your Character Sheet, they are taken care of for you. Just immerse in pure Role-playing.
Become A Backer!

See More
RPG Highlights