Dungeons and Dragons Belker 3.5 PBP RPG
Tue, 7th July, 2020 - 6:52 am GMT
| | |
| --- | --- |
| | Belker |
| | |
| | 7d8+7 (38 hp) |
| | +5 |
| | 30 ft. (6 squares), fly 50 ft. (perfect) |
| | 22 (-1 size, +5 Dex, +8 natural), touch 14, flat-footed 17 |
| | +5/+11 |
| | Wing +9 melee (1d6+2) |
| | 2 wings +9 melee (1d6+2) and bite +4 melee (1d4+1) and 2 claws +4 melee (1d3+1) |
| | 10 ft./10 ft. |
| | Smoke claws |
| | Darkvision 60 ft., elemental traits, smoke form |
| | Fort +3, Ref +10, Will +2 |
| | Str 14, Dex 21, Con 13, Int 6, Wis 11, Cha 11 |
| | Listen +7, Move Silently +9, Spot +7 |
| | |
| | |
| | Solitary, pair, or clutch (3-4) |
| | 6 |
| | None |
| | Usually neutral evil |
| | |
| | - |
Belkers are creatures from the Plane of Air. They are composed primarily of smoke. Although undeniably evil, they are very reclusive and usually have no interest in the affairs of others. A belker's winged shape makes it look distinctly demonic. It is about 7 feet long and weighs about 8 pounds.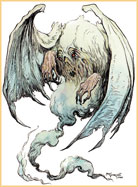 Belkers speak Auran.
In most cases, a belker fights with its nasty claws and painful bite.
Latest RPG Post
Its a handsome young boy about her age. He was probably swimming so she did not notice he was there. He is not very muscular but still fit looking maybe even athletic. He leaves the ocean and starts walking towards her. His features include…
NOTE: In the case of D&D, Wizards holds the copyright for its material. The versions most Players in our Community tend to use Dungeons & Dragons 2-3.5 although others may use higher versions.
Dungeons and Dragons Belker - D&D 3.5 PBP RPG Coded by: BGID® | ALL RIGHTS RESERVED Copyright © 2004-2020
Disclaimer | Privacy | Report Errors / Contact | Credits
Future Terra II
Automated system to Role-play. No worries about Rules, Dice or updating your Character Sheet, they are taken care of for you. Just immerse in pure Role-playing.
Become A Backer!

See More
RPG Highlights
Updated every: 59 minutes