Dungeons and Dragons Gloom 3.5 PBP RPG
Wed, 22nd November, 2017 - 6:38 pm GMT
| | |
| --- | --- |
| | Gloom |
| | |
| | 25d8+225 (337 hp) |
| | +26 (+18 Dex, +8 Superior Initiative) |
| | 30 ft. |
| | 40 (+18 Dex, +12 insight), touch 40, flat-footed 22 |
| | +25/+36 |
| | +10 keen dagger of human dread +54 (1d4+21/17-20) melee |
| | +10 keen dagger of human dread +54/+49/+44/+39 (1d4+21/17-20) melee |
| | 5 ft./5 ft. |
| | |
| | Blindsight 60 ft., opportunist, quiescence, spell-like abilities, spell resistance 35, damage reduction 10/epic |
| | Fort +17, Ref +32, Will +21 |
| | Str 32, Dex 46, Con 29, Int 26, Wis 25, Cha 30 |
| | Bluff +38, Climb +39, Hide +46, Intimidate +38, Jump +39, Listen +35, Move Silently +66, Spot +35, Survival +35, Tumble +46 |
| | Dodge, Improved Initiative, Improved Critical (dagger), Mobility, Spring Attack, Weapon Finesse, Weapon Focus (dagger) |
| Epic Feats: | |
| | Any urban |
| | Solitary |
| | 25 |
| | Nonstandard (just its dagger) |
| | Usually lawful evil |
| | 25+ HD (Medium-size) |
In the hand of any other creature but a gloom, the dagger is a +5 keen dagger.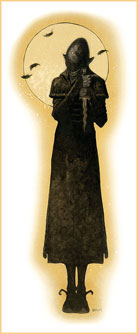 A gloom's natural weapons are treated as epic for the purpose of overcoming damage reduction.
Latest RPG Post
Whoever that man was, it seems likely he had been in charge of this place. Loraires and Cratol have stepped into what was once the chambers of a King. The first room is an antechamber, furnished suitably for private meetings. It still has three chairs too large for any of you to use. There is little of interest here though aside from valuable artwork and the like.

The bedroom beyond is massive, and lavishly decorated. The bed itself is far larger than normal, but someone hacked off the legs so it would sit on the ground. The most recent inhabitant of this place seems to have added his own touches to it, various animal trophies, hides, and other symbols of strength.

On the wall is a large portrait of a Cloud Giant family, dressed in noble attire. A man, woman, and a young boy. The portrait is utterly ruined however, with multiple slices in it. A throwing axe is still embedded in it.

There is a blanket, at first glance it was apparently casually thrown off the bed, but to attentive eyes, faint movement can be seen beneath it.
NOTE: In the case of D&D, Wizards holds the copyright for its material. The versions most Players in our Community tend to use Dungeons & Dragons 2-3.5 although others may use higher versions.
Search via our Community for:
Dungeons and Dragons Gloom - D&D 3.5 PBP RPG Coded by: BGID® | ALL RIGHTS RESERVED Copyright © 2004-2017
Disclaimer | Privacy | Report Errors / Contact | Credits
Current Leaders

Hunter

Hunter
(15)

Chynacat

Melodie
(11)
Krusten

Krusten
(11)
Wizard

Merlin
(10)
Thomaslee

Jonathon
(9)
Goldendawn

Aaroni
(9)
Aspiring Leaders

Stacia / Charmaine (7)
Txtrpg / Zork (7)
Anronrosby / Kronar (6)
Usabookworm / Bonifacius (5)
Seraphina / Alana (5)
KNtoran / Drogda (4)
Ready To Rule?
Are you here yet or still hiding? Come out of your cave and become a Ruler... a Ruler of Kings.
RPG Highlights