Dungeons and Dragons Gloom 3.5 PBP RPG
Wed, 29th January, 2020 - 6:41 pm GMT
| | |
| --- | --- |
| | Gloom |
| | |
| | 25d8+225 (337 hp) |
| | +26 (+18 Dex, +8 Superior Initiative) |
| | 30 ft. |
| | 40 (+18 Dex, +12 insight), touch 40, flat-footed 22 |
| | +25/+36 |
| | +10 keen dagger of human dread +54 (1d4+21/17-20) melee |
| | +10 keen dagger of human dread +54/+49/+44/+39 (1d4+21/17-20) melee |
| | 5 ft./5 ft. |
| | |
| | Blindsight 60 ft., opportunist, quiescence, spell-like abilities, spell resistance 35, damage reduction 10/epic |
| | Fort +17, Ref +32, Will +21 |
| | Str 32, Dex 46, Con 29, Int 26, Wis 25, Cha 30 |
| | Bluff +38, Climb +39, Hide +46, Intimidate +38, Jump +39, Listen +35, Move Silently +66, Spot +35, Survival +35, Tumble +46 |
| | Dodge, Improved Initiative, Improved Critical (dagger), Mobility, Spring Attack, Weapon Finesse, Weapon Focus (dagger) |
| Epic Feats: | |
| | Any urban |
| | Solitary |
| | 25 |
| | Nonstandard (just its dagger) |
| | Usually lawful evil |
| | 25+ HD (Medium-size) |
In the hand of any other creature but a gloom, the dagger is a +5 keen dagger.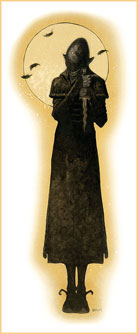 A gloom's natural weapons are treated as epic for the purpose of overcoming damage reduction.
Latest RPG Post
Maybe taking up fishing would cure a few things and yet that was too boring. Maybe surfing, but that could be dangerous. Maybe collecting sea shells, yes that could work. Then think more she wasn't sure if…
NOTE: In the case of D&D, Wizards holds the copyright for its material. The versions most Players in our Community tend to use Dungeons & Dragons 2-3.5 although others may use higher versions.
Dungeons and Dragons Gloom - D&D 3.5 PBP RPG Coded by: BGID® | ALL RIGHTS RESERVED Copyright © 2004-2020
Disclaimer | Privacy | Report Errors / Contact | Credits
RPG Info
Latest Game Topics
Highlights