Dungeons and Dragons Hawk 3.5 PBP RPG
Tue, 21st November, 2017 - 2:08 pm GMT
| | |
| --- | --- |
| | Hawk |
| | |
| | 1d8 (4 hp) |
| | +3 |
| | 10 ft. (2 squares), fly 60 ft. (average) |
| | 17 (+2 size, +3 Dex, +2 natural), touch 15, flat-footed 14 |
| | +0/-10 |
| | Talons +5 melee (1d4-2) |
| | Talons +5 melee (1d4-2) |
| | 2-1/2 ft./0 ft. |
| | - |
| | |
| | Fort +2, Ref +5, Will +2 |
| | Str 6, Dex 17, Con 10, Int 2, Wis 14, Cha 6 |
| | |
| | |
| | Temperate forests |
| | Solitary or pair |
| | 1/3 |
| | - |
| | - |
These creatures are similar to eagles but slightly smaller: 1 to 2 feet long, with wingspans of 6 feet or less.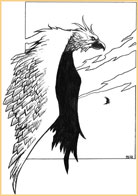 Latest RPG Post
A face of surprise that turns into embarrassment as he looks away and then back at them again saying, "Okay, enough of this nonsense, this area is not for this sort of thing!" He steps back and adjusts for her to leave while he adds…
NOTE: In the case of D&D, Wizards holds the copyright for its material. The versions most Players in our Community tend to use Dungeons & Dragons 2-3.5 although others may use higher versions.
Search via our Community for:
Dungeons and Dragons Hawk - D&D 3.5 PBP RPG Coded by: BGID® | ALL RIGHTS RESERVED Copyright © 2004-2017
Disclaimer | Privacy | Report Errors / Contact | Credits
RPG Info
Latest Game Topics
Highlights
Updated every: 59 minutes