Dungeons and Dragons Bat 3.5 PBP RPG
Mon, 22nd April, 2019 - 12:04 am GMT
| | |
| --- | --- |
| | Bat |
| | |
| | 1/4 d8 (1 hp) |
| | +2 |
| | 5 ft (1 square), fly 40 ft. (good) |
| | 16 (+4 size, +2 Dex), touch 16, flat-footed 14 |
| | +0/-17 |
| | - |
| | - |
| | 1 ft./0 ft. |
| | - |
| | Blindsense 20 ft., low-light vision |
| | Fort +2, Ref +4, Will +2 |
| | Str 1, Dex 15, Con 10, Int 2, Wis 14, Cha 4 |
| | Hide +14, Listen +8*, Move Silently +6, Spot +8* |
| | |
| | Temperate deserts |
| | Colony (10-40) or crowd (10-50) |
| | 1/10 |
| | - |
| | - |
Bats are nocturnal flying mammals. The statistics presented here describe small, insectivorous bats.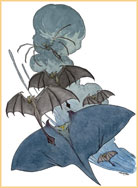 Latest RPG Post
A little melodrama has it's place in all games as long as one player isn't stealing time from others. On the same note, it's a pain in the butt when Dungeons & Dragons turns into Paper and Paychecks. When players want to spend more time worrying about their businesses instead of questing.

I started making players write down anything having to do with their businesses at home and turn it in to me to read after the session. Negative experience for any who mention their businesses during session.
NOTE: In the case of D&D, Wizards holds the copyright for its material. The versions most Players in our Community tend to use Dungeons & Dragons 2-3.5 although others may use higher versions.
Search via our Community for:
Dungeons and Dragons Bat - D&D 3.5 PBP RPG Coded by: BGID® | ALL RIGHTS RESERVED Copyright © 2004-2019
Disclaimer | Privacy | Report Errors / Contact | Credits
RPG Info
Latest Game Topics
Highlights
Updated every: 59 minutes