Dungeons and Dragons Bat 3.5 PBP RPG
Wed, 19th December, 2018 - 1:16 pm GMT
| | |
| --- | --- |
| | Bat |
| | |
| | 1/4 d8 (1 hp) |
| | +2 |
| | 5 ft (1 square), fly 40 ft. (good) |
| | 16 (+4 size, +2 Dex), touch 16, flat-footed 14 |
| | +0/-17 |
| | - |
| | - |
| | 1 ft./0 ft. |
| | - |
| | Blindsense 20 ft., low-light vision |
| | Fort +2, Ref +4, Will +2 |
| | Str 1, Dex 15, Con 10, Int 2, Wis 14, Cha 4 |
| | Hide +14, Listen +8*, Move Silently +6, Spot +8* |
| | |
| | Temperate deserts |
| | Colony (10-40) or crowd (10-50) |
| | 1/10 |
| | - |
| | - |
Bats are nocturnal flying mammals. The statistics presented here describe small, insectivorous bats.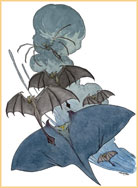 Latest RPG Post
I mean I've played Dungeons & Dragons campaigns where the Dungeon Master wrote a bunch of pre-made character designs and laid them out for all the people who were invited to the campaign to choose for themselves. I think this method definitely helps to streamline the process of starting a campaign with friends, not everyone wants to spend hours researching the perfect type of character to build.

With that said, I feel that a pre made character takes away one of the fundamental perks of playing these kinds of games. It's one thing if you are playing a video game Role-playing Game like say Final Fantasy. Obviously in that kind of Role-playing Game you are "Role playing" a character that has already been generated for you and he or she has their own interests and logic behind their decisions. But is that the deepest role play can get?

I feel the deepest role play experience is always felt when you are the one who created the character yourself, you understand that characters quirks and personality completely because you are the one who designed him (Or her). When you role play a character you designed you really feel like YOU are that character. And that makes all the difference.
NOTE: In the case of D&D, Wizards holds the copyright for its material. The versions most Players in our Community tend to use Dungeons & Dragons 2-3.5 although others may use higher versions.
Search via our Community for:
Dungeons and Dragons Bat - D&D 3.5 PBP RPG Coded by: BGID® | ALL RIGHTS RESERVED Copyright © 2004-2018
Disclaimer | Privacy | Report Errors / Contact | Credits
Future Terra II
Automated system to Role-play. No worries about Rules, Dice or updating your Character Sheet, they are taken care of for you. Just immerse in pure Role-playing.
Become A Backer!

See More
RPG Highlights