Dungeons and Dragons Xill 3.5 PBP RPG
Thu, 2nd July, 2020 - 9:48 am GMT
| | |
| --- | --- |
| | Xill |
| | |
| | 5d8+10 (32 hp) |
| | +7 |
| | 40 ft. (8 squares) |
| | 20 (+3 Dex, +7 natural), touch 13, flat-footed 17 |
| | +5/+7 |
| | Short sword +7 melee (1d6+2/19-20) or claw +7 melee (1d4+2) or longbow +8 ranged (1d8/x3) |
| | 2 short swords +5 melee (1d6+2/19-20, 1d6+1/19-20) and 2 claws +5 melee (1d4+1); or 4 claws +5 melee (1d4+2, 1d4+1); or 2 longbows +4 ranged (1d8/x3) |
| | 5 ft./5 ft. |
| | Implant, improved grab, paralysis |
| | Darkvision 60 ft., planewalk, spell resistance 21 |
| | Fort +6, Ref +7, Will +5 |
| | Str 15, Dex 16, Con 15, Int 12, Wis 12, Cha 11 |
| | Balance +13, Climb +10, Diplomacy +2, Escape Artist +11, Intimidate +8, Listen +9, Move Silently +11, Sense Motive +8, Spot +9, Tumble +11, Use Rope +3 (+5 with bindings) |
| | |
| | Ethereal Plane |
| | Solitary or gang (2-5) |
| | 6 |
| | Standard |
| | Always lawful evil |
| | |
| | +4 |
A xill stands 4 to 5 feet tall and weighs about 100 pounds. Xills speak Infernal.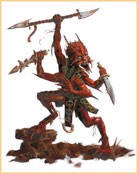 Xills are dangerous opponents, attacking with all four limbs. More civilized ones use weapons, usually fighting with two at a time so as to leave two claws free for grab attacks. Xills typically lie in wait on the Ethereal Plane for suitable prey to happen by, then ambush it using their planewalk ability. They make full use of their Tumble skill in combat: Usually, one or two distract physically powerful enemies by attacking, then assuming a defensive stance while their fellows maneuver to advantage.
Latest RPG Post
I have done that many times with Dungeons & Dragons Beyond! I even had my husband build one that was based on myself so I wouldn't be biased. I haven't been able to play any of these characters, but I really want to!
NOTE: In the case of D&D, Wizards holds the copyright for its material. The versions most Players in our Community tend to use Dungeons & Dragons 2-3.5 although others may use higher versions.
Dungeons and Dragons Xill - D&D 3.5 PBP RPG Coded by: BGID® | ALL RIGHTS RESERVED Copyright © 2004-2020
Disclaimer | Privacy | Report Errors / Contact | Credits
Text Adventure
Current Leaders

Krusten

Krusten
(15)

Wizard

Merlin
(14)
Hunter

Thorin
(13)
Stacia

Sapphire
(9)
Ammon

Nephi
(7)
Symphony

Melodee
(6)
Aspiring Leaders

Adventure / Zork (5)
Warlock / Runic (5)
Beowolf / Wolf (4)
Cyoa / Hamilton (4)
Fantasy / Melinda (3)
Workman / Shamus (3)
Ready To Rule?
Are you here yet or still hiding? Come out of your cave and become a Ruler... a Ruler of Kings.
RPG Highlights