Dungeons and Dragons Vargouille 3.5 PBP RPG
Wed, 22nd November, 2017 - 6:43 pm GMT
| | |
| --- | --- |
| | Vargouille |
| | |
| | 1d8+1 (5 hp) |
| | +1 |
| | Fly 30 ft. (good) (6 squares) |
| | 12 (+1 size, +1 Dex), touch 11, flat-footed 11 |
| | +1/-3 |
| | Bite +3 melee (1d4 plus poison) |
| | Bite +3 melee (1d4 plus poison) |
| | 5 ft./5 ft. |
| | Shriek, kiss, poison |
| | Darkvision 60 ft. |
| | Fort +3, Ref +3, Will +3 |
| | Str 10, Dex 13, Con 12, Int 5, Wis 12, Cha 8 |
| | Hide +9, Intimidate +3, Listen +5, Move Silently +5, Spot +5 |
| | |
| | An evil-aligned plane |
| | Cluster (2-5) or mob (6-11) |
| | 2 |
| | None |
| | Always neutral evil |
| | 2-3 HD (Small) |
| | - |
A vargouille is slightly larger than a human head, about 18 inches high, with a wingspan of 4 feet. It weighs about 10 pounds.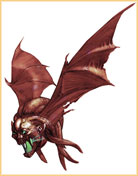 Vargouilles speak Infernal.
Vargouilles attack by biting with their jagged teeth. Their special attacks make them even more dangerous. A vargouille's natural weapons, as well as any weapons it wields, are treated as evil-aligned for the purpose of overcoming damage reduction.
Latest RPG Post
A dark red trunks with the draw string falling on the outside. His eyes are green and his hair sandy brown with bleached ends from being in the sun too long. His skin is tan but not too dark. He comes forward with a smile and says, "Hi, I'm… "
NOTE: In the case of D&D, Wizards holds the copyright for its material. The versions most Players in our Community tend to use Dungeons & Dragons 2-3.5 although others may use higher versions.
Search via our Community for:
Dungeons and Dragons Vargouille - D&D 3.5 PBP RPG Coded by: BGID® | ALL RIGHTS RESERVED Copyright © 2004-2017
Disclaimer | Privacy | Report Errors / Contact | Credits
Current Leaders

Hunter

Hunter
(15)

Chynacat

Melodie
(11)
Krusten

Krusten
(11)
Wizard

Merlin
(10)
Thomaslee

Jonathon
(9)
Goldendawn

Aaroni
(9)
Aspiring Leaders

Stacia / Charmaine (7)
Txtrpg / Zork (7)
Anronrosby / Kronar (6)
Usabookworm / Bonifacius (5)
Seraphina / Alana (5)
KNtoran / Drogda (4)
Ready To Rule?
Are you here yet or still hiding? Come out of your cave and become a Ruler... a Ruler of Kings.
RPG Highlights