Dungeons and Dragons Tendriculos 3.5 PBP RPG
Wed, 19th December, 2018 - 1:59 pm GMT
| | |
| --- | --- |
| | Tendriculos |
| | |
| | 9d8+54 (94 hp) |
| | -1 |
| | 20 ft. (4 squares) |
| | 16 (-2 size, -1 Dex, +9 natural), touch 7, flat-footed 16 |
| | +6/+23 |
| | Bite +13 melee (2d8+9) and 2 tendrils +8 melee (1d6+4) |
| | Bite +13 melee (2d8+9) and 2 tendrils +8 melee (1d6+4) |
| | 15 ft./15 ft. |
| | |
| | Low-light vision, plant traits, regeneration 10 |
| | Fort +12, Ref +2, Will +4 |
| | Str 28, Dex 9, Con 22, Int 3, Wis 8, Cha 3 |
| | Hide +9, Listen +1, Move Silently +1, Spot +1 |
| | |
| | Temperate forests |
| | Solitary |
| | 6 |
| | 1/10th coins; 50% goods; 50% items |
| | Always neutral |
| | 10-16 HD (Huge); 17-27 HD (Gargantuan) |
| | - |
A tendriculos can rear up to a height of 15 feet. It weighs about 3,500 pounds.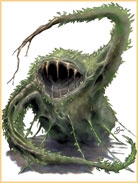 Animals and other plant creatures are unnerved by the presence of a tendriculos; they avoid it and any place it has been within the last 24 hours.
Prowling deep forests or waiting in vegetated areas (looking like nothing more than a small hillock), a tendriculos attacks savagely, showing no fear. It attempts to swallow as much flesh as it can, as quickly as it can.
Latest RPG Post
Times when you were back at home with your grandma. You doubt yourself and if you should have even begun this journey. "Why leave the safety of where you grew up to now put yourself in danger?" she asks herself with a big sigh. She looks back to see if the imp is coming as she continues her thoughts, "You should have stayed home, maybe grandma needs help!" she debates with herself but she knows its just cowardice creeping in.
NOTE: In the case of D&D, Wizards holds the copyright for its material. The versions most Players in our Community tend to use Dungeons & Dragons 2-3.5 although others may use higher versions.
Search via our Community for:
Dungeons and Dragons Tendriculos - D&D 3.5 PBP RPG Coded by: BGID® | ALL RIGHTS RESERVED Copyright © 2004-2018
Disclaimer | Privacy | Report Errors / Contact | Credits
Future Terra II
Automated system to Role-play. No worries about Rules, Dice or updating your Character Sheet, they are taken care of for you. Just immerse in pure Role-playing.
Become A Backer!

See More
RPG Highlights
Updated every: 59 minutes