Dungeons and Dragons Tendriculos 3.5 PBP RPG
Wed, 22nd November, 2017 - 6:44 pm GMT
| | |
| --- | --- |
| | Tendriculos |
| | |
| | 9d8+54 (94 hp) |
| | -1 |
| | 20 ft. (4 squares) |
| | 16 (-2 size, -1 Dex, +9 natural), touch 7, flat-footed 16 |
| | +6/+23 |
| | Bite +13 melee (2d8+9) and 2 tendrils +8 melee (1d6+4) |
| | Bite +13 melee (2d8+9) and 2 tendrils +8 melee (1d6+4) |
| | 15 ft./15 ft. |
| | |
| | Low-light vision, plant traits, regeneration 10 |
| | Fort +12, Ref +2, Will +4 |
| | Str 28, Dex 9, Con 22, Int 3, Wis 8, Cha 3 |
| | Hide +9, Listen +1, Move Silently +1, Spot +1 |
| | |
| | Temperate forests |
| | Solitary |
| | 6 |
| | 1/10th coins; 50% goods; 50% items |
| | Always neutral |
| | 10-16 HD (Huge); 17-27 HD (Gargantuan) |
| | - |
A tendriculos can rear up to a height of 15 feet. It weighs about 3,500 pounds.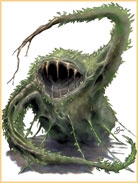 Animals and other plant creatures are unnerved by the presence of a tendriculos; they avoid it and any place it has been within the last 24 hours.
Prowling deep forests or waiting in vegetated areas (looking like nothing more than a small hillock), a tendriculos attacks savagely, showing no fear. It attempts to swallow as much flesh as it can, as quickly as it can.
Latest RPG Post
Velon moves slowly down the hall, following Cratol and Lora at a distance. He watches to ensure the group stays close. All the while he can't resist putting a hand on his stomach, thinking of Rezmir's blade cutting through him. The blade, where was it? He'll have to remember to ask once they are in a safer spot.

Out of Character: . Since Daishain mentioned Rezmir's room being hazardous twice or so and mentioned rooms nearby with beds, it's probably best to follow the not-so-subtle suggestion on the Dungeon Master.
NOTE: In the case of D&D, Wizards holds the copyright for its material. The versions most Players in our Community tend to use Dungeons & Dragons 2-3.5 although others may use higher versions.
Search via our Community for:
Dungeons and Dragons Tendriculos - D&D 3.5 PBP RPG Coded by: BGID® | ALL RIGHTS RESERVED Copyright © 2004-2017
Disclaimer | Privacy | Report Errors / Contact | Credits
Current Leaders

Hunter

Hunter
(15)

Chynacat

Melodie
(11)
Krusten

Krusten
(11)
Wizard

Merlin
(10)
Thomaslee

Jonathon
(9)
Goldendawn

Aaroni
(9)
Aspiring Leaders

Stacia / Charmaine (7)
Txtrpg / Zork (7)
Anronrosby / Kronar (6)
Usabookworm / Bonifacius (5)
Seraphina / Alana (5)
KNtoran / Drogda (4)
Ready To Rule?
Are you here yet or still hiding? Come out of your cave and become a Ruler... a Ruler of Kings.
RPG Highlights