Dungeons and Dragons Shambling Mound 3.5 PBP RPG
Sun, 19th August, 2018 - 5:35 am GMT
| | |
| --- | --- |
| | Shambling Mound |
| | |
| | 8d8+24 (60 hp) |
| | +0 |
| | 20 ft. (4 squares), swim 20 ft. |
| | 20 (-1 size, +11 natural), touch 9, flat-footed 20 |
| | +6/+15 |
| | Slam +11 melee (2d6+5) |
| | 2 slams +11 melee (2d6+5) |
| | 10 ft./10 ft. |
| | Improved grab, constrict 2d6+7 |
| | Darkvision 60 ft., immunity to electricity, low-light vision, plant traits, fire resistance 10 |
| | Fort +9, Ref +2, Will +4 |
| | Str 21, Dex 10, Con 17, Int 7, Wis 10, Cha 9 |
| | Hide +3*, Listen +8, Move Silently +8 |
| | Iron Will, Power Attack, Weapon Focus (slam) |
| | Temperate marshes |
| | Solitary |
| | 6 |
| | 1/10th coins; 50% goods; 50% items |
| | Usually neutral |
| | |
| | +6 |
Shambling mounds, also called shamblers, appear to be heaps of rotting vegetation. They are actually intelligent, carnivorous plants.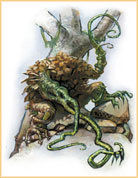 A shambler's brain and sensory organs are located in its upper body.
A shambler's body has an 8-foot girth and is about 6 feet tall when the creature stands erect. It weighs about 3,800 pounds.
A shambling mound batters or constricts its opponents with two huge, armlike appendages.
Latest RPG Post
Bob Parr (Mr. Incredible) is left to care for the kids while Helen (Elastigirl) is out saving the world.
Director: Brad Bird
Stars: Craig T. Nelson, Holly Hunter, Sarah Vowell, Huck Milner
Box Office: Weekend: $182.69M, Gross: $394.18M.
NOTE: In the case of D&D, Wizards holds the copyright for its material. The versions most Players in our Community tend to use Dungeons & Dragons 2-3.5 although others may use higher versions.
Search via our Community for:
Dungeons and Dragons Shambling Mound - D&D 3.5 PBP RPG Coded by: BGID® | ALL RIGHTS RESERVED Copyright © 2004-2018
Disclaimer | Privacy | Report Errors / Contact | Credits
Future Terra II
Automated system to Role-play. No worries about Rules, Dice or updating your Character Sheet, they are taken care of for you. Just immerse in pure Role-playing.
Become A Backer!
See More
RPG Highlights
Updated every: 59 minutes