Dungeons and Dragons Shambling Mound 3.5 PBP RPG
Wed, 17th October, 2018 - 7:02 am GMT
| | |
| --- | --- |
| | Shambling Mound |
| | |
| | 8d8+24 (60 hp) |
| | +0 |
| | 20 ft. (4 squares), swim 20 ft. |
| | 20 (-1 size, +11 natural), touch 9, flat-footed 20 |
| | +6/+15 |
| | Slam +11 melee (2d6+5) |
| | 2 slams +11 melee (2d6+5) |
| | 10 ft./10 ft. |
| | Improved grab, constrict 2d6+7 |
| | Darkvision 60 ft., immunity to electricity, low-light vision, plant traits, fire resistance 10 |
| | Fort +9, Ref +2, Will +4 |
| | Str 21, Dex 10, Con 17, Int 7, Wis 10, Cha 9 |
| | Hide +3*, Listen +8, Move Silently +8 |
| | Iron Will, Power Attack, Weapon Focus (slam) |
| | Temperate marshes |
| | Solitary |
| | 6 |
| | 1/10th coins; 50% goods; 50% items |
| | Usually neutral |
| | |
| | +6 |
Shambling mounds, also called shamblers, appear to be heaps of rotting vegetation. They are actually intelligent, carnivorous plants.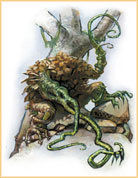 A shambler's brain and sensory organs are located in its upper body.
A shambler's body has an 8-foot girth and is about 6 feet tall when the creature stands erect. It weighs about 3,800 pounds.
A shambling mound batters or constricts its opponents with two huge, armlike appendages.
Latest RPG Post
Bellak continues his advance, with his fellow Orcs surrounding him. He crushed the hobbits standing between him and his brother, now he sees a unit of wood elves ahead. He bellows his command to his tribe mates, "Crush, kill filthy elves. Kill by Gruumsh!"
NOTE: In the case of D&D, Wizards holds the copyright for its material. The versions most Players in our Community tend to use Dungeons & Dragons 2-3.5 although others may use higher versions.
Search via our Community for:
Dungeons and Dragons Shambling Mound - D&D 3.5 PBP RPG Coded by: BGID® | ALL RIGHTS RESERVED Copyright © 2004-2018
Disclaimer | Privacy | Report Errors / Contact | Credits
RPG Info
Latest Game Topics
Highlights
Updated every: 59 minutes