Dungeons and Dragons Roper 3.5 PBP RPG
Thu, 23rd November, 2017 - 4:55 pm GMT
| | |
| --- | --- |
| | Roper |
| | |
| | 10d10+30 (85 hp) |
| | +5 |
| | 10 ft. (2 squares) |
| | 24 (-1 size, +1 Dex, +14 natural), touch 10, flat-footed 23 |
| | +10/+18 |
| | Strand +11 ranged touch (drag) or bite +13 melee (2d6+6) |
| | 6 strands +11 ranged touch (drag) and bite +13 melee (2d6+6) |
| | 10 ft./10 ft. (50 ft. with strand) |
| | Drag, strands, weakness |
| | Darkvision 60 ft., immunity to electricity, low-light vision, cold resistance 10, spell resistance 30, vulnerability to fire |
| | Fort +10, Ref +8, Will +8 |
| | Str 19, Dex 13, Con 17, Int 12, Wis 16, Cha 12 |
| | |
| | Alertness, Improved Initiative, Iron Will, Weapon Focus (strand) |
| | Underground |
| | Solitary, pair, or cluster (3-6) |
| | 12 |
| | No coins; 50% goods (stone only); no items |
| | Usually chaotic evil |
| | |
| | - |
A roper stands some 9 feet tall and tapers from 3 or 4 feet in diameter at the base to 1 foot across at the top. It weighs 2,200 pounds. A roper's coloration and temperature change to match the features of the surrounding cave.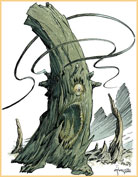 Ropers speak Terran and Undercommon.
A roper hunts by standing very still and imitating a bit of rock. This tactic often allows it to attack with surprise. When prey comes within reach, it lashes out with its strands. In melee, it bites adjacent opponents with its powerful maw.
Latest RPG Post
This is amazing! I want one. I hope whomever created it or did it preserved it in some way if it can even be preserved. Mini models of this would be fantastic too.
NOTE: In the case of D&D, Wizards holds the copyright for its material. The versions most Players in our Community tend to use Dungeons & Dragons 2-3.5 although others may use higher versions.
Search via our Community for:
Dungeons and Dragons Roper - D&D 3.5 PBP RPG Coded by: BGID® | ALL RIGHTS RESERVED Copyright © 2004-2017
Disclaimer | Privacy | Report Errors / Contact | Credits
RPG Info
Latest Game Topics
Highlights
Updated every: 59 minutes