Dungeons and Dragons Ogre Mage 3.5 PBP RPG
Mon, 25th June, 2018 - 12:22 am GMT
| | |
| --- | --- |
| | Ogre Mage |
| | |
| | 5d8+15 (37 hp) |
| | +4 |
| | 40 ft. (8 squares), fly 40 ft. (good) |
| | 18 (-1 size, +5 natural, +4 chain shirt), touch 9, flat-footed 18 |
| | +3/+12 |
| | Greatsword +7 melee (3d6+7/19-20) or longbow +2 ranged (2d6/x3) |
| | Greatsword +7 melee (3d6+7/19-20) or longbow +2 ranged (2d6/x3) |
| | 10 ft./10 ft. |
| | |
| | Darkvision 90 ft., low-light vision, regeneration 5, spell resistance 19 |
| | Fort +7, Ref +1, Will +3 |
| | Str 21, Dex 10, Con 17, Int 14, Wis 14, Cha 17 |
| | Concentration +11, Listen +10, Spellcraft +10, Spot +10 |
| | |
| | Cold hills |
| | Solitary, pair, or troupe (1-2 plus 2-4 ogres) |
| | 8 |
| | Double standard |
| | Usually lawful evil |
| | By character class |
| | +7 |
The ogre mage is a more intelligent and dangerous variety of its mundane cousin.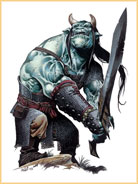 An ogre mage stands about 10 feet tall and weighs up to 700 pounds. Its skin varies in color from light green to light blue, and its hair is black or very dark brown. Ogre mages favor loose, comfortable clothing and lightweight armor.
Ogre mages speak Giant and Common.
Latest RPG Post
I groan on the ground in the middle off the road as I slowly stand again leaning against a wall I try to get my bearings and regain my strength a little as I look about.
NOTE: In the case of D&D, Wizards holds the copyright for its material. The versions most Players in our Community tend to use Dungeons & Dragons 2-3.5 although others may use higher versions.
Search via our Community for:
Dungeons and Dragons Ogre Mage - D&D 3.5 PBP RPG Coded by: BGID® | ALL RIGHTS RESERVED Copyright © 2004-2018
Disclaimer | Privacy | Report Errors / Contact | Credits
RPG Info
Latest Game Topics
Highlights
Updated every: 59 minutes