Dungeons and Dragons Night Hag 3.5 PBP RPG
Thu, 23rd November, 2017 - 4:56 pm GMT
| | |
| --- | --- |
| | Night Hag |
| | |
| | 8d8+32 (68 hp) |
| | +1 |
| | 20 ft. (4 squares) |
| | 22 (+1 Dex, +11 natural), touch 11, flat-footed 21 |
| | +8/+12 |
| | Bite +12 melee (2d6+6 plus disease) |
| | Bite +12 melee (2d6+6 plus disease) |
| | 5 ft./5 ft. |
| | Spell-like abilities, dream haunting |
| | Damage reduction 10/cold iron and magic, immunity to fire, cold, charm, sleep, and fear, spell resistance 25 |
| | Fort +12*, Ref +9*, Will +10* |
| | Str 19, Dex 12, Con 18, Int 11, Wis 15, Cha 12 |
| | Bluff +12, Concentration +15, Diplomacy +5, Disguise +1 (+3 acting), Intimidate +14, Listen +15, Ride +12, Sense Motive +13, Spellcraft +11, Spot +15 |
| | |
| | A evil-aligned plane |
| | Solitary, mounted (1, on nightmare), or covey (3, on nightmares) |
| | 9 |
| | Standard |
| | Always neutral evil |
| | 9-16 HD (Medium) |
| | - |
A night hag is about the same height and weight as a female human.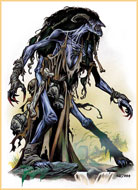 Night hags speak Abyssal, Celestial, Common, and Infernal.
Latest RPG Post
I was just wondering would there be anyone interested in playing a text based Startrek Role-playing Game game here?

I've been playing Kntorans Dungeons & Dragons 3.5, and Daishains Dungeons & Dragons 5e, and enjoy playing both.

I'm kind of hoping that an Role-playing Game Startrek, can utilize the same dice system. Also the character creation system, thats used here.

If it's already done, then there is no need to reinvent the wheel and duplicate it here.

However, if not then I wouldn't mind exploring the concept.
NOTE: In the case of D&D, Wizards holds the copyright for its material. The versions most Players in our Community tend to use Dungeons & Dragons 2-3.5 although others may use higher versions.
Search via our Community for:
Dungeons and Dragons Night Hag - D&D 3.5 PBP RPG Coded by: BGID® | ALL RIGHTS RESERVED Copyright © 2004-2017
Disclaimer | Privacy | Report Errors / Contact | Credits
Current Leaders

Hunter

Hunter
(15)

Chynacat

Melodie
(11)
Krusten

Krusten
(11)
Wizard

Merlin
(10)
Thomaslee

Jonathon
(9)
Goldendawn

Aaroni
(9)
Aspiring Leaders

Stacia / Charmaine (7)
Txtrpg / Zork (7)
Anronrosby / Kronar (6)
Usabookworm / Bonifacius (5)
Seraphina / Alana (5)
KNtoran / Drogda (4)
Ready To Rule?
Are you here yet or still hiding? Come out of your cave and become a Ruler... a Ruler of Kings.
RPG Highlights