Dungeons and Dragons Night Hag 3.5 PBP RPG
Wed, 20th June, 2018 - 7:47 am GMT
| | |
| --- | --- |
| | Night Hag |
| | |
| | 8d8+32 (68 hp) |
| | +1 |
| | 20 ft. (4 squares) |
| | 22 (+1 Dex, +11 natural), touch 11, flat-footed 21 |
| | +8/+12 |
| | Bite +12 melee (2d6+6 plus disease) |
| | Bite +12 melee (2d6+6 plus disease) |
| | 5 ft./5 ft. |
| | Spell-like abilities, dream haunting |
| | Damage reduction 10/cold iron and magic, immunity to fire, cold, charm, sleep, and fear, spell resistance 25 |
| | Fort +12*, Ref +9*, Will +10* |
| | Str 19, Dex 12, Con 18, Int 11, Wis 15, Cha 12 |
| | Bluff +12, Concentration +15, Diplomacy +5, Disguise +1 (+3 acting), Intimidate +14, Listen +15, Ride +12, Sense Motive +13, Spellcraft +11, Spot +15 |
| | |
| | A evil-aligned plane |
| | Solitary, mounted (1, on nightmare), or covey (3, on nightmares) |
| | 9 |
| | Standard |
| | Always neutral evil |
| | 9-16 HD (Medium) |
| | - |
A night hag is about the same height and weight as a female human.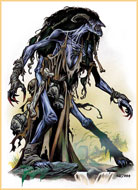 Night hags speak Abyssal, Celestial, Common, and Infernal.
Latest RPG Post
Well, seems I'm going to have to get Zarra out if there ASAP or she is going to have a dragon wishing her untimely death. Hopefully, it usn't too late.

Also, was that fireball and storm surge ever cast? That was a big reason why I was having my drow hold back a little bit, waiting for those spells to clear the area.
NOTE: In the case of D&D, Wizards holds the copyright for its material. The versions most Players in our Community tend to use Dungeons & Dragons 2-3.5 although others may use higher versions.
Search via our Community for:
Dungeons and Dragons Night Hag - D&D 3.5 PBP RPG Coded by: BGID® | ALL RIGHTS RESERVED Copyright © 2004-2018
Disclaimer | Privacy | Report Errors / Contact | Credits
RPG Info
Latest Game Topics
Highlights
Updated every: 59 minutes