| | |
| --- | --- |
| | Invisible Stalker |
| | |
| | 8d8+16 (52 hp) |
| | +8 |
| | 30 ft. (6 squares), fly 30 ft. (perfect) |
| | 17 (-1 size, +4 Dex, +4 natural), touch 13, flat-footed 13 |
| | +6/+14 |
| | Slam +10 melee (2d6+4) |
| | 2 slams +10 melee (2d6+4) |
| | 10 ft./10 ft. |
| | - |
| | Darkvision 60 ft., elemental traits, natural invisibility, improved tracking |
| | Fort +4, Ref +10, Will +4 |
| | Str 18, Dex 19, Con 14, Int 14, Wis 15, Cha 11 |
| | Listen +13, Move Silently +15, Search +13, Spot +13, Survival +2 (+4 following tracks) |
| | |
| | |
| | Solitary |
| | 7 |
| | None |
| | Usually neutral |
| | |
| | - |
Invisible stalkers are creatures native to the Elemental Plane of Air. They sometimes serve wizards and sorcerers, who summon them to perform specific tasks.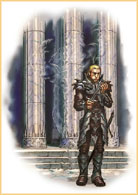 A summoned invisible stalker undertakes whatever task the summoner commands, even if the task sends it hundreds or thousands of miles away. The creature follows a command until the task is completed and obeys only the summoner. However, it resents protracted missions or complex tasks and seeks to pervert its instructions accordingly.
Invisible stalkers have an amorphous form. A see invisibility spell shows only a dim outline of a cloud, while a true seeing spell reveals a roiling cloud of vapor.
These creatures speak only Auran but can understand Common.
An invisible stalker attacks by using the air itself as a weapon. It creates a sudden, intense blast of wind that pounds a single target on the same plane as the creature.
An invisible stalker can be killed only when it is on the Elemental Plane of Air. When performing a task elsewhere, it automatically returns to its home plane when it takes damage sufficient to destroy it.
Natural Invisibility (Su): This ability is constant, allowing a stalker to remain invisible even when attacking. This ability is inherent and not subject to the invisibility purge spell.
Improved Tracking (Ex): An invisible stalker is a consummate tracker and makes Spot checks instead of the usual Survival checks to trace a creature's passage.
Latest RPG Post
Kiven tries to hide it but shows a hint of fear as he is about to be branded. The elf puts his head down and looks away from the others as the brand is pressed to searing flesh but eventually he lets out one short, loud cry, gasping for air. As the task is finished and they release his other arm the proud ex-noble wipes his face clean of any evidence that he did not handle this well. He stands tall and tries not to wince has they drag him from the room.

Once in their cell, Kiven reacts little to Eya's mention of his brother being a real ass, but shoots her a very quick and serious look when she offers to assist in killing Tyris. Within a fraction of a second he is back to his previous demeanor and mutters "I will take care of HIM."

Regarding the brand, Kiven acknowledges Eya's words. "Yes, Forsaken we are. It matters not, and I will relish it. Today I am free of the shackles; the shackles of my family, of expectations, of law, of weakness. There is just one pair yet to shed." At that he looks at his elaborate chains and gauntlets. "I did my part, fiend, and you still owe me what you promised. You can start by contributing to my escape."

To Jesla's doubts that the men here can contribute at all, the self proclaimed Prince only reacts with a small smirk. Respar at least receives a nod to his suggestion of being a bit more tactical and cautious in their escape.