Dungeons and Dragons Hippogriff 3.5 PBP RPG
Tue, 23rd April, 2019 - 9:56 pm GMT
| | |
| --- | --- |
| | Hippogriff |
| | |
| | 3d10+9 (25 hp) |
| | +2 |
| | 50 ft. (10 squares), fly 100 ft. (average) |
| | 15 (-1 size, +2 Dex, +4 natural), touch 11, flat-footed 13 |
| | +3/+11 |
| | Claw +6 melee (1d4+4) |
| | 2 claws +6 melee (1d4+4) and bite +1 melee (1d8+2) |
| | 10 ft./5 ft. |
| | - |
| | Darkvision 60 ft., low-light vision, scent |
| | Fort +6, Ref +5, Will +2 |
| | Str 18, Dex 15, Con 16, Int 2, Wis 13, Cha 8 |
| | |
| | |
| | Temperate hills |
| | Solitary, pair, or flight (7-12) |
| | 2 |
| | None |
| | Always neutral |
| | |
| | - |
Hippogriffs are aggressive flying creatures that combine features of horses and giant eagles. Voracious omnivores, hippogriffs will hunt humanoids as readily as any other meal. A typical hippogriff is 9 feet long, has a wingspan of 20 feet, and weighs 1,000 pounds.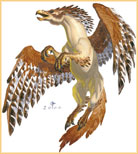 Latest RPG Post
Pulls out that strange pebble she found long ago in her back yard. She remembered showing her granny the strange stone and was told that it is a purity check that wards off evil things. So with this in mind she…
NOTE: In the case of D&D, Wizards holds the copyright for its material. The versions most Players in our Community tend to use Dungeons & Dragons 2-3.5 although others may use higher versions.
Search via our Community for:
Dungeons and Dragons Hippogriff - D&D 3.5 PBP RPG Coded by: BGID® | ALL RIGHTS RESERVED Copyright © 2004-2019
Disclaimer | Privacy | Report Errors / Contact | Credits
RPG Info
Latest Game Topics
Highlights
Updated every: 59 minutes