Dungeons and Dragons Drider 3.5 PBP RPG
Mon, 27th September, 2021 - 1:25 pm GMT
| | |
| --- | --- |
| | Drider |
| | |
| | 6d8+18 (45 hp) |
| | +2 |
| | 30 ft. (6 squares), climb 15 ft. |
| | 17 (-1 size, +2 Dex, +6 natural), touch 11, flat-footed 15 |
| | +4/+10 |
| | Dagger +5 melee (1d6+2/19-20) or bite +6 melee (1d4+1 plus poison) or shortbow +5 ranged (1d8/x3) |
| | 2 daggers +3 melee (1d6+2/19-20, 1d6+1/19-20) and bite +1 melee (1d4+1 plus poison); or shortbow +5 ranged (1d8/x3) |
| | 10 ft./5 ft. |
| | Spells, spell-like abilities, poison |
| | Darkvision 60 ft., spell resistance 17 |
| | Fort +5, Ref +4, Will +8 |
| | Str 15, Dex 15, Con 16, Int 15, Wis 16, Cha 16 |
| | Climb +14, Concentration +9, Hide +10, Listen +9, Move Silently +12, Spot +9 |
| | |
| | Underground |
| | Solitary, pair, or troupe (1-2 plus 7-12 Medium monstrous spiders) |
| | 7 |
| | Double standard |
| | Always chaotic evil |
| | By character class |
| | +4 |
Driders speak Elven, Common, and Undercommon.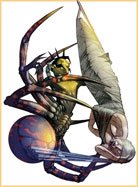 Driders seldom pass up an opportunity to attack other creatures, especially from ambush. They usually begin with a spell assault and often levitate out of the enemy's reach.
Latest RPG Post
Advisor Description

Going about her work as a translator Zhenya paid attention to what was said, who said it, where it was said, and who was listening. Several of the faces recurred.

One of the faces recurred in unexpected circumstances. As Zhenya ate a modest meal in a corner of the tavern, listening to the conversations around her, a familiar face caught her attention. She had seen them before, on the edge of other rooms, watching and listening, as she did. It was disconcerting to think she was the object of observation, but she determined not to show that she had noticed. She made a point to remember him, and notice him on several other occasions. Asking around she easily discovered that he was a local politician.

It was Ilya who finally approached Zhenya.

He told her that he thought she might be a useful person to know. She met many people, and heard interesting things, as did he. It might be fun to swap stories, and they could both learn from the exchange. Recognising that she was being both recruited as a source and offered an opportunity, she accepted. Probably neither would trust each other for a while, but perhaps trust will grow.
NOTE: In the case of D&D, Wizards holds the copyright for its material. The versions most Players in our Community tend to use Dungeons & Dragons 2-3.5 although others may use higher versions.
Dungeons and Dragons Drider - D&D 3.5 PBP RPG Coded by: BGID® | ALL RIGHTS RESERVED Copyright © 2004-2021
Disclaimer | Privacy | Report Errors / Contact | Credits