Dungeons and Dragons Drider 3.5 PBP RPG
Mon, 20th May, 2019 - 3:00 pm GMT
| | |
| --- | --- |
| | Drider |
| | |
| | 6d8+18 (45 hp) |
| | +2 |
| | 30 ft. (6 squares), climb 15 ft. |
| | 17 (-1 size, +2 Dex, +6 natural), touch 11, flat-footed 15 |
| | +4/+10 |
| | Dagger +5 melee (1d6+2/19-20) or bite +6 melee (1d4+1 plus poison) or shortbow +5 ranged (1d8/x3) |
| | 2 daggers +3 melee (1d6+2/19-20, 1d6+1/19-20) and bite +1 melee (1d4+1 plus poison); or shortbow +5 ranged (1d8/x3) |
| | 10 ft./5 ft. |
| | Spells, spell-like abilities, poison |
| | Darkvision 60 ft., spell resistance 17 |
| | Fort +5, Ref +4, Will +8 |
| | Str 15, Dex 15, Con 16, Int 15, Wis 16, Cha 16 |
| | Climb +14, Concentration +9, Hide +10, Listen +9, Move Silently +12, Spot +9 |
| | |
| | Underground |
| | Solitary, pair, or troupe (1-2 plus 7-12 Medium monstrous spiders) |
| | 7 |
| | Double standard |
| | Always chaotic evil |
| | By character class |
| | +4 |
Driders speak Elven, Common, and Undercommon.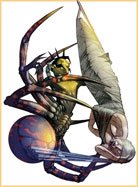 Driders seldom pass up an opportunity to attack other creatures, especially from ambush. They usually begin with a spell assault and often levitate out of the enemy's reach.
Latest RPG Post
A Member has withdrawn their Donation seemingly because they thought this FT2 project would be used to fund a Dungeons & Dragons based system. Sorry folks, due to this, my time on coding, and resources will now have to change and be focused on meeting the due date for this refund.

Current Donations is at $161
NOTE: In the case of D&D, Wizards holds the copyright for its material. The versions most Players in our Community tend to use Dungeons & Dragons 2-3.5 although others may use higher versions.
Search via our Community for:
Dungeons and Dragons Drider - D&D 3.5 PBP RPG Coded by: BGID® | ALL RIGHTS RESERVED Copyright © 2004-2019
Disclaimer | Privacy | Report Errors / Contact | Credits
Future Terra II
Automated system to Role-play. No worries about Rules, Dice or updating your Character Sheet, they are taken care of for you. Just immerse in pure Role-playing.
Become A Backer!

See More
RPG Highlights