Dungeons and Dragons Drider 3.5 PBP RPG
Thu, 17th January, 2019 - 7:27 pm GMT
| | |
| --- | --- |
| | Drider |
| | |
| | 6d8+18 (45 hp) |
| | +2 |
| | 30 ft. (6 squares), climb 15 ft. |
| | 17 (-1 size, +2 Dex, +6 natural), touch 11, flat-footed 15 |
| | +4/+10 |
| | Dagger +5 melee (1d6+2/19-20) or bite +6 melee (1d4+1 plus poison) or shortbow +5 ranged (1d8/x3) |
| | 2 daggers +3 melee (1d6+2/19-20, 1d6+1/19-20) and bite +1 melee (1d4+1 plus poison); or shortbow +5 ranged (1d8/x3) |
| | 10 ft./5 ft. |
| | Spells, spell-like abilities, poison |
| | Darkvision 60 ft., spell resistance 17 |
| | Fort +5, Ref +4, Will +8 |
| | Str 15, Dex 15, Con 16, Int 15, Wis 16, Cha 16 |
| | Climb +14, Concentration +9, Hide +10, Listen +9, Move Silently +12, Spot +9 |
| | |
| | Underground |
| | Solitary, pair, or troupe (1-2 plus 7-12 Medium monstrous spiders) |
| | 7 |
| | Double standard |
| | Always chaotic evil |
| | By character class |
| | +4 |
Driders speak Elven, Common, and Undercommon.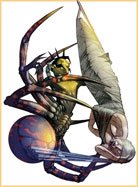 Driders seldom pass up an opportunity to attack other creatures, especially from ambush. They usually begin with a spell assault and often levitate out of the enemy's reach.
Latest RPG Post
On the run in the year of 1987, Bumblebee finds refuge in a junkyard in a small Californian beach town. Charlie, on the cusp of turning 18 and trying to find her place in the world, discovers Bumblebee, battle-scarred and broken.
Director: Travis Knight
Stars: Hailee Steinfeld, Dylan O'Brien, Megyn Price, John Cena.
NOTE: In the case of D&D, Wizards holds the copyright for its material. The versions most Players in our Community tend to use Dungeons & Dragons 2-3.5 although others may use higher versions.
Search via our Community for:
Dungeons and Dragons Drider - D&D 3.5 PBP RPG Coded by: BGID® | ALL RIGHTS RESERVED Copyright © 2004-2019
Disclaimer | Privacy | Report Errors / Contact | Credits
RPG Info
Latest Game Topics
Highlights