Dungeons and Dragons Drider 3.5 PBP RPG
Mon, 16th July, 2018 - 5:51 pm GMT
| | |
| --- | --- |
| | Drider |
| | |
| | 6d8+18 (45 hp) |
| | +2 |
| | 30 ft. (6 squares), climb 15 ft. |
| | 17 (-1 size, +2 Dex, +6 natural), touch 11, flat-footed 15 |
| | +4/+10 |
| | Dagger +5 melee (1d6+2/19-20) or bite +6 melee (1d4+1 plus poison) or shortbow +5 ranged (1d8/x3) |
| | 2 daggers +3 melee (1d6+2/19-20, 1d6+1/19-20) and bite +1 melee (1d4+1 plus poison); or shortbow +5 ranged (1d8/x3) |
| | 10 ft./5 ft. |
| | Spells, spell-like abilities, poison |
| | Darkvision 60 ft., spell resistance 17 |
| | Fort +5, Ref +4, Will +8 |
| | Str 15, Dex 15, Con 16, Int 15, Wis 16, Cha 16 |
| | Climb +14, Concentration +9, Hide +10, Listen +9, Move Silently +12, Spot +9 |
| | |
| | Underground |
| | Solitary, pair, or troupe (1-2 plus 7-12 Medium monstrous spiders) |
| | 7 |
| | Double standard |
| | Always chaotic evil |
| | By character class |
| | +4 |
Driders speak Elven, Common, and Undercommon.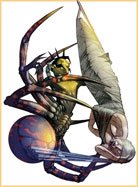 Driders seldom pass up an opportunity to attack other creatures, especially from ambush. They usually begin with a spell assault and often levitate out of the enemy's reach.
Latest RPG Post
Looking carefully around with all manner of methods, Lawrance attempts to judge differences in the chamber which may provide a place where the two miscreants are hidden. Possibly illusionairy walls, hidden cavern within the cavern, floor, ceiling and up behind the entrance opening come to mind as he attempts to penetration their concealment. Analyzing the runic circles as well, he sees if he can discern their operation.
Specific Action: Arcana for the circles, with Advantage, as well as Initiative. Trying to see past the illusions that hide the two, and pass on anything I see or figure out through the mind link.
NOTE: In the case of D&D, Wizards holds the copyright for its material. The versions most Players in our Community tend to use Dungeons & Dragons 2-3.5 although others may use higher versions.
Search via our Community for:
Dungeons and Dragons Drider - D&D 3.5 PBP RPG Coded by: BGID® | ALL RIGHTS RESERVED Copyright © 2004-2018
Disclaimer | Privacy | Report Errors / Contact | Credits
RPG Info
Latest Game Topics
Highlights