Dungeons and Dragons Centaur 3.5 PBP RPG
Thu, 23rd November, 2017 - 4:58 pm GMT
| | |
| --- | --- |
| | Centaur |
| | |
| | 4d8+8 (26 hp) |
| | +2 |
| | 50 ft. (10 squares) |
| | 14 (-1 size, +2 Dex, +3 natural), touch 11, flat-footed 12 |
| | +4/+12 |
| | Longsword +7 melee (2d6+6/19-20) or composite longbow (+4 Str bonus) +5 ranged (2d6+4/x3) |
| | Longsword +7 melee (2d6+6/19-20) and 2 hooves +3 melee (1d6+2); or composite longbow (+4 Str bonus) +5 ranged (2d6+4/x3) |
| | 10 ft./5 ft. |
| | - |
| | Darkvision 60 ft. |
| | Fort +3, Ref +6, Will +5 |
| | Str 18, Dex 14, Con 15, Int 8, Wis 13, Cha 11 |
| | Listen +3, Move Silently +4, Spot +3, Survival +2 |
| | Dodge, Weapon Focus (hoof ) |
| | Temperate forests |
| | Solitary, company (5-8), troop (8-18 plus 1 leader of 2nd-5th level), or tribe (20-150 plus 30% noncombatants plus 10 3rd-level sergeants, 5 5th-level lieutenants, and 1 leader of 5th-9th level) |
| | 3 |
| | Standard |
| | Usually neutral good |
| | By character class |
| | +2 |
A centaur is as big as a heavy horse, but much taller and slightly heavier. A centaur is about 7 feet tall and weighs about 2,100 pounds.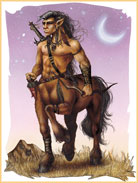 Centaurs speak Sylvan and Elven.
Latest RPG Post
Spiderman would win hands down against the Daredevil. Spiderman just has way more powers than Daredevil and crucial things like danger sense that would limit Daredevil's ability to beat him in combat.
NOTE: In the case of D&D, Wizards holds the copyright for its material. The versions most Players in our Community tend to use Dungeons & Dragons 2-3.5 although others may use higher versions.
Search via our Community for:
Dungeons and Dragons Centaur - D&D 3.5 PBP RPG Coded by: BGID® | ALL RIGHTS RESERVED Copyright © 2004-2017
Disclaimer | Privacy | Report Errors / Contact | Credits
RPG Info
Latest Game Topics
Highlights
Updated every: 59 minutes