Dungeons and Dragons Centaur 3.5 PBP RPG
Tue, 14th July, 2020 - 8:43 am GMT
| | |
| --- | --- |
| | Centaur |
| | |
| | 4d8+8 (26 hp) |
| | +2 |
| | 50 ft. (10 squares) |
| | 14 (-1 size, +2 Dex, +3 natural), touch 11, flat-footed 12 |
| | +4/+12 |
| | Longsword +7 melee (2d6+6/19-20) or composite longbow (+4 Str bonus) +5 ranged (2d6+4/x3) |
| | Longsword +7 melee (2d6+6/19-20) and 2 hooves +3 melee (1d6+2); or composite longbow (+4 Str bonus) +5 ranged (2d6+4/x3) |
| | 10 ft./5 ft. |
| | - |
| | Darkvision 60 ft. |
| | Fort +3, Ref +6, Will +5 |
| | Str 18, Dex 14, Con 15, Int 8, Wis 13, Cha 11 |
| | Listen +3, Move Silently +4, Spot +3, Survival +2 |
| | Dodge, Weapon Focus (hoof ) |
| | Temperate forests |
| | Solitary, company (5-8), troop (8-18 plus 1 leader of 2nd-5th level), or tribe (20-150 plus 30% noncombatants plus 10 3rd-level sergeants, 5 5th-level lieutenants, and 1 leader of 5th-9th level) |
| | 3 |
| | Standard |
| | Usually neutral good |
| | By character class |
| | +2 |
A centaur is as big as a heavy horse, but much taller and slightly heavier. A centaur is about 7 feet tall and weighs about 2,100 pounds.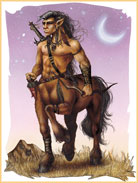 Centaurs speak Sylvan and Elven.
Latest RPG Post
Folks, if you are going to Donate to this project please understand what it is about before you Donate. When you retract a Donation, especially months after the fact the following happens:

A monetary lock is placed on my ability to process payments out from my account by my financial institution which affects my business and thus the welfare of my children. The irony of it all is that what I do online is all done for my children who cannot help themselves. It took me a whole week to raise the refund and not only that I had to pay out my own money to process the refund too. That meant for a week I had no access to my own money which puts me in a rough position. Thankfully, some of what paid for that was Donations from ROK II.
NOTE: In the case of D&D, Wizards holds the copyright for its material. The versions most Players in our Community tend to use Dungeons & Dragons 2-3.5 although others may use higher versions.
Dungeons and Dragons Centaur - D&D 3.5 PBP RPG Coded by: BGID® | ALL RIGHTS RESERVED Copyright © 2004-2020
Disclaimer | Privacy | Report Errors / Contact | Credits
Future Terra II
Automated system to Role-play. No worries about Rules, Dice or updating your Character Sheet, they are taken care of for you. Just immerse in pure Role-playing.
Become A Backer!

See More
RPG Highlights
Updated every: 59 minutes