| | |
| --- | --- |
| | Assassin Vine |
| | |
| | 4d8+12 (30 hp) |
| | +0 |
| | 5 ft. (1 square) |
| | 15 (-1 size, +6 natural), touch 9, flat-footed 15 |
| | +3/+12 |
| | Slam +7 melee (1d6+7) |
| | Slam +7 melee (1d6+7) |
| | 10 ft./10 ft. (20 ft. with vine) |
| | Constrict 1d6+7, entangle, improved grab |
| | Blindsight 30 ft., camouflage, immunity to electricity, low-light vision, plant traits, cold resistance 10, fire resistance 10 |
| | Fort +7, Ref +1, Will +2 |
| | Str 20, Dex 10, Con 16, Int -, Wis 13, Cha 9 |
| | Temperate forests |
| | Solitary or patch (2-4) |
| | 3 |
| | 1/10th coins; 50% goods; 50% items |
| | Always neutral |
| | 5-16 HD (Huge); 17-32 HD (Gargantuan); 33+ HD (Colossal) |
| | - |
The assassin vine is a semi-mobile plant that collects its own grisly fertilizer by grabbing and crushing animals and depositing the carcasses near its roots.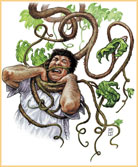 A mature plant consists of a main vine, about 20 feet long. Smaller vines up to 5 feet long branch off from the main vine about every 6 inches. These small vines bear clusters of leaves, and in late summer they produce bunches of small fruits that resemble wild grapes. The fruit is tough and has a hearty but bitter flavor. Assassin vine berries make a heady wine.
An assassin vine can move about, albeit very slowly, but usually stays put unless it needs to seek prey in a new vicinity.
A subterranean version of the assassin vine grows near hot springs, volcanic vents, and other sources of thermal energy. These plants have thin, wiry stems and gray leaves shot through with silver, brown, and white veins so that they resemble mineral deposits. An assassin vine growing underground usually generates enough offal to support a thriving colony of mushrooms and other fungi, which spring up around the plant and help conceal it.
An assassin vine uses simple tactics:
It lies still until prey comes within reach, then attacks. It uses its entangle ability both to catch prey and to deter counterattacks.
Latest RPG Post
At the party, Penelope is starting to get tired now but does her best to be polite to the other bards as she prepares to leave. As the night drags on, she's clearly becoming less and less impressed with this whole place. She sneaks out alone a bit earlier than expected to go back to the castle.

Once home, Penelope removes her disguise. Having recovered slightly from the alcohol, Perry finds the kobolds and gives them some of the food from the feast that he placed in his bag earlier. "There wasn't much meat, but I got what I could for you guys. I'm sorry we didn't bring you to the party. I thought it would be a bit too awkward given the occasion. Still, eat up, the pastries are good and I took quite a lot with me. To be honest, I've been to better parties. This one wasn't that special so you didn't miss much. Elves can't really party, honestly. I could've used a little more cowbell, you know?" Perry sighs, "Ah well, maybe next time we can meet some folks with actual talent."

Perry chats with them for a good amount of time, enjoying their honest company much more than the time spent with the elves. After some time, he makes his way to his room and goes to sleep.