Dungeons and Dragons Allip 3.5 PBP RPG
Wed, 22nd November, 2017 - 2:05 am GMT
| | |
| --- | --- |
| | Allip |
| | |
| | 4d12 (26 hp) |
| | +5 |
| | Fly 30 ft. (perfect) (6 squares) |
| | 15 (+1 Dex, +4 deflection), touch 15, flat-footed 14 |
| | +2/- |
| | Incorporeal touch +3 melee (1d4 Wisdom drain) |
| | Incorporeal touch +3 melee (1d4 Wisdom drain) |
| | 5 ft./5 ft. |
| | Babble, madness, Wisdom drain |
| | Darkvision 60 ft., incorporeal traits, +2 turn resistance, undead traits |
| | Fort +1, Ref +4, Will +4 |
| | Str -, Dex 12, Con -, Int 11, Wis 11, Cha 18 |
| | Hide +8, Intimidate +7, Listen +7, Search +4, Spot +7, Survival +0 (+2 following tracks) |
| | |
| | Any |
| | Solitary |
| | 3 |
| | None |
| | Always neutral evil |
| | 5-12 HD (Medium) |
| | - |
An allip is the spectral remains of someone driven to suicide by a madness that afflicted it in life. It craves only revenge and unrelentingly pursues those who tormented it in life and pushed it over the brink.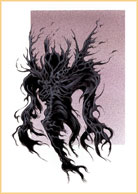 An allip cannot speak intelligibly.
An allip is unable to cause physical harm, although it doesn't appear to know that. It keeps flailing away at enemies, yet it inflicts no wounds.
Latest RPG Post
.. Meadow, filled with flowers. In the middle is a beautiful moss covered area that looks comfortable to lay down on, so you do. Exhaustion from the day's events seem to settle on you heavily and before you know it you are asleep and dreaming of…
NOTE: In the case of D&D, Wizards holds the copyright for its material. The versions most Players in our Community tend to use Dungeons & Dragons 2-3.5 although others may use higher versions.
Search via our Community for:
Dungeons and Dragons Allip - D&D 3.5 PBP RPG Coded by: BGID® | ALL RIGHTS RESERVED Copyright © 2004-2017
Disclaimer | Privacy | Report Errors / Contact | Credits
RPG Info
Latest Game Topics
Highlights
Updated every: 59 minutes