Dungeons and Dragons Allip 3.5 PBP RPG
Sun, 21st April, 2019 - 8:16 pm GMT
| | |
| --- | --- |
| | Allip |
| | |
| | 4d12 (26 hp) |
| | +5 |
| | Fly 30 ft. (perfect) (6 squares) |
| | 15 (+1 Dex, +4 deflection), touch 15, flat-footed 14 |
| | +2/- |
| | Incorporeal touch +3 melee (1d4 Wisdom drain) |
| | Incorporeal touch +3 melee (1d4 Wisdom drain) |
| | 5 ft./5 ft. |
| | Babble, madness, Wisdom drain |
| | Darkvision 60 ft., incorporeal traits, +2 turn resistance, undead traits |
| | Fort +1, Ref +4, Will +4 |
| | Str -, Dex 12, Con -, Int 11, Wis 11, Cha 18 |
| | Hide +8, Intimidate +7, Listen +7, Search +4, Spot +7, Survival +0 (+2 following tracks) |
| | |
| | Any |
| | Solitary |
| | 3 |
| | None |
| | Always neutral evil |
| | 5-12 HD (Medium) |
| | - |
An allip is the spectral remains of someone driven to suicide by a madness that afflicted it in life. It craves only revenge and unrelentingly pursues those who tormented it in life and pushed it over the brink.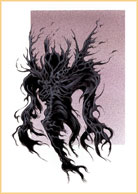 An allip cannot speak intelligibly.
An allip is unable to cause physical harm, although it doesn't appear to know that. It keeps flailing away at enemies, yet it inflicts no wounds.
Latest RPG Post
Jesla shifts restlessly trying to get more comfortable. Her forearm burns from the branding. Anger boils inside her at the predicament that she is in. She turns her head to look at the tiefling that speaks to her. Her eyes gleam slightly in the darkened cell." Eya is it… I am Jesla. You heard right. They are cowards just as I knew. Damn cowards. Wouldnt even fight me. Men." She almost spits out the word. "They will truly pay for this. In full."

Her chains rattle slightly as she shifts again." I will be patient. We will only have one chance to get out of here. When the time comes we must make the most of it. Let's kill as many as we can on the way out. I do not tolerate being treated like this. She glances at the two men in the cell." Hopefully they are good for something to help us escape. They don't look like much but who knows.... ."

Out of Character: . She will speak quietly as well.
NOTE: In the case of D&D, Wizards holds the copyright for its material. The versions most Players in our Community tend to use Dungeons & Dragons 2-3.5 although others may use higher versions.
Search via our Community for:
Dungeons and Dragons Allip - D&D 3.5 PBP RPG Coded by: BGID® | ALL RIGHTS RESERVED Copyright © 2004-2019
Disclaimer | Privacy | Report Errors / Contact | Credits
Future Terra II
Automated system to Role-play. No worries about Rules, Dice or updating your Character Sheet, they are taken care of for you. Just immerse in pure Role-playing.
Become A Backer!

See More
RPG Highlights