Zombies are corpses reanimated through dark and sinister magic.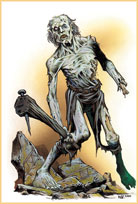 Because of their utter lack of intelligence, the instructions given to a newly created zombie must be very simple.
Latest RPG Post
Finding a quite spot on an isolated part of the beach she sits down and pushes her feet into the sand. The fresh sea breeze blows into her hair calming any frustrations she had. She spends the time looking at the seagulls out at sea for about 30 minutes uninterrupted until she notices a figure walking towards her.