Zombies are corpses reanimated through dark and sinister magic.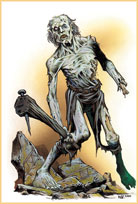 Because of their utter lack of intelligence, the instructions given to a newly created zombie must be very simple.
Latest RPG Post
Riding out with the party, I keep a share eye out while still enjoying the simple, untrammeled nature around us. Especially wary of another band of hobgoblins, I keep my ears, eyes and nose open to anything unusual.