Zombies are corpses reanimated through dark and sinister magic.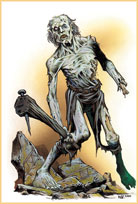 Because of their utter lack of intelligence, the instructions given to a newly created zombie must be very simple.
Latest RPG Post
Well if we are talking about people who like to spend a lot more time basking in their imaginations rather than actually getting the quest done, perhaps there needs to be a time limit on making decisions when grouped with others. I completely understand the original posters frustrations even though I am new to this particular website. Because in regular Dungeons & Dragons on table top you get the same people who when it's their turn they want to spend 10 minutes on the move. Honestly I try to take actions with a sense of purpose, if for nothing else but that since I'm basking in my imagination anyways, my imagination says that if I were really in this kind of situation in a dark cave in a party of 5 and there are monsters anywhere around us, there is no way I would be spending 10 minutes per decision. I try to imagine how I would actually feel in that situation, so I take action with a purpose the same way I would if I were really in that situation.

However you gotta keep in mind that for some people these kinds of Role-playing Game's are the only social life they have. For them the idea of wasting time embellishing their part of the story in front of an audience of people is basically their version of being on an expensive stage at a famous New York play. It's exhilarating to show off. I think when you come across those people you really just need to be up front and tell them hey there are other people waiting for you to make a damn move so hurry up!