Zombies are corpses reanimated through dark and sinister magic.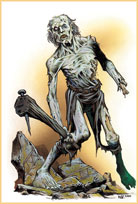 Because of their utter lack of intelligence, the instructions given to a newly created zombie must be very simple.
Latest RPG Post
Vashley the Mystic is raised. It may be the 7th time, but I shall conquer this quest even if it be the one hundredth time!