Zombies are corpses reanimated through dark and sinister magic.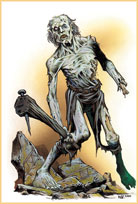 Because of their utter lack of intelligence, the instructions given to a newly created zombie must be very simple.
Latest RPG Post
Poljen also carefully examines the floors and walls around the copper doors, looking to see any signs that someone might have fled through either of the doors.

Survival is used for tracking, right?