Zombies are corpses reanimated through dark and sinister magic.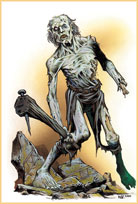 Because of their utter lack of intelligence, the instructions given to a newly created zombie must be very simple.
Latest RPG Post
Avan, as a big bat, attempts to bite and trip this troll in tandem with his wolf, and also controls his flaming sphere to strike it again.

Out of Character: Declaring dodge against troll 2 for a total of 24 AC against that one.