Dungeons and Dragons Nymph 3.5 PBP RPG
Mon, 20th May, 2019 - 2:52 pm GMT
| | |
| --- | --- |
| | Nymph |
| | |
| | 6d6+6 (27 hp) |
| | +3 |
| | 30 ft. (6 squares), swim 20 ft. |
| | 17 (+3 Dex, +4 deflection), touch 17, flat-footed 14 |
| | +3/+3 |
| | Dagger +6 melee (1d4/19-20) |
| | Dagger +6 melee (1d4/19-20) |
| | 5 ft./5 ft. |
| | Blinding beauty, spells, spell-like abilities, stunning glance |
| | Damage reduction 10/cold iron, low-light vision, unearthly grace, wild empathy |
| | Fort +7, Ref +12, Will +12 |
| | Str 10, Dex 17, Con 12, Int 16, Wis 17, Cha 19 |
| | Concentration +10, Diplomacy +6, Escape Artist +12, Handle Animal +13, Heal +12, Hide +12, Listen +12, Move Silently +12, Ride +5, Sense Motive +12, Spot +12, Swim +8, Use Rope +3 (+5 with bindings) |
| | |
| | Temperate forests |
| | Solitary |
| | 7 |
| | Standard |
| | Usually chaotic good |
| | 7-12 HD (Medium) |
| | +7 |
A nymph is about the height and weight of a female elf.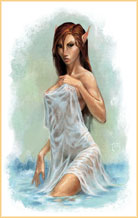 Nymphs speak Sylvan and Common.
Latest RPG Post
Rivoril, continues his attack with composite bow on the advancing Trolls. Aiming for the closest to his position.
NOTE: In the case of D&D, Wizards holds the copyright for its material. The versions most Players in our Community tend to use Dungeons & Dragons 2-3.5 although others may use higher versions.
Search via our Community for:
Dungeons and Dragons Nymph - D&D 3.5 PBP RPG Coded by: BGID® | ALL RIGHTS RESERVED Copyright © 2004-2019
Disclaimer | Privacy | Report Errors / Contact | Credits
RPG Info
Latest Game Topics
Highlights