Dungeons and Dragons Nymph 3.5 PBP RPG
Sat, 26th May, 2018 - 7:40 pm GMT
| | |
| --- | --- |
| | Nymph |
| | |
| | 6d6+6 (27 hp) |
| | +3 |
| | 30 ft. (6 squares), swim 20 ft. |
| | 17 (+3 Dex, +4 deflection), touch 17, flat-footed 14 |
| | +3/+3 |
| | Dagger +6 melee (1d4/19-20) |
| | Dagger +6 melee (1d4/19-20) |
| | 5 ft./5 ft. |
| | Blinding beauty, spells, spell-like abilities, stunning glance |
| | Damage reduction 10/cold iron, low-light vision, unearthly grace, wild empathy |
| | Fort +7, Ref +12, Will +12 |
| | Str 10, Dex 17, Con 12, Int 16, Wis 17, Cha 19 |
| | Concentration +10, Diplomacy +6, Escape Artist +12, Handle Animal +13, Heal +12, Hide +12, Listen +12, Move Silently +12, Ride +5, Sense Motive +12, Spot +12, Swim +8, Use Rope +3 (+5 with bindings) |
| | |
| | Temperate forests |
| | Solitary |
| | 7 |
| | Standard |
| | Usually chaotic good |
| | 7-12 HD (Medium) |
| | +7 |
A nymph is about the height and weight of a female elf.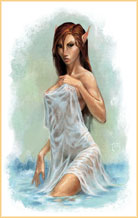 Nymphs speak Sylvan and Common.
Latest RPG Post
The mage slowly states, "The king's son? He's dead, and there are no others by that name I am aware of."

Poljen manages to find a trail heading to and from the village, both to the southwest. The dragon left behind surprisingly little in the way of tracks given its bulk, but some faint traces remain. Trammet follows the twin trails to a small clearing. Claw marks appear to indicate that the dragon landed and took flight from here.

Trammet also notes the presence of a small patrol of elves investigating the same area. Their gear appears to be of extremely fine make, and bears the symbol of King Melendrach.
NOTE: In the case of D&D, Wizards holds the copyright for its material. The versions most Players in our Community tend to use Dungeons & Dragons 2-3.5 although others may use higher versions.
Search via our Community for:
Dungeons and Dragons Nymph - D&D 3.5 PBP RPG Coded by: BGID® | ALL RIGHTS RESERVED Copyright © 2004-2018
Disclaimer | Privacy | Report Errors / Contact | Credits
Current Leaders

Hunter

Hunter
(15)

Krusten

Krusten
(11)
Chynacat

Melodie
(11)
Wizard

Merlin
(10)
Stacia

Charmain
(7)
Mephis

Faolan
(6)
Aspiring Leaders

Seraphina / Alana (5)
Beowolf / Norskman (4)
Keidivh / Alrick (3)
Play by post / Tanis (1)
Snakenewsie / Emmeline (0)
DarkScribe / Lendore (1)
Ready To Rule?
Are you here yet or still hiding? Come out of your cave and become a Ruler... a Ruler of Kings.
RPG Highlights