Dungeons and Dragons Nymph 3.5 PBP RPG
Tue, 13th November, 2018 - 4:02 pm GMT
| | |
| --- | --- |
| | Nymph |
| | |
| | 6d6+6 (27 hp) |
| | +3 |
| | 30 ft. (6 squares), swim 20 ft. |
| | 17 (+3 Dex, +4 deflection), touch 17, flat-footed 14 |
| | +3/+3 |
| | Dagger +6 melee (1d4/19-20) |
| | Dagger +6 melee (1d4/19-20) |
| | 5 ft./5 ft. |
| | Blinding beauty, spells, spell-like abilities, stunning glance |
| | Damage reduction 10/cold iron, low-light vision, unearthly grace, wild empathy |
| | Fort +7, Ref +12, Will +12 |
| | Str 10, Dex 17, Con 12, Int 16, Wis 17, Cha 19 |
| | Concentration +10, Diplomacy +6, Escape Artist +12, Handle Animal +13, Heal +12, Hide +12, Listen +12, Move Silently +12, Ride +5, Sense Motive +12, Spot +12, Swim +8, Use Rope +3 (+5 with bindings) |
| | |
| | Temperate forests |
| | Solitary |
| | 7 |
| | Standard |
| | Usually chaotic good |
| | 7-12 HD (Medium) |
| | +7 |
A nymph is about the height and weight of a female elf.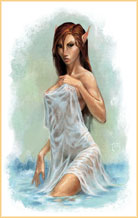 Nymphs speak Sylvan and Common.
Latest RPG Post
Morgaine gives Velon a smile for the his congrats to her for doing the killing blow.
"Was a group effort, I just got lucky that my blade hit home."
I then help the others loot the bodies and help take it to the castle, if needed.
If we go after the stragglers, then will help there as much as she can.
NOTE: In the case of D&D, Wizards holds the copyright for its material. The versions most Players in our Community tend to use Dungeons & Dragons 2-3.5 although others may use higher versions.
Search via our Community for:
Dungeons and Dragons Nymph - D&D 3.5 PBP RPG Coded by: BGID® | ALL RIGHTS RESERVED Copyright © 2004-2018
Disclaimer | Privacy | Report Errors / Contact | Credits
Future Terra II
Automated system to Role-play. No worries about Rules, Dice or updating your Character Sheet, they are taken care of for you. Just immerse in pure Role-playing.
Become A Backer!

See More
RPG Highlights
Updated every: 59 minutes