Dungeons and Dragons Nymph 3.5 PBP RPG
Tue, 28th January, 2020 - 5:04 pm GMT
| | |
| --- | --- |
| | Nymph |
| | |
| | 6d6+6 (27 hp) |
| | +3 |
| | 30 ft. (6 squares), swim 20 ft. |
| | 17 (+3 Dex, +4 deflection), touch 17, flat-footed 14 |
| | +3/+3 |
| | Dagger +6 melee (1d4/19-20) |
| | Dagger +6 melee (1d4/19-20) |
| | 5 ft./5 ft. |
| | Blinding beauty, spells, spell-like abilities, stunning glance |
| | Damage reduction 10/cold iron, low-light vision, unearthly grace, wild empathy |
| | Fort +7, Ref +12, Will +12 |
| | Str 10, Dex 17, Con 12, Int 16, Wis 17, Cha 19 |
| | Concentration +10, Diplomacy +6, Escape Artist +12, Handle Animal +13, Heal +12, Hide +12, Listen +12, Move Silently +12, Ride +5, Sense Motive +12, Spot +12, Swim +8, Use Rope +3 (+5 with bindings) |
| | |
| | Temperate forests |
| | Solitary |
| | 7 |
| | Standard |
| | Usually chaotic good |
| | 7-12 HD (Medium) |
| | +7 |
A nymph is about the height and weight of a female elf.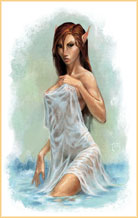 Nymphs speak Sylvan and Common.
Latest RPG Post
The dark elf that I made my characters after was named Dalamar from the DragonLance books. He was the apprentice to the primary "Black Robes" magician named Raistlin.

He wasn't weak and he definitely wasn't good. But he could see when helping the good characters in the book would result in a benefit to himself. So while he was definitely "Dark", he didn't let his evil nature stop him from doing "Good" things just because they were good.

If I recall, Dalamar didn't appear until the fourth book in the series. The first three books were what established Raistlin as a powerful enough wizard to merit having an apprentice.
NOTE: In the case of D&D, Wizards holds the copyright for its material. The versions most Players in our Community tend to use Dungeons & Dragons 2-3.5 although others may use higher versions.
Dungeons and Dragons Nymph - D&D 3.5 PBP RPG Coded by: BGID® | ALL RIGHTS RESERVED Copyright © 2004-2020
Disclaimer | Privacy | Report Errors / Contact | Credits
Future Terra II
Automated system to Role-play. No worries about Rules, Dice or updating your Character Sheet, they are taken care of for you. Just immerse in pure Role-playing.
Become A Backer!

See More
RPG Highlights