Dungeons and Dragons Devourer 3.5 PBP RPG
Sun, 21st April, 2019 - 8:24 pm GMT
| | |
| --- | --- |
| | Devourer |
| | |
| | 12d12 (78 hp) |
| | +4 |
| | 30 ft. (6 squares) |
| | 24 (-1 size, +15 natural), touch 9, flat-footed 24 |
| | +6/+19 |
| | Claw +15 melee (1d6+9) |
| | 2 claws +15 melee (1d6+9) |
| | 10 ft./10 ft. |
| | Energy drain, trap essence, spell-like abilities |
| | Darkvision 60 ft., spell deflection, spell resistance 21, undead traits |
| | Fort +4, Ref +4, Will +11 |
| | Str 28, Dex 10, Con -, Int 16, Wis 16, Cha 17 |
| | Climb +24, Concentration +18, Diplomacy +5, Jump +24, Listen +18, Move Silently +15, Search +10, Sense Motive +11, Spot +18, Survival +3 (+5 following tracks) |
| | Blind-Fight, Combat Casting, Combat Expertise, Improved Initiative, Weapon Focus (claw) |
| | Any |
| | Solitary |
| | 11 |
| | None |
| | Always neutral evil |
| | |
| | - |
Devourers lurk on the Ethereal Plane and the Astral Plane, stalking both natives and travelers with equal sadistic glee.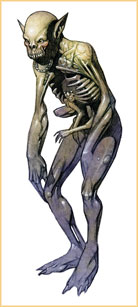 A devourer is about 9 feet tall and weighs 500 pounds.
Devourers speak Common.
Latest RPG Post
Just as in in ROK II, for character building to be automated, for rolls and checks to be made there needs to be instructions from somewhere to make it happen - this is where coding is necessary. The process of FT2 is to concentrate on getting a player in a game with a character as quick as possible without having someone to tell them the rules about character creation or how to format their character sheet correctly. The idea is to concentrate on role-play regardless to when players join in or leave for that matter.
NOTE: In the case of D&D, Wizards holds the copyright for its material. The versions most Players in our Community tend to use Dungeons & Dragons 2-3.5 although others may use higher versions.
Search via our Community for:
Dungeons and Dragons Devourer - D&D 3.5 PBP RPG Coded by: BGID® | ALL RIGHTS RESERVED Copyright © 2004-2019
Disclaimer | Privacy | Report Errors / Contact | Credits
RPG Info
Latest Game Topics
Highlights
Updated every: 59 minutes