Dungeons and Dragons Devourer 3.5 PBP RPG
Mon, 17th December, 2018 - 12:29 am GMT
| | |
| --- | --- |
| | Devourer |
| | |
| | 12d12 (78 hp) |
| | +4 |
| | 30 ft. (6 squares) |
| | 24 (-1 size, +15 natural), touch 9, flat-footed 24 |
| | +6/+19 |
| | Claw +15 melee (1d6+9) |
| | 2 claws +15 melee (1d6+9) |
| | 10 ft./10 ft. |
| | Energy drain, trap essence, spell-like abilities |
| | Darkvision 60 ft., spell deflection, spell resistance 21, undead traits |
| | Fort +4, Ref +4, Will +11 |
| | Str 28, Dex 10, Con -, Int 16, Wis 16, Cha 17 |
| | Climb +24, Concentration +18, Diplomacy +5, Jump +24, Listen +18, Move Silently +15, Search +10, Sense Motive +11, Spot +18, Survival +3 (+5 following tracks) |
| | Blind-Fight, Combat Casting, Combat Expertise, Improved Initiative, Weapon Focus (claw) |
| | Any |
| | Solitary |
| | 11 |
| | None |
| | Always neutral evil |
| | |
| | - |
Devourers lurk on the Ethereal Plane and the Astral Plane, stalking both natives and travelers with equal sadistic glee.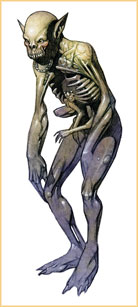 A devourer is about 9 feet tall and weighs 500 pounds.
Devourers speak Common.
Latest RPG Post
Looks around frantically but does not see anything. Is she just hearing voices or is it a ghost. There is only one way to know for sure…
NOTE: In the case of D&D, Wizards holds the copyright for its material. The versions most Players in our Community tend to use Dungeons & Dragons 2-3.5 although others may use higher versions.
Search via our Community for:
Dungeons and Dragons Devourer - D&D 3.5 PBP RPG Coded by: BGID® | ALL RIGHTS RESERVED Copyright © 2004-2018
Disclaimer | Privacy | Report Errors / Contact | Credits
RPG Info
Latest Game Topics
Highlights